Howard, Skoug star for Frogs in 8-2 drilling of Texas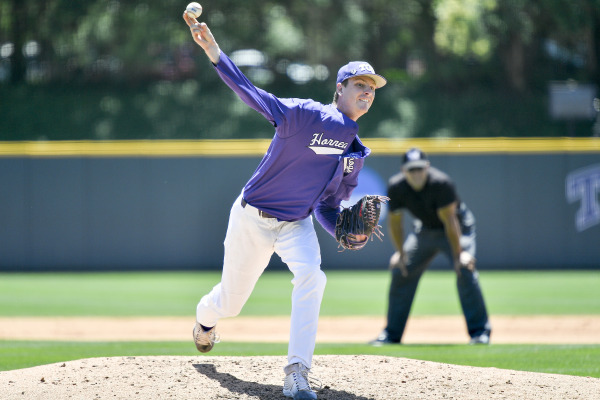 Brian Howard and Evan Skoug led the charge in an 8-2 blowout win over Texas on Saturday, as the Frogs clinched their final home series of the season.
Howard (7-3) was on his game throughout, as he gave up just one hit through eight innings. Howard used 114 pitches to shutdown the Longhorns, working around four walks to hold Texas (31-18, 9-10) scoreless. Howard was coming off an outing that saw him struggle in a big way against Texas Tech in a 21-3 loss, giving up seven runs in just 2.1 innings.
"I was focused on pitch economy, just getting ahead of guys, staying ahead, and hopefully going deep into a ballgame," Howard said. "I haven't been doing a very good job of that. I just wanted to get ahead, stay ahead, and give this team some length here on Saturday and get us ready for Sunday."
For the second straight day, the Horned Frogs (34-11, 14-6) jumped all over one of the best starters in the Big 12 Conference. After scoring seven runs in three innings off of Texas ace Morgan Cooper on Friday, TCU scored seven more in just 2.1 innings against Nolan Kingham on Saturday.
Kingham, who entered the game with a 2.05 ERA on the season, started strong by setting down the top of the Horned Frog lineup in order.
Skoug led off the second inning for TCU by launching his third home run of the series to left field to put the Frogs ahead for good, 1-0. Skoug extended his home run total to eight in the past month, continuing to be a catalyst for the Frogs at the plate.
"What a great competitor; he's a gamer," TCU head coach Jim Schlossnagle said. "I sure would love to have him back next year, but more than likely we re looking at the tail-end of an awesome TCU career. We're really going to miss him."
Only a junior, Skoug will be eligible for June's MLB draft and will likely be a high-round draft pick. He then will have to choose between beginning his professional career or returning to Fort Worth for his senior year.
TCU broke the game wide open in the third, as it struck for seven runs on six hits, three walks and two errors. Ryan Merrill led off the inning with a single, followed by a walk for Josh Watson. Austen Wade then singled hard into left center for an RBI, extending his on-base streak to 33 games.
With the runners on second and third after a throwing error on the single, Connor Wanhanen dropped a single in front of the center fielder for a two run base hit. After a double for Luken Baker, Evan Skoug drove in his fifth run of the series on a ground out to second to make it 5-0. Cam Warner backed-up the RBI from Skoug with one of his own as he singled to right to chase Kingham from the game.
Kingham only lasted seven outs, allowing seven earned runs on six hits and a walk.
TCU pushed two more runs across after Kingham left the game, as a walk and a two-run double for Merrill, his second hit of the inning, pushed the Frogs ahead 8-0.
The Frogs threatened in fifth and sixth innings, but double plays in both innings cost the Frogs as they tried to extend their lead beyond eight.
Dalton Brown started the ninth for the Frogs and allowed two runs on two hits and two errors. Cal Coughlin came in with the bases loaded and two outs and got a ground ball to second base to end the ballgame.
The TCU offense has exploded through the first two game of the series, posting 19 runs on 26 hits, including six home runs and five doubles.
"I'm hoping that is a sign of good things to come the last couple weeks of the regular season," Schlossnagle said of the emerging offense. "We felt like that was going to be the strength of our team going into the season, and now they are starting to square some balls up and those balls are falling in."
The Frogs will look to stay hot and sweep Texas at 1 p.m. on Sunday at Lupton Stadium. The game will be televised on ESPNU.