Soccer gears up for 'challenging' 2017 schedule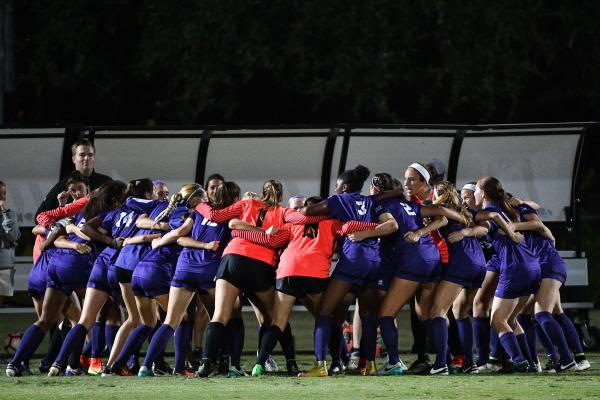 TCU head soccer coach Eric Bell released the 2017 Horned Frogs' soccer schedule Thursday, and it's one of the toughest in the country, including nine NCAA Tournament teams from last season.
 "It's a good schedule that is very challenging," Bell said. "Hopefully the non-conference portion of the schedule prepares us for the conference schedule, and going into conference play, it's going to be a tough game every time out. I'm looking forward to it and hopefully, we do well."
The Horned Frogs will play 18 matches, 10 at home and eight on the road, beginning with the University of Lousiana-Monroe Aug. 18 followed by a meeting with the University of Texas at San Antonio Aug. 20 on the newly installed field at Garvey-Rosenthal Soccer Stadium.
TCU will hit the road with contests at Pac-12 foe Colorado, a team that advanced to the second round of NCAA Tournament, Aug. 25 and at Northern Colorado Aug. 27.
The women will return home to begin a three-match homestead with Ball State Sept. 1, Missouri Sept. 3 and Northeastern Sept. 8 before road matches against rivals SMU Sept. 14 and SFA Sept. 17.
Missouri, Northeastern and SMU were a part of the NCAA Tournament field in 2016.
The Horned Frogs open Big 12 play with three home matches against Kansas, who advanced to the NCAA second round, Sept. 22; Kansas State, who completed their first soccer season in 2016, Sept. 24; and NCAA tournament participant Oklahoma State Sept. 29.
Following the game with OSU, the Horned Frogs will play four of their next five conference games on the road beginning with NCAA tournament team Texas Tech Oct. 1, followed by Texas Oct. 6. The sole home match in that portion of the schedule is against Oklahoma Oct. 13, who fell in the NCAA first round last season.
The Horned Frogs will then travel to Ames to play Iowa State Oct. 19 before a meeting with national runner-up West Virginia Oct. 22 in Morgantown.
TCU completes the regular season at home against Baylor Oct. 27.
The Horned Frogs finished 12-7-2 overall and 2-5-1 in Big 12 play in 2016. They lost 1-0 in a home match to Texas A&M in the first round of the NCAA Tournament.