Skoug reunites with former USA Baseball teammate as Super Regional opponent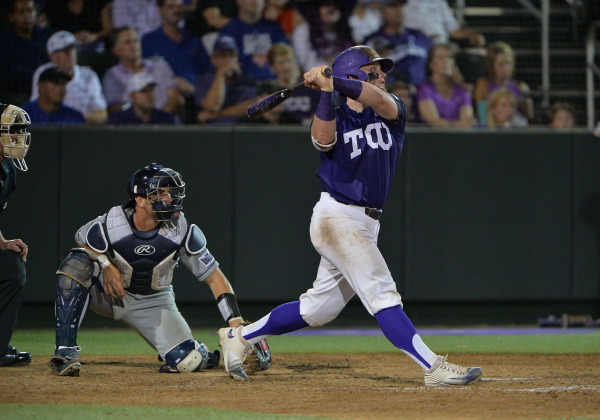 A lasting friendship between two All-Americans was born out of a love for Chicago Blackhawks hockey.
TCU catcher Evan Skoug and Missouri State third baseman Jake Burger are two Midwestern sluggers. Skoug hails from Libertyville, Illinois, and Burger is a native of Chesterfield, Missouri.
Skoug and Burger met playing for Team USA Baseball's Collegiate National Team last summer.
"That was an instant connection," Burger said. "I think we just have the same mentality toward the game. We come from similar programs in the sense of how our coaches teach the game. Those are the things that instantly connected with us."
Both wear No. 9 and hit third in their teams' lineups. Both lead their teams in RBIs, 65 for Buger, 62 for Skoug and home runs, 22 for Burger, 18 for Skoug.
"He was texting me at the beginning of the season and said his season didn't get off to the best start," Burger said. "But I try and watch as many games as I can, and he's really lit it up the last couple of weeks."
Skoug homered twice in the Fort Worth Regional, tying for fifth all-time at TCU in career home runs (34) and runs batted in (159). His 18 home runs tie him for most in a season under Jim Schlossnagle at TCU. Since the start of April, Evan Skoug has hit 14 home runs and driven in 39 runs.
Burger is sixth all-time at Missouri State with 47 home runs and seventh with 179 RBIs.
Burger also has another powerful hitter protecting him, like Luken Baker did for Skoug when healthy, in shortstop Jeremy Eierman, who also has 22 home runs.
"Two very elite hitters, guys that don't have a lot of holes in their swings," Schlossnagle said of Burger and Eierman. "You've got to be very careful what you do. They can change a game with one swing. Tough part is, the rest of the guys are good. So it's not like you can do a whole lot of pitching around them."
Both Skoug and Burger have an appreciation for Texas BBQ, something Skoug introduced to Burger when taking him to Cooper's in Fort Worth Wednesday for dinner.
"I went with his word," Burger said. "It was pretty good."
Both also have an appreciation for the other's skills on the diamond.
"He's a stud, and he's supposed to go in the top 15 picks of his coming draft," Skoug said. "He's a great player, but he's an even better person."
Burger echoed Skoug's sentiments.
"He's a great ball player, great dude, and I have a lot of respect for him."
With dinner in the rearview mirror, they're ready to play ball.
"I've been rooting for him all season," Skoug said. "I hope he does play well. But at the end of the day, he's a competitive guy, so it's going to be a battle to play against him."
First pitch for Game 1 of the Fort Worth Super Regional is set for 5 p.m. at Lupton Stadium.