Wade's 'crazy' draft day exceeds expectations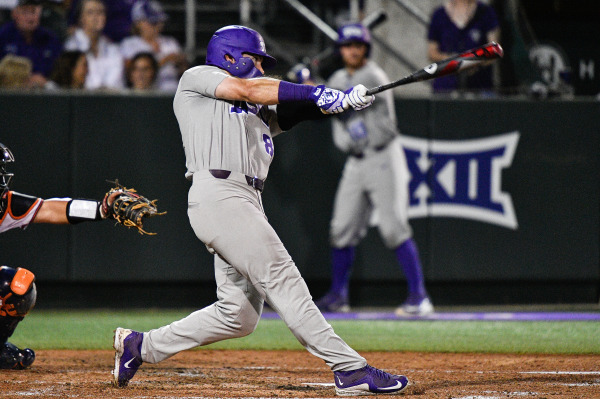 Suprised filled TCU right fielder Austen Wade when he was the first Horned Frog player off the board in the 2017 MLB Draft as a fifth-round selection by the Cleveland Indians.
"If someone told me three years ago you'd be a fifth rounder, I would have said that's the dumbest comment I've ever heard," TCU right fielder Austen Wade said.
TCU head coach Jim Schlossnagle initially agreed with his outfielder, before seeing a change in Wade.
"If you had told me three years ago he'd be a fifth round pick, I'd have said you're crazy, but, you don't know the inner workings of a young man after one year that you do after three years," TCU head coach Jim Schlossnagle said. "He's got great talent, but he's also a self-made player. He always had a great concept of the strike zone, but he's gotten stronger. I think he's a great statement of our program because he's gotten better here."
Congrats to Austen Wade! A 5th round pick at the @Indians! #GoFrogs pic.twitter.com/DORi8BpduM

— TCU Baseball (@TCU_Baseball) June 13, 2017
"The day was a crazy, really happy day," Wade said.
After the first day of the draft, which includes just the first two rounds, Wade didn't see college baseball well represented.
"I watched the first day of the draft and watched a bunch of high schoolers come off the board," Wade said. "As a college student, you're like this is a youth movement where all they want is 17 and 18-year-olds, so how does it help your cause?"
Then came Day two, Rounds 3-10. That's when the craziness for Wade began.
"I was with my girlfriend at her place trying to get it all loaded on a laptop, and she has the tracker going and the Wi-Fi cuts out in the middle of the third round," Wade said.
Pandemonium ensued.
"She's freaking out, and I said relax, I'm not going in the third round, not that high, just calm down," Wade said. "She said I have to get this to work. We finally pull it up at the end of the third round, and I kept watching high school guys come off the board, so I thought if something happens it'll be in the seventh or eighth rounds."
The two teams Wade believed were most interested in him were the Colorado Rockies and the Chicago White Sox, who had back-to-back draft picks in the fourth and fifth rounds.
They selected two high schoolers.
"Both teams went with high schoolers in the fourth and fifth round, so I said guess nothing's happening," Wade said. "Then a call from the Indians comes up at the end of the fifth round, and they said are we going to do this or not."
Words weren't coming out of Wade's mouth.
"I was silent on the phone thinking is this actually happening?" Wade said. "It was a whirlwind."
Interestingly enough, Wade has a connection or two to the Indians.
"It's really ironic actually because, in the fall, I showed my girlfriend the movie Major League," Wade said. "She's learned all about baseball the last three years, and she said 'but the Indians aren't bad.' Which of course I said no, they're in the World Series, but the movie with Charlie Sheen portrays them as hilarious."
One of the first people to text the TCU right fielder congratulations Tuesday was his roommate from summer league baseball, a pitcher from a Division Two school, in the Coastal Plains League after his first year at TCU.
"I lived out on a farm, with a kid from Ohio, Columbus actually," Wade said. "Loves the Buckeyes. Huge Indians fan."
The roommate had somewhat of a premonition, texting Wade before he was selected about a dream scenario.
"He texted me yesterday morning, saying best of luck man, hope I'm saying Go Tribe to you at the end of the day," Wade said. "He was one of the first five people to text me and say 'I can't believe this is happening.' He's one of the best people I know, so I've kept in touch with him over the years."
Now comes the ultimate decision. Leave TCU and head north after the season, or come back one more time. With Wade's academic status, both options are available to him.
"I'm a double-major in finance and accounting, and I've had a lot of opportunities here with the Neely School of Business," Wade said. "I have a year left of school, two semesters, and I'm on time to graduate next spring with two degrees, which I'm excited about.
Wade could complete those last two semesters in Fort Worth or spread them out during minor league and major league offseasons.
"I don't know what the future holds honestly, but I'll talk to friends and the coaching staff here, one day at a time," Wade said. "Basically, we'll see how it all plays out."
However, his time in college won't feel complete without one last thing.
"It was a dream come true to be drafted, but there's a bucket list," Wade said. "I have yet to win a national championship as a college player. I have to get that done first, one thing we have left to do."
Schlossnagle said he hopes Wade can play in the big leagues. But for now, Wade is focused on one thing: winning TCU's first baseball national championship.
The Horned Frog's first College World Series game in Omaha at TD Ameritrade Ballpark is set for Sunday night at 6 against the Florida Gators.