Leaders for Life gets biggest class of first year students yet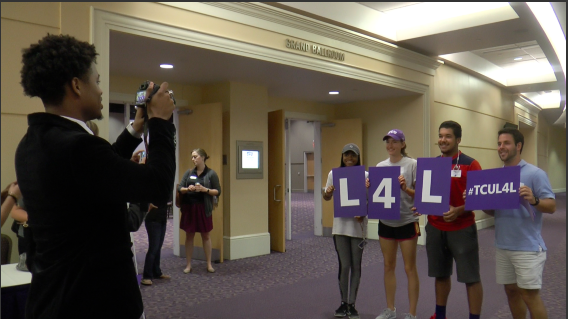 The Leaders for Life (L4L) program kicked off the new school year with its mentorship reveal Tuesday.
Members from the first-year and junior class met in the Brown-Lupton University Union ballroom to introduce themselves and meet their new mentors and mentees. The organization pairs first-year students with juniors to mentor throughout their first and second year of college. Those students are paired with mentors from within their major or minor and each mentor is paired with one or two first-year students.
This year is different though, the class of 2021 participating in L4L is record setting.
"It's the biggest class we've had thus far," said Darryl Wyrick, Leaders for Life coordinator. "Before now the L4L program had class sizes of like 60 or 70…but this year we started at 148."
The junior cohort of L4L begins its first year of mentorship this semester. Students said they are excited for what being a mentor can bring.
"I've been in L4L for three years now," said Lauren Waldman, junior secondary education, and history major. "It has really helped shape me as a leader because I had an amazing mentor my freshman and sophomore year of college. I can't wait to be a mentor now."
Wyrick has been working with L4L since last summer. Despite his brief career with the program so far, he already has a vision of what he wants it to be in the future.
"I want it to be something you reflect on and say man 'TCU—my experience would not have been the same without that program,'" said Wyrick. "I know my TCU experience would not be the same had I not met the students I get to work with and I'm so thankful for that."
Wyrick said he wants people to know that this won't be the last time they hear about the program.
"L4L is a pretty beasty program," said Wyrick. "Look out, because it's only getting bigger and better."