Fall semester brings new assistant vice chancellor for public safety, assistant chief of police
TCU is turning to the Secret Service to streamline the chain of command in the police department.
Adrian Andrews, a 28-year veteran of the elite unit started earlier this week as TCU's first assistant vice chancellor for student affairs – public safety.
Andrews said his primary focus will be having the public safety team work on assessing buildings on campus to develop emergency plans and educating the public. "We have to make sure we have a fine line between scaring people to death and making them aware of what's going on," Andrews said.
"We have to make sure we have a fine line between scaring people to death and making them aware of what's going on," Andrews said.
He said he has three goals for the public safety education of the campus: exercising self-awareness, reporting incidents that may be unsafe and teaching lessons that may be applicable going into the next stages of students' lives.
Andrews said he also wants to focus on preventing drug and alcohol abuse and sexual assault.
Andrews said he is considering many ways to reach the student body, including social media and public service announcements.
"We want to use the media that can reach the students," Andrews said. "We want to talk with the students to get the best ideas of how to reach everyone."
Andrews said he wants more interactions between the police and the students to make the students more comfortable talking to the officers.
"Our theory is, if we talk to the students when times are peaceful, then when we need to talk to them in an emergency system, they will listen to us," Andrews said.
Andrews will be responsible for overseeing police, parking, shuttles and transportation, as well as emergency planning and management.
The police chief will report to Andrews, who reports to the Student Affairs Office and Vice Chancellor for Student Affairs Kathy Cavins-Tull.
Andrews said he wants TCU to be one of the safest campuses in the country.
He said the public safety team will be working with other universities, such as Baylor University and the University of Texas, to take the best safety practices from across the country.
Andrews was selected from a process including candidate resume reviews, Skype interviews and day-long interviews for the top three candidates.
Andrews position isn't the only new change in the campus safety structure this semester, as the TCU police have also seen some leadership changes.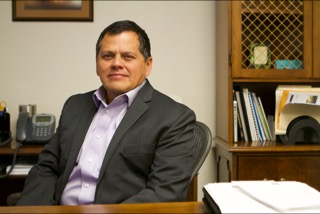 Robert Rangel, a former detective with the TCU police, has been moved into the assistant chief of police position. He succeeds J.C. Williams who retired in August.
"I'm very honored," Rangel said. "It's kind of a bunch of major league baseball players retiring and joining a recreational league, and they've made me their coach and manager."
Rangel said he will still be carrying on his former responsibilities as the Public Information Officer and the individual who monitors the surveillance cameras. In addition, he said the assistant chief of police has many similar responsibilities as the chief of police, but with the assistant handling more operations and the chief dealing more with administrative functions.
Rangel said he wants to increase engagement with the campus and create a positive image of police officers.
"I want to be able to make a positive influence on the relationship between the community and the police," Rangel said. "I know the people who leave here are going to continue to be significant members of their next communities, and I want us to have more interaction."