Frogs edged by No. 19 OSU on two late goals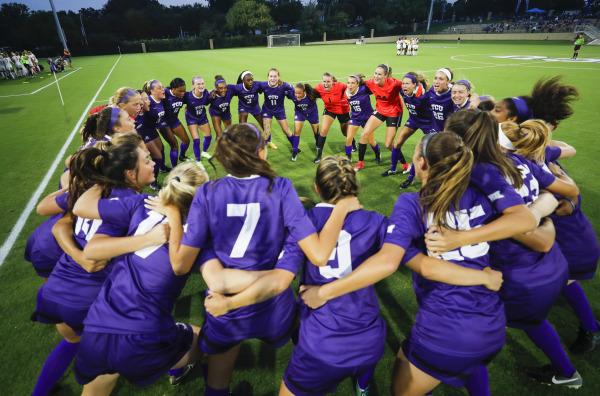 Two late goals by No. 19 Oklahoma State pushed the Cowgirls past the Horned Frogs 2-0 Friday night and ended the Frogs' three-game unbeaten streak.
An uneventful and chippy first half featured five shots combined between both teams, four for TCU and one for Oklahoma State, and 15 combined fouls, six for the Horned Frogs and nine for the Cowgirls.
Neither team was able to consistently pressure the opposition's defensive backline. The best chance in the first half came from the only shot on goal for the Frogs from first-year midfielder Yazmeen Ryan.  She fired the ball from the left side of the penalty box, but her shot was saved by diving Cowgirls' goalkeeper Michela Ongaro.
Both teams faced the same issues in the beginning stages of the second half. Physical play on both ends of the field prevented either team from earning quality chances.
The Frogs fired off five shots in the second frame, forcing Ongaro to make three saves.
The last 15 minutes of the second half were dominated by Oklahoma State. In the 80th minute, a driving Jaci Jones of Oklahoma State shot the ball into the bottom right corner past Frog's goalie Katie Lund, giving Oklahoma State a 1-0 lead on the match.
Six minutes later, the Cowgirls were able to double the lead. A rough play by redshirt sophomore defender Cachet Lue led to a penalty kick attempt by the Cowgirls which was fired above Lund's outstretched arms and into the back of the net.
The two goals were the only two second-half goals given up by the Frogs so far this season.
The game ends TCU's shutout streak of 426 minutes and 51 seconds, and the match marks TCU's third shutout loss of the season. The Frogs held their opponent without a corner kick attempt for the fourth game this season.
For head coach Eric Bell, the start to Big 12 play, including Friday's game, has frustrated him.
"I continue to believe we are better than what we are showing in the final third of the field," Bell said. "We have to fix that and make more dangerous goal scoring opportunities. I think we are a good soccer team that can compete with anyone in the country, but we just have to figure out a way to score a few goals each game."
The Frogs will begin a road trip Sunday afternoon when they travel to Lubbock as they face Texas Tech. Kickoff is set for 1:00 p.m. and the game will be broadcasted live on FSSW+.