Kayla Hill's golden goal tops Texas Tech in overtime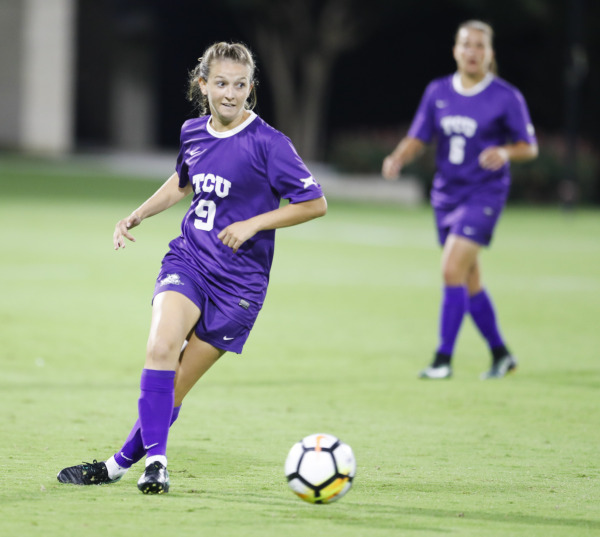 For the third time this season, the Horned Frogs needed overtime to determine a winner. TCU only needed 1:17 to end Sunday's match against Texas Tech as junior midfielder Kayla Hill tallied the game-winning goal over the Red Raiders in Lubbock.
Head coach Eric Bell said he was extremely proud of his group following the hard-fought win.
"I think to come here in a hostile environment and come away with a positive result is unbelievable," Bell said. "This is a very hard place to play, and to be able to show some fortitude and fight through some tough spots and get a goal in overtime makes me very proud of this group."
The Frogs attempted to take control of the match in the first half, firing off eight corners and forcing the Red Raiders' goalkeeper to make many saves in the frame.
TCU had two solid scoring chances in the first half, but both headers sailed over the crossbar.
Texas Tech amped up the pressure in the second half, keeping sophomore goalkeeper Katie Lund busy and forcing her to make many saves in the second period. She came up huge for the Frogs with three important saves to keep the game tied.
As the game went in to overtime, the Frogs were determined to end the game early and wasted little time doing so. Senior defender Ryan Williams dribbled the ball down the sideline and fed it to first-year midfielder Yazmeen Ryan in the attacking zone. Ryan juked her defender and beat her down the field and found an open Hill who gave the Frogs the win.
"It was a huge goal and we needed it," Bell said. "We had [a man advantage] wide and Yazmeen Ryan was able to come up with a good cross and Kayla was able to head it in. I'm very proud of all of them. It was a big goal for her and for the team."
The goal was Hill's first of the season, the sixth goal of her career and her third career game-winning goal. Lund registered her fourth complete-game shutout of the season and seventh of her career. Ryan recorded her fourth assist on the season.
TCU tallied their sixth shutout of the season and moved to 9-4 on the season and 3-1 in Big 12 play.
The Frogs will complete their two-game road trip as they travel south to Austin to face the nationally-ranked Texas Longhorns. The match is scheduled to kick-off at 7:00 p.m.