TCU's wide receiving corps this season is a far cry from the same unit that led the NCAA in dropped passes with 38 last year.
A season ago wide receiver John Diarse caught 33 passes, and KaVontae Turpin caught 30.
In five games this season, Turpin leads the team with 16 catches. Diarse is not far behind with 14.
"We worked a lot in the off-season, and John's one of the guys who always stays after practice," TCU quarterback Kenny Hill said. "We were texting last night about stuff we thought would be good this game and getting some extra throws after practice, just working on those things. It's definitely good to see him step up and make the plays he did against West Virginia."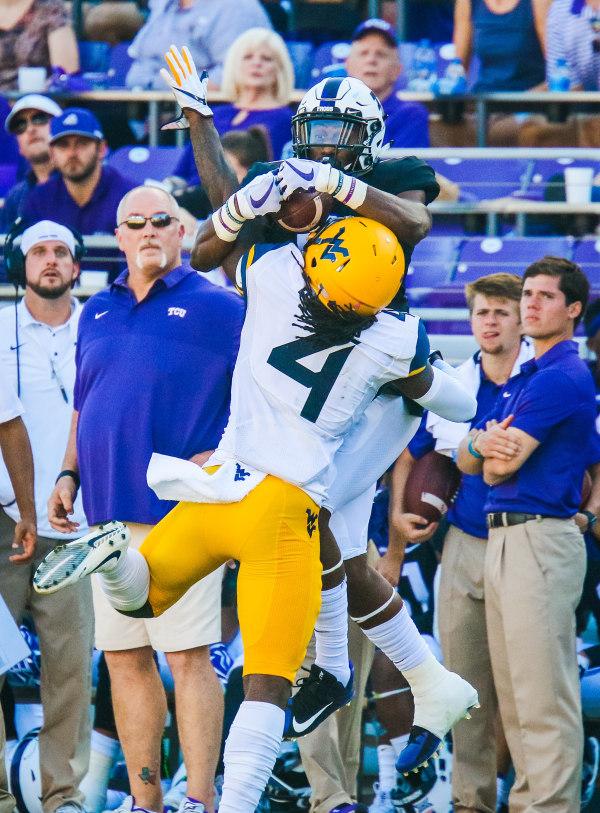 Diarse is second on the team in receiving yards with 171. He had a team-high four catches for 70 yards against the Mountaineers. The Horned Frog coaches are still looking for more ways to get Turpin, Diarse's high school teammate at Neville High School in Monroe, Louisiana, even more involved.
"That's one of the things that the coaching staff tries to come up with is how can he [Turpin] get this guy the ball," Hill said. "I know for me personally and for everyone on our team, every time he touches the ball, we think he's going to score, he's just that electric. However many times he can get the ball, that's a good thing."
Patterson agrees with his quarterback.
"We have to do a better job with our punt return group to give him more chances on special teams," Patterson said. "We haven't been able to get him released yet. He's too much of weapon to not get chances."
However, it's not just Diarse and Turpin contributing in the passing game. Ten different Horned Frogs have a touchdown catch, which is tied for the most in the nation with Ohio State and Oklahoma.
"I think we can do a lot of different things with the running backs and receivers that we have: Turp, Shaun Nixon, even Reagor and Snell," Hill said. "We have a bunch of different weapons and ways to run plays that's not just lining up to run our normal base offense that everyone knows. We can move people around and create some different matchups."
Two players not listed as quarterbacks have thrown touchdowns for the Horned Frogs: Turpin on his 48-yard screen pass touchdown to Hill Saturday against West Virginia, and Shaun Nixon, who threw a 29-yard touchdown pass to Josh Doctson in a 50-7 rout of Texas in 2015.
TCU has another receiver who could be utilized for another trick play or "different matchup" later on this season in Diarse, who was Turpin's high school quarterback.
"It's big because you keep a defense guessing and keep them from doing what they like to do," Hill said. "You make them think a little bit, and hopefully we can catch them slipping one time and hit a big play."
The Horned Frogs return to action Saturday Oct. 14 in Manhattan, Kansas, against the Kansas State Wildcats. Kickoff is set for 11 a.m.