Foster Hall to celebrate its 75th year during homecoming weekend

Foster Hall will host its 75th celebration on Friday as part of the homecoming weekend festivities.
Foster is the oldest residence hall on TCU's campus and is home to about 195 Horned Frogs called the Foster Phoenixes.
Housing & Residence Life director Craig Allen explained how Foster started off all-female before transitioning into a co-ed hall. It went back to being an all-female residence hall before switching to the co-ed residence hall it is today. Foster Hall was gutted and rebuilt during 2001 and 2002.
"While these physical changes have impacted how the building looks, Foster has always been a small community of about 200 students and a proud and close-knit community," he said.
The most prominent Foster memories for junior nursing major Rachel Farrow was the time spent with her neighbors.
"My favorite part of Foster was getting to the holidays and being around such a great group of people for my first college Christmas," she said. "Foster is special because there is so much tradition behind it, and the small size makes it a super close-knit community."
Foster Hall has been known for its events over the years, such as Foster Family Feast, Foster City Limits and its joint event with Waits Hall, Wosterfest.
"I think what made Foster special for me was that we as a staff and as a residence hall were starting fresh," former resident assistant Bryan Bermudez said. "Our hall director, Keely, really encouraged us to create a brand new unique identity for Foster."
"Being an RA in Foster was a lot of fun," he added. "It was my second year as an RA, and I honestly couldn't have asked for better residents. To this day, I still stay in touch with some of them."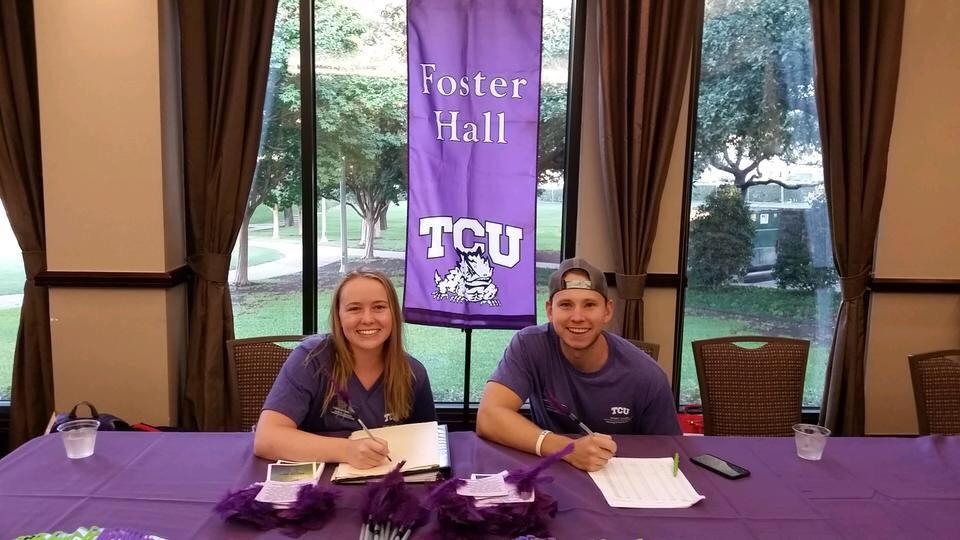 Residents gather together and hang out in the lounges like Foster Nest. Sophomore communication studies major Elodi Bodamer remembers watching the Super Bowl with her friends during her first year.
"My favorite memory from living in Foster was the time my friends and I slept in the Foster Nest," Bodamer said. "We ordered Toppers and had wings from Buffalo Bros."
Allen said TCU has modeled its Housing & Residence Life off of the idea that good relationships are at the foundation.
"I think the model we follow and the philosophy we believe in makes us better," he said. "We ask resident assistants and hall directors to make sure that we know residents and that they know each other."
This event is open to the entire Horned Frog community, but the invitation is especially extended to past and present residents of Foster Hall. The goal is to bring all together to celebrate Foster as the oldest residential community on campus.
"It isn't often that students get to learn more about the history of their college residence hall," Allen said. "I think students will enjoy what they learn and this will continue to make students proud to be Foster residents."