The Horned Frogs showed the country that they didn't need a game-winning field goal this year, limiting the Kansas Jayhawks to 21 yards of total offense, the fewest allowed by an FBS defense this season, and the Kenny Hill-led offense attack moved up and down the field at Amon G. Carter Stadium with ease Saturday night in 43-0 blowout victory.
"We didn't play a close ball game like we had with Kansas, and always when you play a night game in the Carter you're going to have a little bit more energy," TCU head coach Gary Patterson said. 
Since beginning Big 12 play in 2012, TCU had won all five meetings with Kansas, but each game was decided by 14 points or less with a combined margin victory of 35 points over the five years.
The 43 points were the most TCU has scored in the Kansas series, and the margin of victory alone was greater than those 35 points that had decided the previous five TCU wins.
With 12:49 to play and severe weather about to hit the area, both teams agreed to play the remainder of the game with a running clock.
"It was nice to run clock and get over it so we wouldn't have to be here until one in the morning," Patterson said. 
TCU took care of business in all three phases: offense, defense, and special teams.
Offensively, Kenny Hill put together arguably his most complete performance in his time at TCU, as his five touchdown passes equaled a career-high set last season against Oklahoma and tied for second-most in a game in TCU history. Hill finished the night with 278 yards passing on 19-of-26 passing.
"That's just the hard work, that's the Kenny that we always knew, and last year he just had to get back into that rhythm, which is a testament to the hard work we put in this offseason, throwing at night, coming in before workouts, throwing after workouts," TCU wide receiver John Diarse said. 
The Horned Frog signal-caller connected on scoring passes to wide receiver Jalen Reagor in the second and third quarters, to Desmon White on the first possession of the game, John Diarse in the second quarter and Taj Williams in the third quarter for his first catch of the season, making him the 19th player with a catch for the Horned Frog this year and 11th with a touchdown reception.
TCU wide receiver John Diarse also had one of his best games as a Horned Frog totaling 130 yards, including a 67-yard touchdown, extending his team-best streak to 21 consecutive games with a catch, which includes his final game at LSU in 2015. The senior wideout put together the first 100-yard receiving game by a Horned Frog this season and his second career 100-yard effort. He had 139 yards last season versus SMU.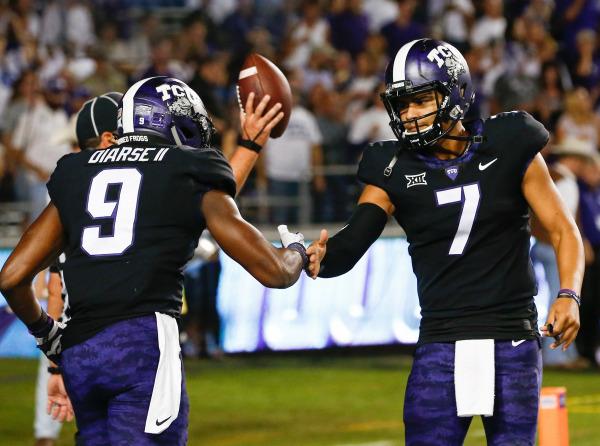 Defensively, TCU limited Kansas to just 21 yards, the fewest ever in a Big 12 game, leaving former TCU offensive coordinator and current Kansas offensive coordinator Doug Meacham off the scoreboard. 
"Bottom line to it is knowledge goes both ways, and people had played a three-man rush against them in the past and I felt like one of our strengths was going to be our defensive line," Patterson said. "We knew we were going to have to change up coverages because they knew a lot about us."
Kansas had four yards on 42 plays before its last drive of the game, and they ended up with 21 yards on 49 plays. TCU's four sacks amounted to 24 yards in losses, which means Kansas rushed for 1 yard on 27 carries.
The Jayhawks finished the third quarter with negative yardage and just three first downs, one on its opening possession and the others by penalty. At one point, the Jayhawks went three-and-out on eight straight possessions.
"You're just speechless, especially tonight because they gave up negative yards going into that last drive of the fourth quarter," TCU quarterback Kenny Hill said. "I mean that's unbelievable; I have never seen that in my life, so to have a defense that is playing that way, playing confident that's big time, and it gives us energy on offense because we want to go out there and do the same thing for them."
Special teams were TCU's weakest link, but barely.
KaVontae Turpin lived up to his dangerous reputation, as he zigged and zagged through the Kansas punt coverage, running almost into his own end zone, but he eventually found some daylight and took the punt 90 yards to the house with 6:45 left in third quarter.
"Every time he [Turpin] touches the ball I think he's going to score, and whenever we give it to him, I sit back and watch because I know something amazing is about to happen," Hill said. "He backs it up with that punt return for a touchdown, and it's unbelievable because I have never seen anything like that. I thought he was tackled at the four."
Up Next
The Horned Frogs have a five-game stretch to finish the regular season that picks up with a visit to Ames, Iowa and a matchup against a surging Iowa State, who improved to 5-2 after its decisive 31-13 beatdown of Texas Tech in Lubbock.
"We have a tough ball game next week, even if they weren't 5-2 it'd be a tough ball game," Patterson said.
TCU kicks off its Oct. 28 matchup against Iowa State in Ames at 2:30 p.m.