Coleman's leadership fosters growth for women's basketball teammates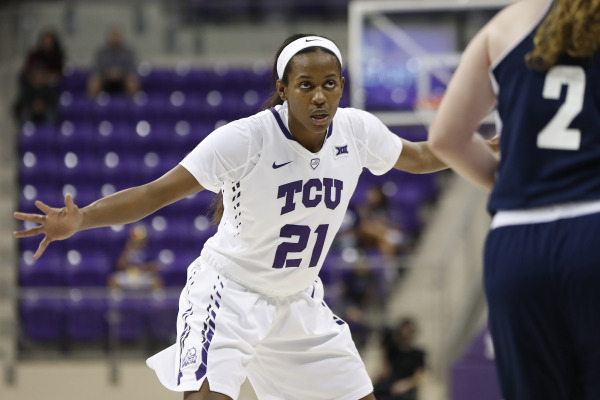 One player has remained constant in head coach Raegan Pebley's four seasons at the helm of TCU women's basketball: senior guard Sydney Coleman.
Coleman decided to stay committed to the Horned Frogs even when Jeff Mittie, TCU's previous coach who recruited her, was relieved of his duties.
"I liked the school's location because it's a three-hour trip from home, so my parents can come to a lot of home games if need be," she said. "It's a small school with great facilities as well as good accolades. A degree from TCU — either way, whoever was coaching — would still be an honor."
Coleman, who is the only player who has been with the team as long as Pebley, has made a lasting impact on her teammates and the program. Despite not being in a feature role on the court, she has made her presence felt off the court as a leader.
"I show the younger players the ropes and continue to be an example with my actions as far as my effort goes in practice and my talk during games and in practice," Coleman said.
Pebley attributed Coleman's leadership abilities to the experience she has gained throughout her four years at TCU — abilities Coleman was forced to grow as the team featured more younger players in her sophomore and junior years.
"My freshman year, the team dynamic was much older since we had more upperclassmen than underclassmen," Coleman said. "So I had to grow up really fast. As it went on, the dynamic got younger, so now I have to be the grown-up on the team."
The team's mantra this season is to be "Tougher Together," meaning each individual player should step up as a leader throughout the season, but Coleman stands out from the rest of her teammates Pebley said.
"We try to foster horizontal leadership where everyone takes leadership responsibilities," Pebley said. "But since she's been through it before, she's learned from some other great leaders. She's not afraid to be vocal in her leadership as well and allow people to hold her accountable. She possesses a lot of great leadership traits."
She also said Coleman's mental toughness perseveres despite not having much court time in her first three years.  Pebley says she believes that toughness can push the team to the next level.
"She's continued every day to come in ready to serve her team, get better and have a growth mindset," Pebley said. "Her toughness factor is off the charts. It's a testament to who she is as a person."
Coleman and the Frogs return to Schollmaier Arena Tuesday evening for a matchup against the Yale Bulldogs. Tip-off is set for 6:30 p.m.