The Horned Frogs conquered a hostile environment and a scrappy North Texas team in Denton Friday in five back-and-forth sets to advance to the National Invitational Volleyball Championship Elite Eight, 3-2 (24-26, 25-21, 23-25, 25-23, 15-10.)
"I'm proud of them for sticking it out because there were times where we got down and we fought back," Director of Volleyball Jill Kramer said. "There were times we were up a lot and we let them in, we didn't let of that phase us, and we stuck with it the whole time and just kept fighting."
TCU received All-Big 12 selection Anna Walsh's best performance with a career-high 25 kills, outside hitter Lexi Maclean contributed 14 kills, and Thursday's top player Abigail Buckingham had 10 kills. Senior setter Lamprini Konstantinidou had a team-high 25 assists, and first-year setter Tori Dilfer delivered 19 assists.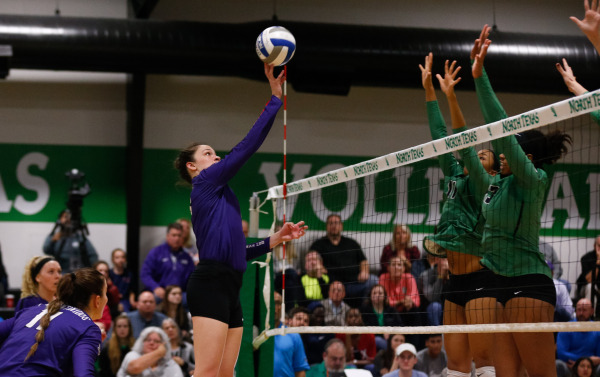 Walsh contributed her success to her teammates.
"I'm so proud of Tori [Dilfer]," middle blocker Anna Walsh said. "Stepping into this role as a freshman and a setter can be difficult, but she's mentally tough and I'm proud of her, and of course I love Prini. I was telling Jill [Kramer] that as a middle especially you can't get anywhere without your passers or your setters, so shoutout to them for passing shots I could nail and getting me the ball."
The Horned Frogs and the Mean Green battled back and forth for the entire first set until North Texas started to gain some separation, leading by five as the frame was winding down, 22-17. However, TCU battled all the way back, winning seven of the next nine points, to send it to a win-by-two situation. The Horned Frogs were unable to earn a set point, and UNT finished the first set off in their third set point opportunity on a kill from first-year outside hitter Barbara Teakell, 26-24.
The Horned Frogs raced out to a significant lead in the second set, as they lead by six, 20-14. However, UNT clawed its way back, cutting the TCU advantage to just one, 22-21. TCU weathered the storm, winning the next four points to tie the match at a set a piece, 25-21.
TCU built another six-point lead midway through the third set, 14-8, but it wouldn't last. The Mean Green roared all the way back to tie the set at 22, and then UNT finished off the third on a kill by Wright, 25-23.
TCU bounced back in the fourth set, as they possessed a couple four-point leads, 7-3 and 13-9, but the Mean Green climbed back to tie the set at 17. After UNT took a two-point lead, 22-20, TCU won five of the next six points to tie the match after a couple of Buckingham kills to close it out, 25-23.
With each team winning two sets, the Round of 16 matchup went the distance: a winner-take-all fifth set to 15. The Horned Frogs took an 11-5 lead and never looked back, winning the final set, 15-10, with the final kill coming from Walsh.
Kramer said her team's mental outlook had a lot to do with the winning result.
"I said to Anna what a performance by you, and she said yeah we were not going to lose this match," Kramer said. "We came into this match all day thinking we were going to get it done, and I don't think they ever let that leave their minds. You can't make unforced errors in fifth sets and expect to get it done. I think they managed the game really well. Their head was in the right place."
TCU also had to deal with a "drastic" atmosphere shift in between Thursday and Friday, matching up against a Wyoming team that traveled across the country in Round 1 to playing a North Texas team taking the court in its own gym in Round 2.
"I think Big 12 has pretty crazy atmospheres, so that helps prepare us," Walsh said. "The change can be drastic, but I think as a team we feed off that. A crazier crowd was one of those challenges, but I think we were prepared for it."
Up Next
With the win TCU's season returns to Fort Worth for the next two rounds of the NIVC.
"We love home, so of course that's fun," Walsh said. "We love our fans, we love them to death, so we're excited to play in front of them."
TCU hosts Green Bay at 7 p.m. in a NIVC quarterfinal match Wednesday at the University Recreation Center.