The shuttle bus driver injured in last month's road rage incident died Nov. 28 after two weeks in the hospital.
David Mitchell was injured following an altercation with another Roadrunner Charters shuttle driver that set off a campus-wide lockdown. Family lawyer Greg Kish said Mitchell sustained a fractured arm requiring surgery, head trauma and lacerations requiring stitches, and deep contusions to his midsection. He also had scrapes and bruising to his knees, back and extremities as a result of the attack.
Fort Worth police initially said Eric Hampton, the other shuttle driver, "bumped" Mitchell with a shuttle.
"Dave also had nightmares about the attack until his death," Kish said.
According to Kish, the family has not yet received an autopsy report, but was told Mitchell died from a pulmonary embolism which they believe was "directly related" to the attack and Mitchell's hospital stay.
TCU students were informed of driver David Mitchell's death in a campus-wide email sent out Monday when Chancellor Victor Boschini requested the TCU flag be lowered to half-staff in memoriam. Mitchell worked as a shuttle driver for TCU for two years.
"Texas Christian University is saddened to hear this news," said Holly Ellman, Associate Director for TCU's Strategic Communication Managment. "We send our warmest thoughts, prayers and condolences to the family in this difficult time."
Kish said Mitchell loved working at TCU.
"He was a hard-working man and a good man," Kish said. "Dave's wife, Zelda, described Dave as a big teddy bear. He always wanted to help people. He will be missed."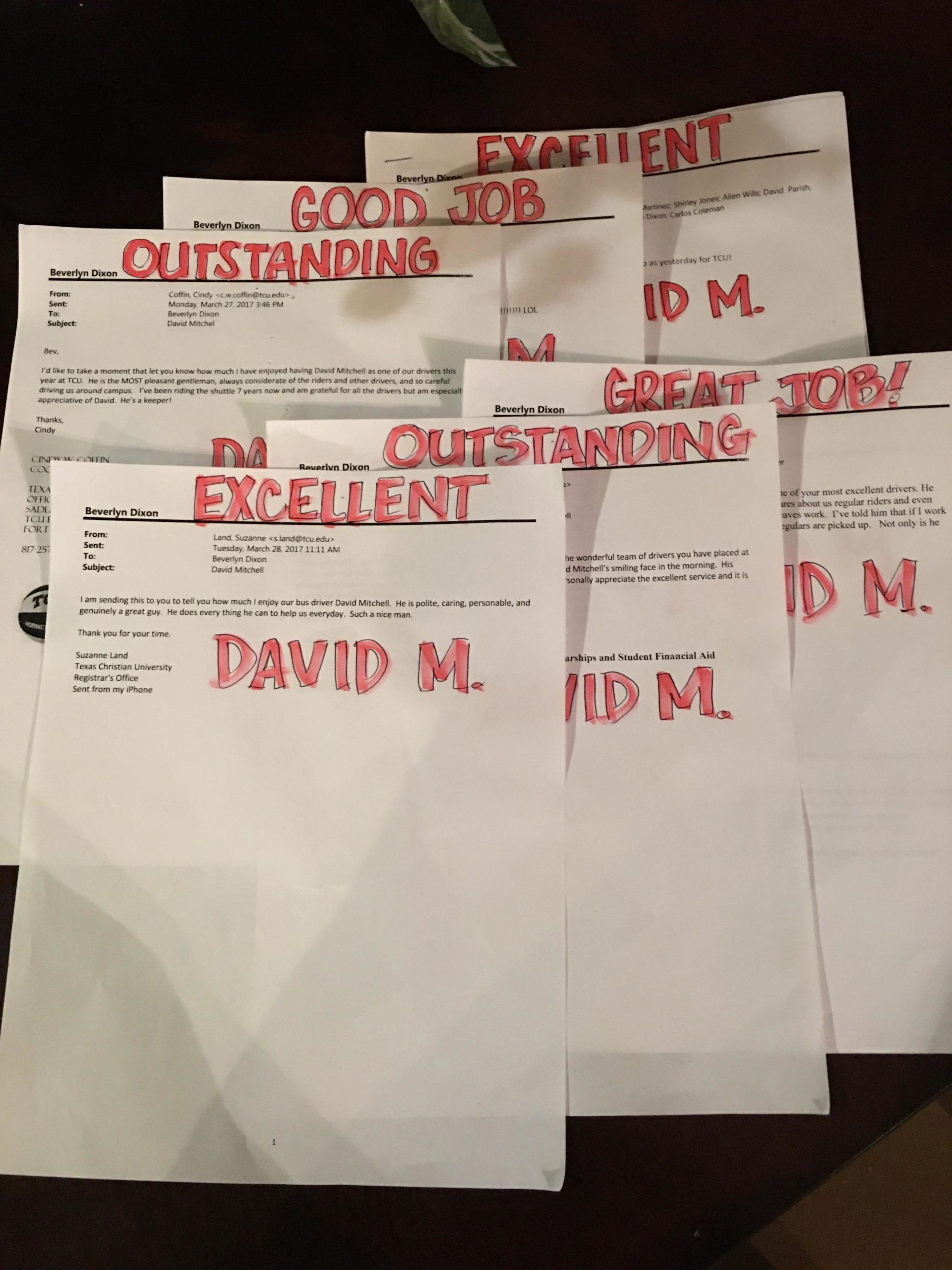 Kish shared performance reviews of Mitchell's work at TCU which include feedback of "outstanding" and "excellent."
Suzanne Land, who works in the Office of the Registrar, said Mitchell was a thoughtful and caring man.
"If you were leaving early, all you had to do was tell him and he made sure that he was at the stop or sent someone else," Land said.  "He went above and beyond with his role here at TCU.  He asked about my family every day. He was just an incredibly nice man who had a genuine love for family and his job.  I am just heartbroken that he is lost to us and his family. I will miss his smile and great attitude."
Mitchell also left a positive impact on Cindy Coffin who works in the Office of Donor Relations.
"David was a genuine friend to me and, I think, all the regular riders on the shuttle," Coffin said. "He watched out for us. He thought of the things that made life easier for all his riders which was so considerate."
Coffin added that Mitchell was a family man through and through.
"He loved talking about his family," Coffin said. "A proud dad, he often shared about his family activities but most importantly the interesting things his daughters were doing and what lovely women they had grown up to be. David truly was a good man and I miss seeing him."
A viewing will be held at Evergreen Funeral Home Friday, Dec. 8 from 1 p.m. to 9 p.m. The funeral will be held Saturday, Dec. 9, at 11 a.m. at Hope of Glory, 4002 S. Marsalas, Dallas.
Family members have also started a
GoFundMe page
to help pay for funeral and burial costs. The site states, "We are trying to keep strong and make the necessary arrangements but need help with funds as his passing was completely unexpected. Any donated amount will be appreciated."