A look into the Rho Gamma application process
Though TCU Panhellenic formal recruitment isn't for another seven months, the search for Rho Gammas is already well underway.
Rho Gammas are Panhellenic women selected by the Executive Board who disassociate from their chapters in order to help Potential New Members (PNMs) through the recruitment process as unbiased listeners and friends with the goal of helping women find their place in TCU's Greek life.
"Rho Gammas have the incredible opportunity to be one of the first leaders that PNMs meet on TCU's campus and help shape their first few weeks of college," said junior Olivia Paulson, Vice President of Recruitment Programming for TCU Panhellenic. She is in charge of coordinating this year's Rho Gamma selection process.
"During recruitment, PNMs look to [Rho Gammas] for everything from choosing an outfit to making tough decisions," Paulson said. "Rho Gammas show PNMs what real sorority women are like because the glitz and glam of recruitment can be overwhelming for some, so reminding PNMs that the chapters are full of women just like them can make the process seem more manageable."
With 13 Panhellenic sororities on campus and limited Rho Gamma spots, the application process is competitive. Those wanting to fill one of the spots have until Jan. 26 to apply.
Paulson said 6 percent of each sorority's fall membership numbers are required to apply. This averages to 13-14 women per sorority. Last year there were 214 applicants, with only 68 chosen for the position.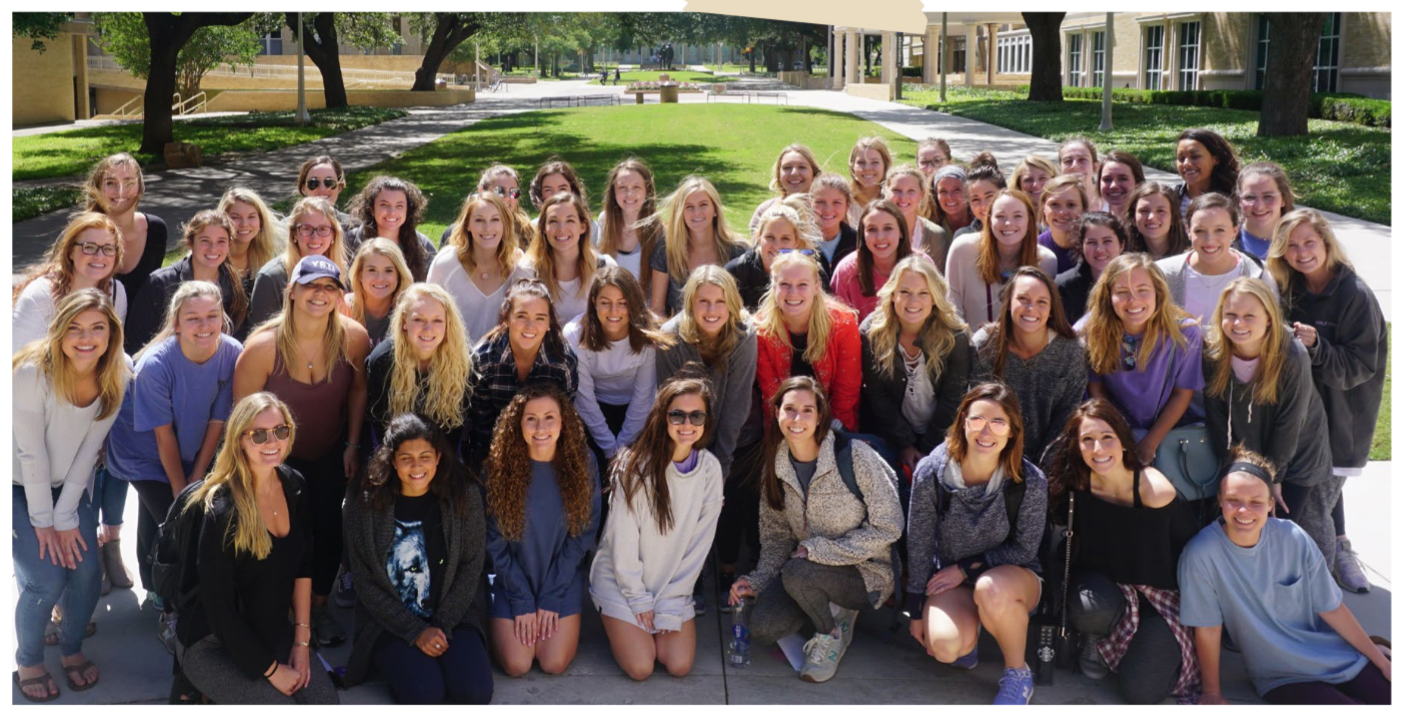 One of those 68 was senior graphic design major Claire Hargis. Hargis has been a Rho Gamma for the past two years and said it was the most rewarding experience she's had in college.
"Helping others find their Greek homes has been the baseline of building some of the greatest relationships I have at TCU," Hargis said. "Sisterhood built upon similar values is incredibly strong, and that's what we have as Rho Gammas."
Applicants must have a minimum 3.0 cumulative GPA, be in good standing with their chapter, be either a junior or senior at the time of formal recruitment, and attend all spring trainings, work week and formal recruitment.
Applicants who qualify move on to the interviews that will be held Feb. 13-21.
"Overall, I'd say that there are no specific characteristics that we look for in Rho Gammas because every PNM is different," Paulson said. "In order to connect with each one, I'm looking for a variety of women with different strengths, but who are willing to prioritize the needs of the women going through recruitment above all else."
Paulson said applicants should also know investing their time in the PNMs means they will be making the Greek community stronger as a whole.
"Rho Gammas have the opportunity to shape the next generation of sorority women by leading them to see the beauty in all of the chapters on TCU's campus," Paulson said. "By affirming each of the chapters for the strengths that they bring, PNMs can then see that when joining a chapter, they are not gaining just the sisters of one group, but that they are becoming part of a supporting community."
For those interested in applying, the next Rho Gamma information session is Thursday at 7 p.m. in the King Family Commons room 203c.