Six words: "More than a major. A movement." These words serve as the motto for the Comparative Race & Ethnic Studies (CRES) program as it looks forward to continuing to impact TCU at its core.
As TCU has adopted its "Vision in Action" strategic plan to improve diversity and inclusion among the campus, CRES has been active in working to change the campus culture by educating "students, faculty, staff and the larger community to critically examine racial and ethnic identities," its mission statement says.
"We created CRES because we thought that it was in the benefit of all students and of the entire university community to understand race and ethnicity and how they work," Director of CRES Max Krochmal said.
Krochmal said the program has been "wildly successful" thus far and has influenced students, faculty, and staff to have conversations about differences. He said the critical components of the program are designed to translate into skills that will help create ethical leaders in a global society, as the TCU mission statement says.
"We need to help expose students to stories, experiences, histories and cultures that have been marginalized," he said. "We need to help all students understand their social positioning in relationship to systems that confer privileges on one group and systematically oppress others, especially with race and ethnicity, and we need to give students the tools to communicate, thrive and function across lines of difference."
Although CRES officially started in the spring of 2017, the first batch of courses began in the fall with two sections of CRES 10103 – Engaging Difference and Diversity.
Sophomore Tymerra Coleman said she chose to study CRES after switching her major four times during her freshman year. She said the introductory class has given her a stronger platform to speak about race. As a black woman at a predominantly white institution, Coleman said white students frequently make assumptions about minority students.
"I think people expect me to know everything about race because I'm black," Coleman said. "CRES gives me the opportunity, as well as people who are not people of color, to explore some of these issues."
Her classmate, Cody Reynolds, is the only white male in that section and said he initially felt out of place but had a great experience in the course. Reynolds is a senior music composition major, and he believes there should be changes to the core curriculum to support classes like CRES that are useful in everyday life.
"A lot of the core classes that we're required to take have little to no impact and really I don't get anything from," Reynolds said. "If we can incorporate classes that deal with modern issues or that relate to our daily lives, I think it's not only useful but should be mandatory."
He said the need for mandatory courses is a result of seeing TCU invest in resources to make the campus more inclusive but watching the majority – white students – shy away from enrolling in classes or attending events or programs dedicated to diversity.
According to the 2017 TCU Fact Book, the undergraduate population is 70.5 percent white. In comparison, the Hispanic, Black, and Asian populations don't even total 23 percent with 13.5 percent, 5.4 percent, and 3.2 percent, respectively.
"I do believe that TCU does do a good job of giving resources and giving opportunities to people who seek them out, but that's the issue – it's that the majority of people on campus aren't going to them," Reynolds said.
To change or add to the core curriculum, several things must be done to get a course approved, but it starts with faculty submitting courses for approval, Associate Provost for Institutional Effectiveness Catherine Wehlberg said.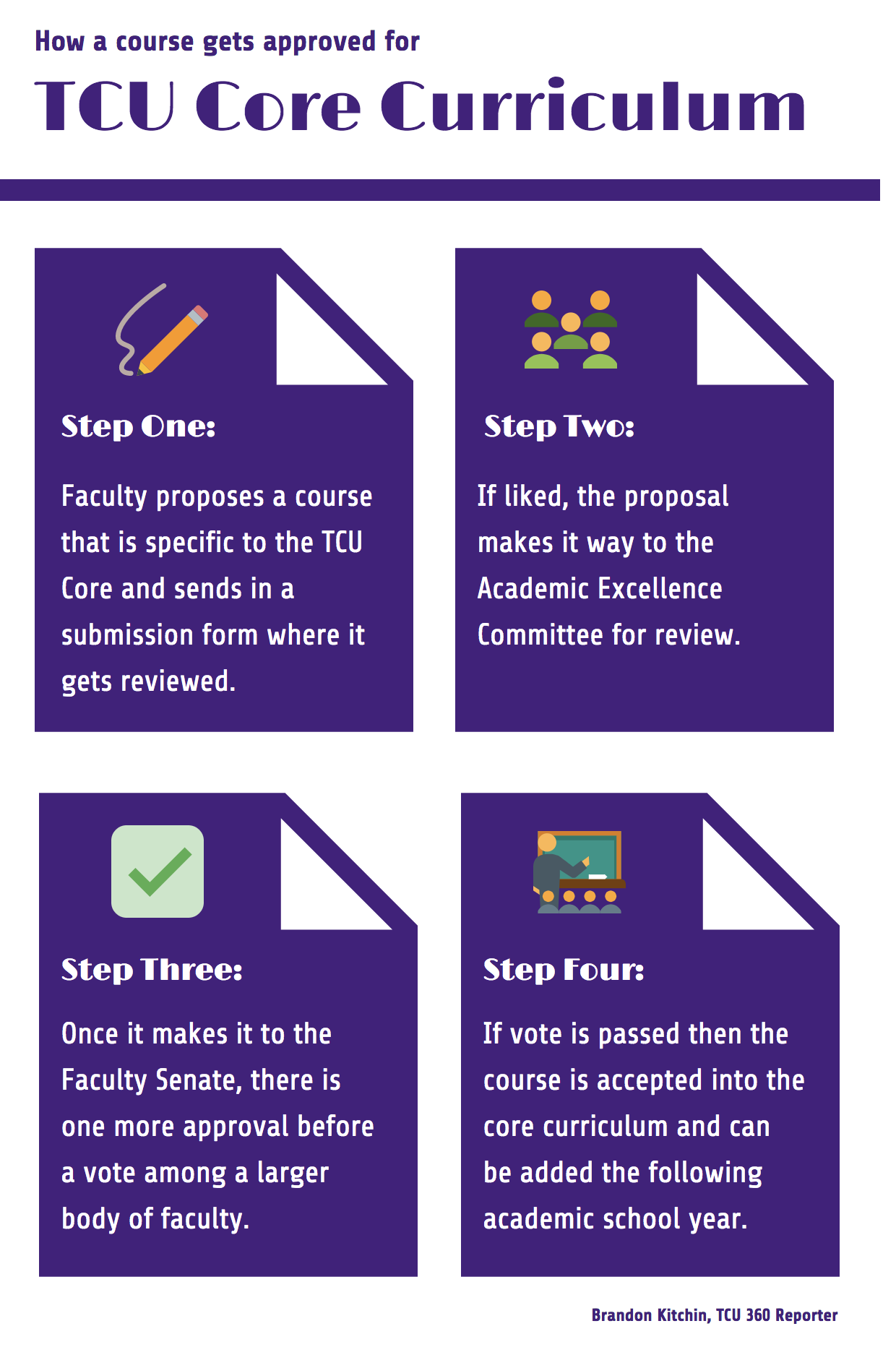 "The faculty senate committee is still in early stages of proposing a possible change to the core and the Diversity, Equity, and Inclusion (DEI) subcommittee are also part of discussing," said Committee Chair for Academic Excellence Joddy Murray.
"We are now discussing several options for developing students' cultural competency within TCU's core," Associate Professor of English and Faculty Affiliate for Women and Gender Studies Ariane Balizet, who serves on the DEI committee, said. "Attention to issues of diversity, power, and marginalization in the curriculum are part of a larger, campus-wide effort, prompted by the Chancellor, to understand and promote diversity."
Emendation and Course Info Policy for the TCU Core Curriculum by Brandon Kitchin on Scribd
Even if courses are approved for the core curriculum, students and faculty say one problem still exists: a lack of diversity among faculty to help teach those courses. They say fixing that should be the next big step for the university.
"How can we expect students to be here, students of color to be here and to be engaged if we're not even representing that in our faculty?" Coleman said. "I think collectively, you know, diversifying curriculum is important, but we have to have faculty of color here who can represent that in the classroom. We have to make sure our curriculum reflects our true values if you want to teach students to be ethical leaders in a global community – how can we do that when they're not even that on TCU's campus?"
Krochmal sees the same problem.
"If we got the core curriculum passed tomorrow, I don't know who would teach it," Krochmal said. "If we achieve diversity and inclusion at a greater scale, it's going to open up new avenues for university advancement. If you hire even a small percentage of faculty of color, there are ripple effects throughout the entire campus culture that makes the climate more inclusive and welcoming.
Reynolds agreed.
"If there's higher numbers, then there's a larger voice and if there's a larger voice, then we can continue to make an impact," Reynolds said.
While CRES takes the necessary steps to reach the next phase, Krochmal is confident that the university will get it done sooner rather than later.
"A couple years ago when we first dreamed up this idea, a lot of people thought we were crazy," he said. "They thought 'you'll never get a major in ethnic studies at TCU, TCU is never going to invest seriously in diversity, equity and inclusion, you'll never get it in the core,' and you know we got the major. TCU is making rigorous investments in diversity and equity and the core is on the table. I think we have made a lot of progress. I think that the highest levels of the administration are invested in diversity in a way that they never were when I first arrived, and that's really refreshing to see."