Study Abroad Fair offers students chance to learn about other cultures, study abroad programs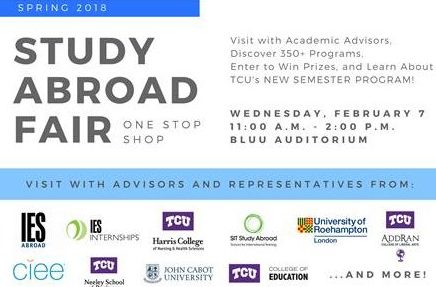 Students looking to learn more about the world and their chances to explore can get their questions answered at the 2018 Study Abroad Fair Feb. 7 from 11 a.m.-2 p.m. in the Brown Lupton University Union Auditorium.
Students will learn about the more than 350 TCU and TCU-approved programs to study overseas. The fair targets students looking to go abroad in the fall of 2018 but is open to all students.
Group information sessions led by staff are available to teach students about the program, credits, costs, scholarships, applications and deadlines.
"The fair is a great resource for students to learn about all of the options offered through TCU for semester and summer abroad programs." Tatiana Marceleno, study abroad recruitment coordinator, said.
Marceleno recommends students who cannot attend the fair visit the office of the Center for International Studies in Reed 214 if they have questions or concerns.
There will be representatives from TCU Honors College, TCU Neeley School of Business, TCU Harris College of Nursing and Health Sciences, TCU AddRan College of Liberal Arts, the University of Roehampton in London, John Cabot University in Rome, IES Abroad, IES Internships, CIEE and SIT Study Abroad.
The Center for International Studies is responsible for hosting the fair and manages the university's international programs. According to the Center for International Studies website, their mission is to "empower students to face global realities by providing quality international learning experiences which foster global competencies."
Catherine Leonard, junior strategic communication major, said she loved immersing herself in the London culture and exploring the country.
"If you can make going abroad work timewise and financially, you have to do it," said Leonard. "I honestly think my view on life would still be contained to the TCU bubble if I was not able to go."
For more information about the event and study abroad programs, visit the Center for International Studies in Reed 214, their website or email [email protected]