The Horned Frogs dropped their seventh conference game of the season as they fell to No. 10 Kansas in Lawrence, Kansas Tuesday, 71-64.
In a less-than-ideal season for Kansas, the Jayhawks have struggled on their home court. Allen Fieldhouse perennially gives Kansas one of the best home-court advantages in the nation, but this season has been the opposite. Between the 2007 and 2016 seasons, the Jayhawks recorded an incredible 140-3 record at home, but have lost four games at home this season. The tenth-ranked team was able to grind out a victory over the Horned Frogs.
TCU competed with the Jayhawks all night and held a lead for most of the first half. Until the final minute, each team's largest deficit was five points and both squads overcame the small point spreads.
With 8:35 remaining in the first half, Kansas' Devonte' Graham nailed a three-point shot to put the Jayhawks up 26-21. Graham, the preseason Big 12 Player of the Year, finished with 24 points. However, the Horned Frogs responded well and ended the half on a 15-8 run to enter the locker room with the lead, 36-34.
A major force in the first 20 minutes for the Frogs was the production off the bench. TCU's bench outscored Kansas' bench 18-9 in the first frame and was led by Kouat Noi, who finished with 17 points off the bench, 13 of which came in the first half.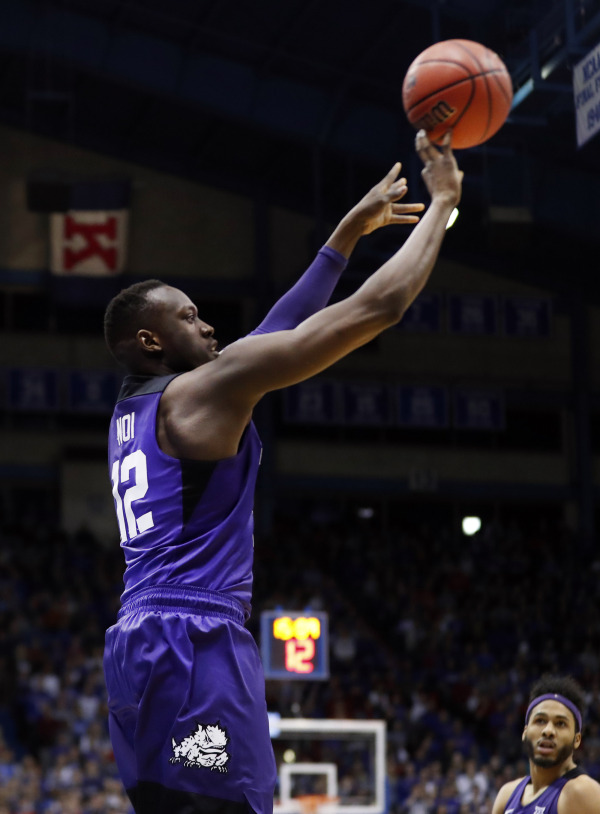 Despite outrebounding the Jayhawks 38-37 on the night, Kansas outlasted the Horned Frogs in the second half, led by Graham and Udoka Azubuike, who finished with 16 points and 11 rebounds.
TCU dropped t0 16-2 under Jamie Dixon when leading at halftime.
Vladimir Brodziansky finished the game with 15 points and eight rebounds and Alex Robinson, with nine assists on the night, passed Jamie Dixon on TCU's all-time assist leaderboard. Kenrich Williams surpassed the 800-rebound mark and became TCU's fifth all-time leading rebounder with nine rebounds Tuesday.
The Horned Frogs will return to Schollmaier Arena Saturday and will look to avenge a double-overtime loss as they face the Texas Longhorns. Tipoff is scheduled for 1 p.m.