There's a new Horned Frog in town
His spikes are hand-made by aunt Lauren, his jersey is personally embroidered by Aunt Tiffany and Grandma Brenda ordered a hand-made mascot head from China.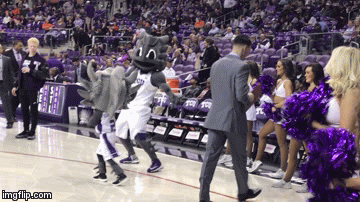 There's a new frog in town, and just like SuperFrog, this little guy asked to remain anonymous.
"He's always been just a major fan of SuperFrog or any mascot," his mother, Hollee Reed, said.
The little frog has made several appearances this past year and hopes for more to come.
"As soon as he puts on his head he becomes a whole other person and he's very good at gesturing," Reed said. "He's not as outspoken with his voice as he is with his movements."
The family sent in a picture of the actual Superfrog to a company in China that guaranteed a 90 percent look-a-like of the real SuperFrog, which resulted in a hand-made mask.
The first mask they received did not look like SuperFrog, so they tried again and ended up with much better results. They said the cost of the mask was about $500.
TCU Athletics is looking into getting this tadpole a chance to attend more football, baseball and basketball games.
"Right now, he's an unofficial part of the family," equipment coordinator Justin Shaw said. "I was able to reach out to a few of our representatives at Nike, and a few of our local embroiderers and decorators. We have a few surprises coming in terms of football, baseball, and basketball uniforms."
Ultimately, the little frog dreams to one day become super.
"We go to Azle school district, and he plans to be Buzzy at the high school level and then Superfrog at TCU," Reed said.
The little frog was last seen performing during halftime at the TCU vs. Oklahoma State men's basketball game.
"The last home game was a pretty spontaneous thing," Shaw said. "I think being out there with big SuperFrog, the cheerleaders and the showgirls is a once-in-a-lifetime experience that just might turn into a second."