No. 3 Baseball walks off over UC Irvine, 4-3
Less than 24 hours removed from a thrilling victory over UT-Arlington, No. 3 TCU earned a victory in walk-off fashion over the UC Irvine Anteaters Friday night.
"I'm proud of the way we competed over the last two innings," head coach Jim Schlossnagle said. "We had a lot of at-bats and the competitiveness has to be better. All in all, we'll take it but we certainly need to get better in a lot of ways."
Jared Janczak started the night on the mound for the Horned Frogs and surrendered a lead-off walk to the Anteaters' Jake Palmer to begin the contest. Humphrey's caught Palmer stealing and Janczak recovered with two consecutive strikeouts to keep the game scoreless.
The Horned Frogs took the lead in the second inning.
Josh Watson started it off with his speed by beating out a hard ground ball to the third baseman. Zach Humphreys was hit by a pitch and A.J. Balta singled into center field to load the bases. TCU broke the scoreless tie with a five-pitch bases-loaded walk to Michael Landestoy but were unable to add any additional runs as UC Irvine's Andre Pallante responded with three consecutive strikeouts.
The Anteaters needed little time to take the lead in the third inning. Janczak surrendered two walks in the inning and UC Irvine cracked the scoreboard with a single into left field by Brendan Brooks. Adrian Damla scored from second base.
The Horned Frogs lost the lead in the next at-bat with an error from third baseman Conner Shepherd. Shepherd dropped a pop-up off the bat of Konnor Zickefoose. Palmer scored from second base.
Despite trailing, Janczak kept the Horned Frogs within striking distance all night, including a shut-down six-pitch sixth inning. Janczak finished the night with six strikeouts, three walks and 92 total pitches in six innings of action. He recorded his 200th career strikeout Friday night.
#⃣2⃣0⃣0⃣ #GoFrogs pic.twitter.com/2a8vgrN8IK

— TCU Baseball (@TCU_Baseball) March 3, 2018
"I wanted to get back to what I do," Janczak said. "I wanted to pitch to the bottom of the zone and let them hit it. That six-pitch inning helped me a lot and really got me back on pace."
The Horned Frogs finally tied the ballgame off a two-out fielding error by Ryan Fitzpatrick. A simple ground ball to second baseman Cole Kreuter was missed by Fitzpatrick and Wanhanen scored from second base, who originally reached base when he hit into a fielder's choice that stranded Boulware at second.
Nick Anderson singled to left field and Jacob Castro reached first base safely on a fielding error by Luken Baker to put runners on first and third with zero outs. Janczak was pulled following Castro's hit and sophomore Cal Coughlin entered the game from the bullpen in relief and immediately allowed a run.
Anderson scored from third on a single from Fitzpatrick to and allowed UC Irvine to regain the lead at 3-2. Coughlin finished the inning strong, limiting the damage to one run and stranding two runners on base. He retired all three Anteaters in the eighth inning.
"I thought Jared did a good job and Cal got some big outs to keep it to one run," Schlossnagle said.
Sophomore Jake Eissler replaced Coughlin in the ninth inning and retired all three batters to give the Horned Frogs life entering the bottom of the ninth.
"Jake's really made a lot of improvements since last year and he's fulfilling a big role on this team," Schlossnagle said. "It's nice to have a guy out there who you know is going to throw strikes."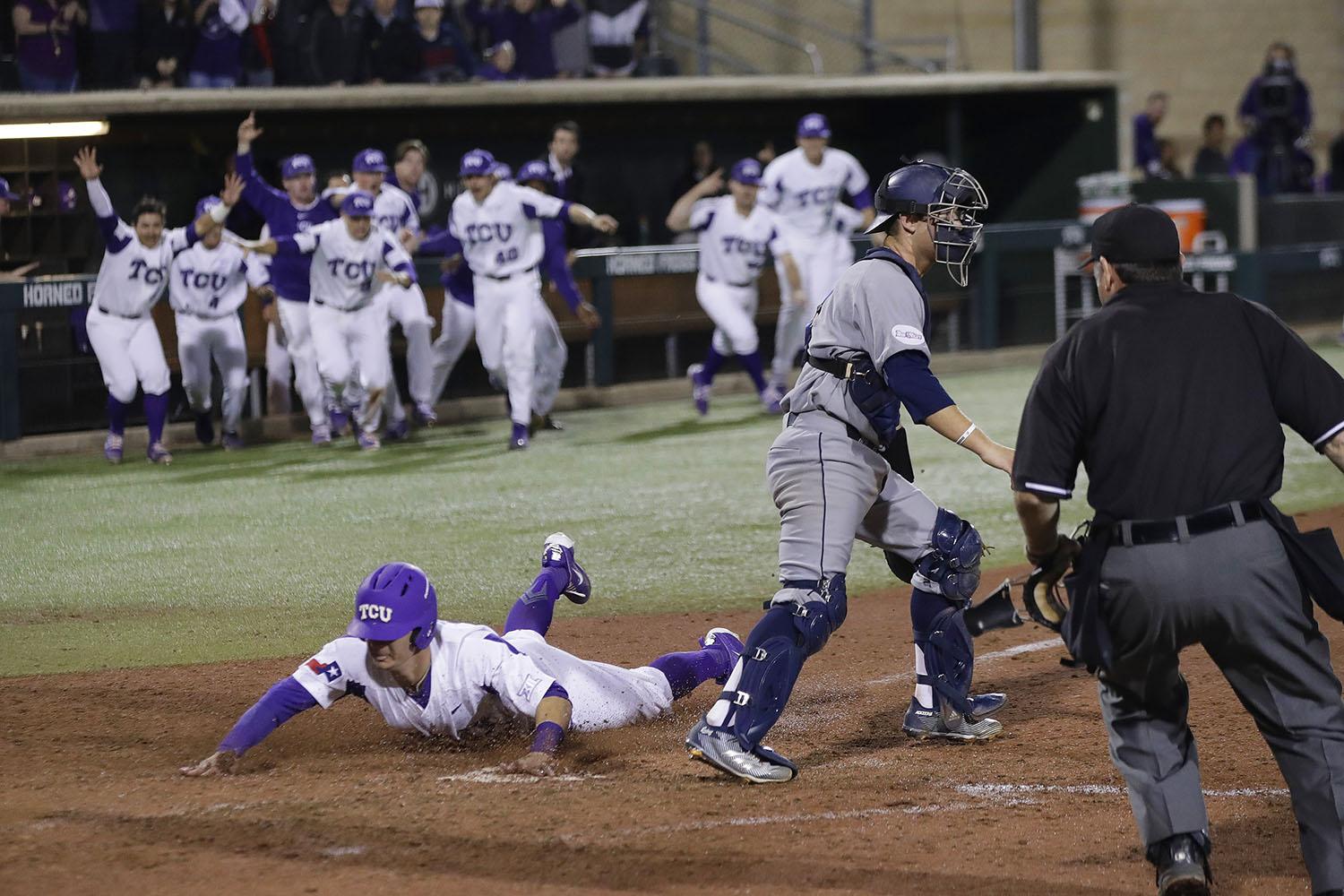 Wanhanen started the ninth inning rally with a single up the middle. Baker sent a moonball down to the outfield wall and put runners on second and third. The Anteaters intentionally walked Watson, loading the bases. Humphreys worked an eight-pitch walk next, tying the game.
Balta fouled out to right field and pinch runner Colton Parrish tagged up and scored to cap off the stong ninth-inning comeback.
Walk it off, Balta! #GoFrogs pic.twitter.com/wY50jrKPMM

— TCU Baseball (@TCU_Baseball) March 3, 2018
"It felt amazing," Balta said. "This was really a great team win where we all came together and definitely had a lot of opportunities to not make the game so close but I'm glad we came out on top."
Tonight's victory marks TCU's second victory in eight games this season when trailing after eight. This is the first time since 2016 that TCU has tallied wins while trailing after eight innings.
Saturday's five-run third inning extends TCU's winning streak to five
No. 3 TCU secured a lead in the third inning after scoring five runs Saturday afternoon against UC Irvine and ended with a 6-2 victory. Three Horned Frogs registered multi-hit games.
Sophomore left-handed pitcher Nick Lodolo (3-0) was dominant in the six innings he played. He struck out a career-high of 10 batters.
"At the beginning of the game I wasn't jumping ahead on hitters so I think that was my motivation going into the fifth and sixth to keep attacking guys jumping ahead and get them swinging, " said Lodolo.
He allowed one earned run on seven hits and walked two. First-year James Notary came on to the mound for the seventh inning for a shutout and was followed by Cal Coughlin in the eighth and Durbin Feltman in the ninth.
On offense, the teams headed into the third inning scoreless until UC Irvine took the lead with a lead-off single on a groundout off the bat of first-year catcher Jacob Castro.
TCU answered in the bottom of the third and took advantage off of two Anteater errors. Junior infielder Danny Crews opened the inning with his first career hit, a double down the left field line, and hustled safely to second base. Two batters later the bases were loaded with Crews, first-year second baseman Coby Boulware, and first-year catcher Colton Parrish. Luken Baker gave the Horned Frogs a 2-1 lead with a hit to centerfield. RBIs from Josh Watson, Michael Landestoy and A.J. Balta extended the lead to four, 5-1.
The Frogs added a two-out run in the fifth. Watson started the two-out rally with a base hit. The designated hitter, Landestoy, followed with an infield single putting him safe at first base and Watson at second. Balta picked up his second RBI of the game with a base hit to left center which gave Watson the opportunity to bring a run to home plate. 
"We pitched and played pretty good defense," Schlossnagle said. "I think we pitched well out of the bullpen. Cal Coughlin got us a big double-play ball there to slow down that rally."
The victory in Saturday's game against Irvine gives TCU a season record of 7-2.
Frogs unable to earn sweep, fall 15-2 in 'horrible defeat'
The Horned Frogs were unable to earn the sweep Sunday afternoon and fell to UC Irvine 15-2.
"Nothing went well for us and we played as poorly as you could play," Schlossnagle said. "We played horribly in every single phase of the game. This is one we need to forget about soon and get back at it Tuesday night."
First-year Russell Smith earned the second start of his young career Sunday afternoon. His first start came Thursday in a win over UT-Arlington.
Irvine broke the scoreless tie in the top of the second inning. Kreuter rocketed a double down the left field line and two sacrifice groundouts from Castro and Coss advanced Kreuter across home plate.
The Anteaters doubled their lead in the fourth inning off a single into right field. Fitzpatrick doubled down the left field line and Fitzpatrick scored off a Castro RBI. Two batters later, Irvine added another run when Koss singled into center field. Kreuter scored from second on Koss' RBI single.
Smith walked the next batter he faced, ending his afternoon. Smith finished the afternoon with 3.2 innings pitched with five hits allowed, three earned runs and two walks. Smith recorded his first career strikeout in the third inning and finished the afternoon with two Ks.
"We really did not play well tonight," Schlossnagle said. "Our starting pitching was not good."
Sophomore Trey Morris replaced Smith and he walked the first batter he faced. A routine ground ball by Brooks to Crews at third base appeared to have the Frogs out of the inning but a throwing error by Crews got past Baker at first base, scoring two runs and extending the deficit to 6-0.
Morris was replaced by Austin Boyles immediately following the error. Boyles' first pitch is rocketed into left field and scored Brooks and Palmer from second and third to extend Irvine's lead to 8-0.
The Anteaters exploded in the sixth inning and extended their lead to 14 runs. To add more salt to the wound, Kreuter, the next batter Boyles faced, ripped a fastball up in the zone over the left field wall for a grand slam.
First-year Caleb Sloan replaced Boyles following the grand slam and forced two outs on five pitches to get the Frogs out of the inning.
Boyles finished the game with one strikeout, two walks and six runs allowed in 1.2 innings pitched.
TCU's best chance to cut into the lead came in the seventh inning as Balta doubled into center field. Landestoy hit a ground out to advance Balta to third but Oviedo hit a pop-up to strand Balta 90 feet from home plate.
Irvine added another run in the eighth inning. The Anteaters then would load the bases and result in Sloan being pulled for first-year Augie Mihlbauer. He stranded all three runners on base and limited the damage to one.
It took until the bottom of the ninth but the Horned Frogs finally had a runner cross home plate. Boulware, who reached base on a leadoff walk, scored from first on a Watson double to left field. A sacrifice fly from Balta scored Watson from third base who reached third on a wild pitch.
This game was TCU's fourth game in four days but Schlossnagle said that should not have been an issue.
"We have to play four games in four days in the conference tournament and potentially in a regional, if we're lucky enough to make one," Schlossnagle said. "We just have to get better."