No. 4 Baseball splits Dodger Stadium College Baseball Classic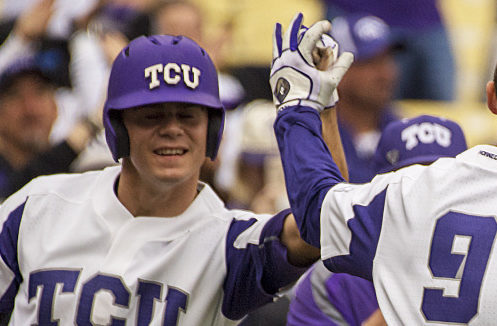 TCU right-hander Jared Janczak threw seven shutout innings and the offense contributed with 10 runs to complete a 10-1 victory over USC Friday night in the opening game of the Dodger Stadium College Baseball Classic.
The junior (1-1) was threw an impressive eight strikeouts. He only allowed five base runners and never faced more than four batters in any one inning. During his time on the mound, only one batter reached second base.
First-year left-handed pitcher Augie Mihlbauer and sophomore right-handed pitcher Trey Morris filled the final two innings for TCU.
Both teams were scoreless heading into the third inning until the Horned Frogs' offense used a two-out rally to get on the board. Third baseman Conner Shepherd drew a one-out walk and scored on a two-out double from right fielder Connor Wanhanen. Shortly after, sophomore catcher Zach Humphreys followed with a base hit to give TCU a 2-0 lead.
This marked the seventh straight game Humphreys safely reached base.
TCU scored three more runs in the fourth to extend the lead to 5-0. Back-to-back singles from left fielder Josh Watson and designated hitter Michael Landestoy put runners on the corners.This marked the 16th game straight game Watson reached the base safely.
Senior center fielder A.J. Balta collected his first of two doubles on the night to drive in Watson. An RBI-groundout from Shepherd made it a 4-0 game. First-year Coby Boulware and Balta executed a double steal, making it the fourth time this season multiple bases are stolen in a game. Balta slid across home plate to make it a 5-0 game.
TCU would go on score five more runs in the sixth inning. Balta's double into the right-field fence later allowed him to score off of Boulware's base hit. A throwing error from USC gave first-year shortstop Adam Oviedo opportunity to score. With two on the bases, junior first baseman Luken Baker launched his fourth home run of the season to left center, which increased the lead to 10.
The Trojans put themselves on the board in the ninth inning with a lone run on a two-out ball.
Saturday's matchup against UCLA was canceled due to inclement weather.
Following the cancellation, TCU faltered Sunday against No. 15 Vanderbilt in the final game of the Dodger Stadium College Baseball Classic, 7-4.
Vanderbilt opened up to a 5-0 lead in the second inning and never looked back. While the Horned Frogs would cut the lead to 5-3 in the second inning, they could not get over the hump.
The Horned Frogs suffered an immediate deficit in the first inning as Vanderbilt scored three runs with their first eight batters. A base hit from center fielder Pat DeMarco scored Vanderbilt's first run, and a two-out bases-loaded base hit from shortstop Connor Kaiser extended Vanderbilt's lead to three.
A two-out rally extended TCU's deficit to five. After back-to-back batters loaded the bases, third baseman Jayson Gonzalez smacked a single into center field to score two runners.
The Horned Frogs made up some ground in the bottom of the second inning as A.J. Balta's base hit started the surge. After Adam Oviedo was walked, Conner Shepherd hit his first-career home run to cut the deficit to two.
The game was as close as it would get in the fifth inning when TCU's Michael Landestoy's ground-out scored Humphreys from third to make it a one-run game.
Vanderbilt took advantage of some mental errors by the Frogs, including a wild pitch and balk, to extend its lead.
The Horned Frogs had several chances to come back but stranded 10 baserunners in the game.
Nick Lodolo (3-1) took the loss after giving up five runs on six hits in one-and-two-thirds innings. Sean Wymer came in to relieve Lodolo but allowed two runs on two hits and struck out four. Cal Couglin, James Notary and Augie Mihlbauer pitched the final 3 2/3 innings.
The Horned Frogs will complete their road trip Tuesday night at 6:30 p.m. in Houston when they face Rice University.