Faculty and staff learn more about suicide prevention with QPR training
All incoming faculty and staff members are required to attend "question, persuade and refer" training to learn how to identify and prevent suicide, the second leading cause of death for college students.
QPR is a nation-wide organization that aims to reduce suicidal behaviors by providing practical suicide prevention training.
Brad Stewart, director of the TCU Wellness Center, said TCU has been participating in QPR training for the last five years.
"TCU currently has 13 staff trained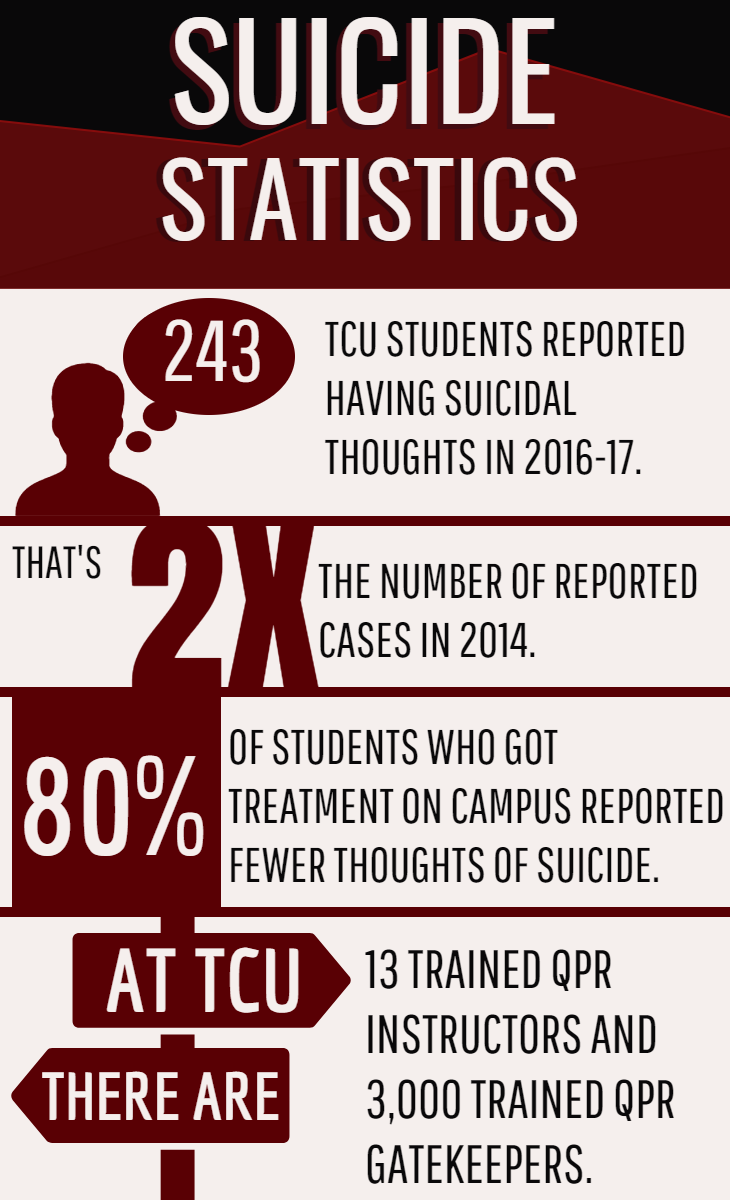 as QPR instructors and over the past five years has trained over 3,000 individuals to be gatekeepers," Stewart said. 
The QPR website defines gatekeepers as people "in a position to recognize a crisis and the warning signs that someone may be contemplating suicide."
Over 243 students at TCU reported having suicidal thoughts in 2016-2017. This number is twice as high as it was in 2014, according to the Health and Wellness Center.
Andrew Nash, a hall director for TCU's campus apartments and certified QPR instructor, said QPR training teaches gatekeepers how seemingly minor actions can prevent the worst.
"Saving a life can be as simple as asking somebody how they're doing and having a real conversation about that," Nash said. "QPR training empowers all of us to make a difference in the world."
As one of the certified instructors, Nash is able to certify and train others on suicide prevention.
There are three official steps for suicide prevention: Questioning the individual's desire or intent regarding suicide, persuading the person to seek help and referring the person to appropriate resources.
QPR training is mandatory for many student leadership positions such as RA, CRA and First-Year Experience staff. Stewart said he wants to expand this reach further.
"We want to provide everyone at TCU the information and skills needed to identify warning signs of depression and suicide," Stewart said.
If you or anyone you know is experiencing depression or thoughts of suicide, call the TCU hotline at 817-257-7233. More information can also be found on the TCU mental health and counseling website.