Offensive linemen aren't usually the superstars in either college football or the NFL, but with four of the Horned Frogs' five starters from its 11-win Alamo Bowl Championship team working out for all 32 NFL teams Friday at TCU's Pro Day, it became quickly apparent that the bulk of the scouts' attention was turned their way.
"I think you have three full-time offensive line coaches here, not just scouts taking numbers, which is usually a tell-tale sign of who they think the best guys are in the group," TCU head coach Gary Patterson said. "Matt Pryor, Patrick Morris, [Joseph]Noteboom, [Austin] Schlottman, all of the offensive linemen have a chance to get into an NFL camp just because they're a smart group."
Even though none of them are surefire first or second round selections in April's draft, there's a chance a number of TCU's blockers could come off the board as the draft progresses.
"Program's first and second round draft choices take care of themselves as a general rule," Patterson said. "They progress because of their athletic ability. That's what Pro Day is for: there are a couple guys everybody comes for and then you want a couple guys to surprise, where the scouts say I didn't know he could do that."
The offensive lineman that surprised Friday was center Patrick Morris who jumped 35-inch vertical and ran a five-second flat 40-yard dash.
"I don't think guys thought he would do something like that for a center," Patterson said.
Another stand out is Joseph Noteboom, one of two TCU players along with running back Kyle Hicks that received an invite to the NFL Combine in Indianapolis.
"The combine went well so all I did here at Pro Day was the position drills," Noteboom said. "I showed scouts that I've been working on getting my pads low, my strength, pro-style offense. I've heard I need to work on pro-style offensive blocking with my pads lower since our offense at TCU was a spread, up-tempo attack."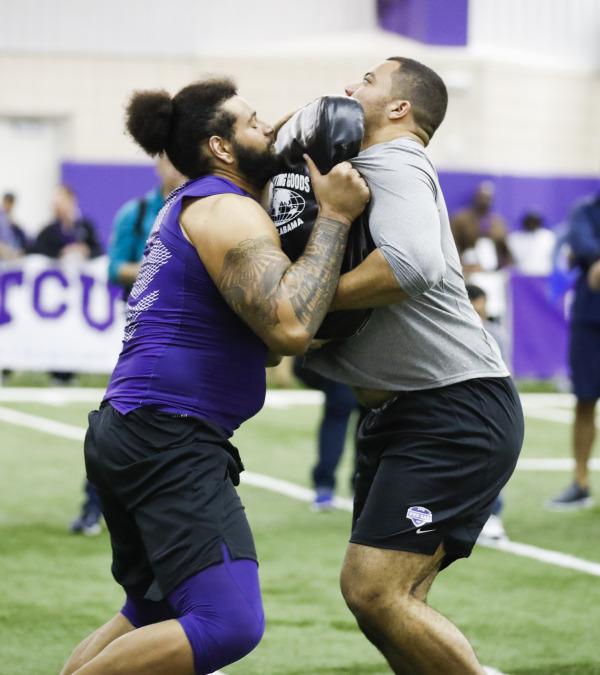 The senior has not missed a game since redshirting during the 2013 season, as he played in all 13 games as a back-up in 2014 and then he started at right tackle spot for all 13 games as a sophomore before starting the final 27 games of his career at left tackle, protecting quarterback Kenny Hill's blindside.
"I've always loved the NFL, so it's always been on my radar but it didn't really kick in that I could make it until I started my redshirt sophomore year," Noteboom said.
His workout numbers at the NFL Combine in March shot him up draft boards as he ran one of the fastest offensive line 40-yard dash times at 4.96 seconds. He followed up that performance by flashing his versatility at the Senior Bowl, an invite-only showcase for college football's top seniors.
"Noteboom's stock has gone up because at the Senior Bowl he played right tackle, left tackle, and center: you can plug him in at a few spots," Patterson said. "It's about where you can fill a role for a team."
Noteboom said he is expecting to go on Day 2 of the draft.
"My agent and others have projected me to get drafted primarily in the third round, some fourth round, hopefully, round three," Noteboom said."
Wherever he winds up, Noteboom said he will heed the advice of Collins and former TCU offensive tackle Halapoultivati Vaitai who started at left tackle for the Super Bowl Champion Philadelphia Eagles so that he too can make a career for himself at the next level.
"All of the pro guys just talk about how you have to know the playbook, that's the number one thing: no mental mistakes," Noteboom said. "It's the number one thing you can't do or you'll get cut. I just have to know my playbook."
Former Frogs had a lot more advice than just that though. Many former TCU stars were on hand to support the newest addition of draft-ready Horned Frogs, including Cincinnati Bengals quarterback Andy Dalton, offensive tackles Marcus Cannon (New England Patriots), Halapoulivaati Vaitai (Philadelphia Eagles), Marshall Newhouse (Buffalo Bills), Aviante Collins (Minnesota Vikings), Washington Redskins wide receiver Josh Doctson and Buffalo Bills defensive end Jerry Hughes.
"It's awesome to know that you have their support," senior quarterback Kenny Hill said. "When you're a Frog, you're always a Frog. They want to see you do well, and that means a lot."
Kyle Hicks also spoke of the powerful Horned Frog bond that brings players back each year.
"This just shows you how close we are as a family," Hicks said. "People want to come back and shape this moment with you and I'm grateful for it. It's great to see your brothers again."
Looking up at the banners, Hicks was able to gain confidence that translated to his on-field performance.
"One day you want to come in here and see your banner hanging up with other 'Frogs in the Pros,'" Hicks said. "It definitely gave me some confidence today."
All of the former TCU players had one collective message to the players: be calm and be yourself.
John Diarse was advised to remain calm because "not every team is going to love you."
"When you see NFL teams show up nerves and emotions start running," Diarse said. "It's not so much that the drills are tiring but the extra emotions added on to it make you feel tired."
All 32 NFL teams sent a scout to Fort Worth to see what this year's group of Horned Frog seniors had to offer.
"You always look at the emphasis of position coaches or general managers and all of those kinds of things," Patterson said. "It's fun to see, since it's Easter, that some of the scouts brought their kids, knowing that we're kind of a family group. I think that's a tell-tale sign of these guys' understanding of how we do things and how we conduct ourselves."
Overall, the Horned Frogs said they were proud of their performances in front of the scouts — especially Hill.
"I felt like the ball was jumping out of my hand today," Hill said. "One of the plays we missed we were just barely off. Today as a whole was really solid — my footwork was smooth."
Hill, per usual, credited his teammates for a lot of his successes Friday morning.
QB Kenny Hill dishing it out to Taj Williams at Pro Day pic.twitter.com/EpRhE4ukdk

— Robbie Vaglio (@RobbieVaglio) March 30, 2018
The non-graduating Horned Frogs will host the 2018 Spring Game next Saturday, April 7. The senior Horned Frogs, however, are eagerly awaiting April 26 in Arlington, Texas, where they hope to hear their names called in the 2018 NFL Draft.