Outreach program working as an alternative to counseling
Some students are receiving counseling with no appointments or paperwork.
Let's Talk is an outreach program from Cornell University that provides walk-in consultations primarily for students.
Three TCU students implemented the Let's Talk program on campus last semester to provide more access to counseling.
Between 2009 and 2015, the number of students seeking counseling increased by almost 30 percent while college enrollment only increased by about six percent, according to the Center for Collegiate Mental Health. The 2015 report was based on collaborative efforts from more than 340 universities and college counseling centers.
At TCU, there was a 28 percent increase in students seen at the Counseling and Mental Health Center from 2015 to 2017 over the same dates of Aug. 1 to Dec. 22, according to a TCU Counseling and Mental Health Center report.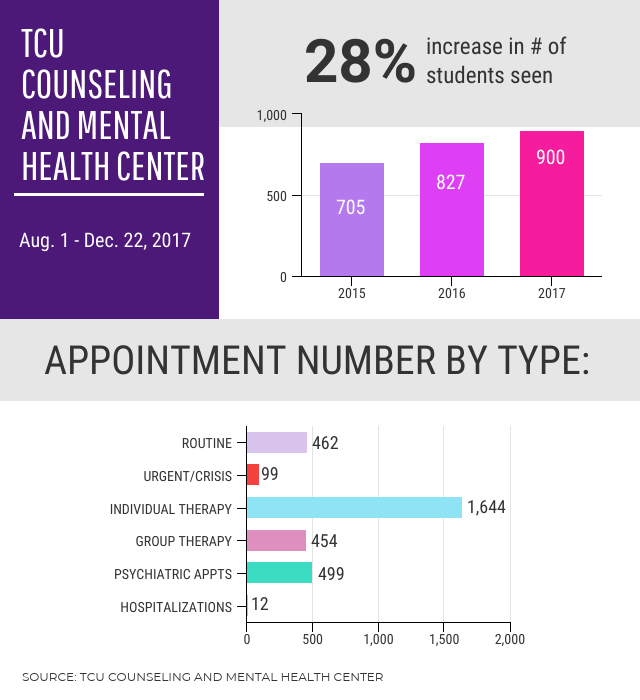 Annie Beeson, Chandler Whittington and Joe Spellmeyer helped bring the program to campus for their Neeley Leadership program project.
"It was part of our junior year curriculum," Spellmeyer said. "We were tasked with identifying a problem in our community and helping build a team around some sort of solution for it."
Spellmeyer said he thinks Let's Talk is more accessible and congenial.
"It's an opportunity to walk in without any paperwork, without an appointment and just talk to someone and help flesh out that problem," Spellmeyer said.
Beeson said she likes that there are no official appointments.
"There's no time limit, which I think is a big thing for me because sometimes I just want to talk for five minutes and sometimes I have a lot to say and so not having that specific hour blocked out is really important," Beeson said.
While Let's Talk is not a substitute for counseling, the program still follows some of the same guidelines.
"We still do observe the same rules of privacy and confidentiality," Chuck Dunning, coordinator and counselor for Let's Talk, said. "I still use all the same skills and knowledge that I have as a counselor, but the idea is that it's just for short-term purposes of helping students figure out what they need and make some decisions about taking the next steps."
TCU's Let's Talk program has two counselors, but the team wants to have a walk-in counselor on regular hours for every college.
"It's not just for people who are dealing with some sort of an emotional issue or some sort of a mental health issue," Dunning said. "It's really to help anybody that is trying to solve a problem and they don't know where else to turn."
Dunning's office is located in Tucker 3H. He is available Mondays from 9 a.m. to 5 p.m., Tuesdays 10 a.m. to 5 p.m. and Wednesday 12 p.m. to 3 p.m..