Hector Gutierrez's worldly experience has helped establish Beach Volleyball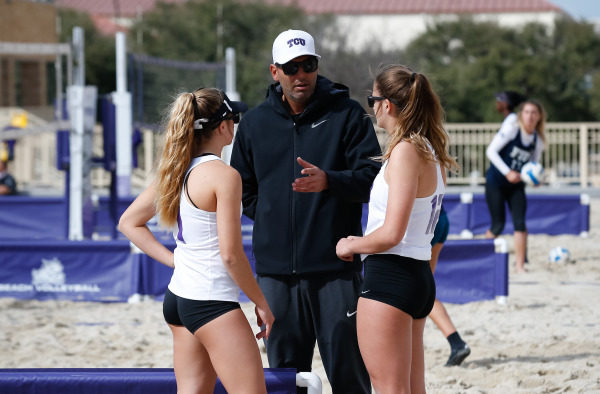 Hector Gutierrez is hoping to establish TCU's newest NCAA sport on campus as a program that is successful on and off the court.
In his second season, head coach Hector Gutierrez is relying on his previous coaching experience with the USA national team to help establish the five-year-old beach volleyball program.
Gutierrez spent 10 months as head coach of the USA beach volleyball national team in 2014. With the USA team, he led the duo of Brittany Hochevar and Heather McGuire to a ninth-place showing at the Prague Open in the Czech Republic. He also led Hochevar and teammate Jennifer Fopma to a finish in ninth place at the Long Beach Grand Slam in California.
"Just working with the professionals it makes me realize the different styles and the different mentalities," Gutierrez said.
Gutierrez said he relies a lot on the experience and feedback from players he's coached on the USA national team to learn how to push the athletes at TCU.
"I know American athletes are different than Europeans," Gutierrez said. "The communication is a little bit different. I have learned a lot how to communicate a message. Sometimes that barrier is hard to pass it through and that's something I learned the most with the USA national team."
After his experience with the USA beach volleyball national team, Gutierrez served as the assistant coach at Florida State and helped lead the beach volleyball program to the No. 1 overall seed in the first-ever NCAA Championship.  The Seminoles finished as runner-ups in the championship to USC.
During his time at Florida State, the team won the CCSA Championship, produced two AVCA All-Americans, notched four CCSA All-Conference selections and the CCSA Pair of the Year.
"Me and Brooke [Niles, FSU beach volleyball head coach] got in the same year together there," Gutierrez said. "It was a great experience because we knew on the first day that it was one of the strongest teams in the country. Just the experience to compete in the finals in the NCAA Championship was great."
Gutierrez also has an abundance of international experience as both an indoor and beach volleyball coach.
Before joining the USA beach volleyball team, he served as head coach on the Slovakian (2014) Beach Volleyball women's national team and an assistant coach on the German Beach Volleyball national team from 2012 to 2013. He also worked with the Swiss Beach Volleyball national team for one year (2011-12).
"Seeing other styles of other countries play and other coaches- other ways to approach the game," Gutierrez said, "that's helping me as a coach to come here and introduce it to my athletes."
His players at TCU appreciate the experience from the USA beach volleyball national team that he has brought to them.
"Seeing how he trains with those pros," first-year Jordan Westendorff said, "seeing how they interact and how much they trust him, it just makes us trust him even more as a coach."
Fifth-year Cassie House said that experience adds another level to his resume.
"It adds another level of respect that we have for him because it reinforces how knowledgeable he is," House said. "We respect his view on the game and take his critics and encouragements and apply them to our own games."
Gutierrez noticed that although athletes are attached to the success of college programs, athletes are also attached to the success of coaches.
"A lot of athletes want to trust their coach and they want a coach with a lot of experience," Gutierrez said. "I think that's really helpful for me and the program.
Sophomore Avery Arellano said Gutierrez's national and international experience has helped him build connections around the worlds to help recruit athletes to play beach volleyball at TCU.
"I think he has a good sense of who he needs to help bring in for our team to get better," Arellano said.
Gutierrez said he is hoping to establish a program where everybody that comes to TCU knows the team works hard and are serious about being successful.
"Of course our main goal is to go to the NCAA finals," Gutierrez said. "The program is growing like every single player that comes here. Nothing is going to be for granted, you're going to have to work for it and use everything we have here at TCU to accomplish that goal."