Men's tennis secures Big 12 regular season title with win over Baylor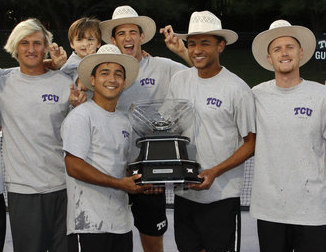 It was seniors Guillermo Nuñez and Trevor Johnson who upheld the hype of senior night to lead No. 6 TCU to a 4-1 victory over No. 23 Baylor.
Nuñez and Alex Rybakov cruised to a 6-1 victory over Baylor's No. 9 Will Little and Johannes Schretter. Then, Johnson and his doubles partner, Alastair Gray, picked up a 6-3 win to earn the doubles point for TCU.
Baylor (18-7, 1-3) bounced back by winning the first singles match to even the match at 1, but it was all TCU (17-3, 4-0) the rest of the way.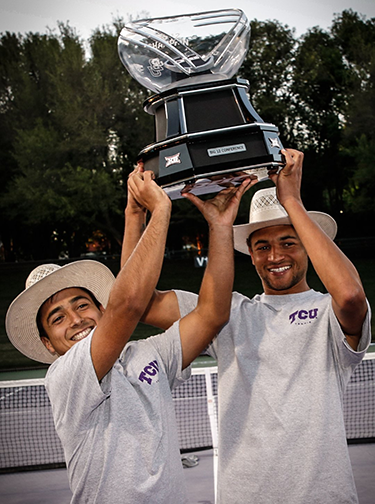 Nuñez retained the Frogs' lead with a commanding win over Baylor's Matias Soto, 6-3, 6-4. Johnson followed that with a 6-3, 6-4 win, as well, as TCU's seniors ended their final home match with a pair of victories.
"This class of seniors took our program to another level," head coach David Roditi said. "I thought it was so fitting that it was coming down to the wire and our two seniors finish right next to each other and right back-to-back."
No. 19 Alex Rybakov took care of No. 64 Johannes Schretter, 6-3, 6-4 on court one to finish off the Bears and clinch another regular season Big 12 title for the Frogs.
"To win the Big 12 is a huge accolade and something to be proud of," Roditi said. "The fact that we have won it three years in a row is amazing and I never thought that it would happen."
With the win, TCU also extends its winning streak to 11 matches and will close out Big 12 play this weekend.
Up Next:
TCU will look to go unbeaten in Big 12 play when they finish up the regular season at Texas Tech (19-8, 1-3) Sunday, April 22 at 2 p.m.