Students concerned about off-campus thefts
Fort Worth police are investigating reports of three stolen cars and about 10 reported break-ins on the property of the Berkeley Luxury Apartments complex in the past two months.
One of the stolen vehicles belonged to junior communication studies and geography major Dylan Frederick.
"It is a little discomforting," Frederick said, who woke up March 25 to find his car gone. "For the amount of money that we pay, you would like to feel like you have a little security and reassurance, but it hasn't felt that way."
The morning his car went missing, Frederick said police were already at the complex writing reports about another stolen car and multiple thefts. Frederick said valuables are not what is important, but instead, it is a sense of community that he feels safe in.
Before leaving for spring break in early March, Frederick said he and his roommate talked to the property manager about their concerns after two of his roommates' cars were broken into this semester. After his car was stolen, Frederick said he went back to the front office.
"They were very stand-offish," Fredrick said. "I went in there with the realization that these sorts of things do happen but having come in prior and expressing concern and that false sense of reassurance that they gave me."
There was no sympathy on their part, he added.
Several students said they were unaware of the thefts or were only aware through word of mouth. TCU alumna and Berkeley resident Megan Thompson, who also had her car broken into about two months ago, said the new management is not good at communicating with residents.
"I don't know what is going on in this community anymore unless I go hang out by the pool, which I think is absolutely ridiculous," Thompson said. "I think a company should be keeping their residents informed."
Thompson said the pool was where she found out that many people have also had their apartments broken into.
"I didn't know that this was a widespread issue in the community," she said.
After TCU 360 went into the management office April 2 to ask questions about the thefts and communication with its residents, Berkeley management sent an email hours later to warn residents about "theft from several vehicles."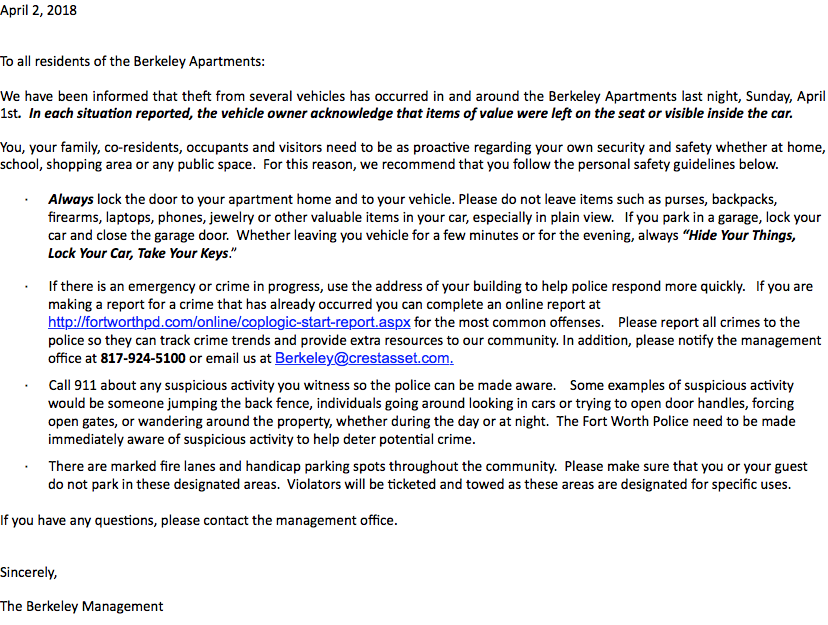 Ann Zadeh, Fort Worth City Council representative for District 9, said education and team-work is vital in any community. She said she frequently attends neighborhood association meetings where residents discuss topics like crime with Fort Worth police representatives. Communities like Near Southside even utilize social media to communicate with local law enforcement, she added.
"I think getting the word out in every way possible is the best process," Zadeh said.
Berkeley's property manager declined to comment that day, but the corporate office did email a statement.
A gate gives residents a false sense of security, said Zadeh.
"Even on your private property, even if you have a gated driveway, even if you live in a gated community," she said. "As people find opportunities to break into vehicles where valuables have been left, where keys have been left, they are always looking for those target rich environments."
The Neighborhood Patrol Officer Marshall Meyer said he meets with the property manager each week and monitors the number of reports. He said crime on the property is decreasing based on the numbers, but he also said that one of every three crimes doesn't get reported.
"Students should always report a theft or break-in, even if nothing was stolen," Meyer said.
The police do their patrols based on police report statistics. Therefore, if they see a trend, police will increase patrols in that area.
"It is an above average place to live," Fredrick said. "I don't have any complaints except that you just don't wake up in the morning and expect to have your car stolen."
Frederick and Thompson say they hope the communication improves and would like Berkeley to add security cameras. Meyer said the Berkeley property owners told him putting in security cameras around the perimeter would cost about $1 million.