Review: Fortress Fest was a success
The second annual fortress fest, a music festival hosted in Fort Worth's cultural district, came to a close Sunday night. There were thousands of attendees but if you missed it, here's a recap of a few of the performances.
Day one: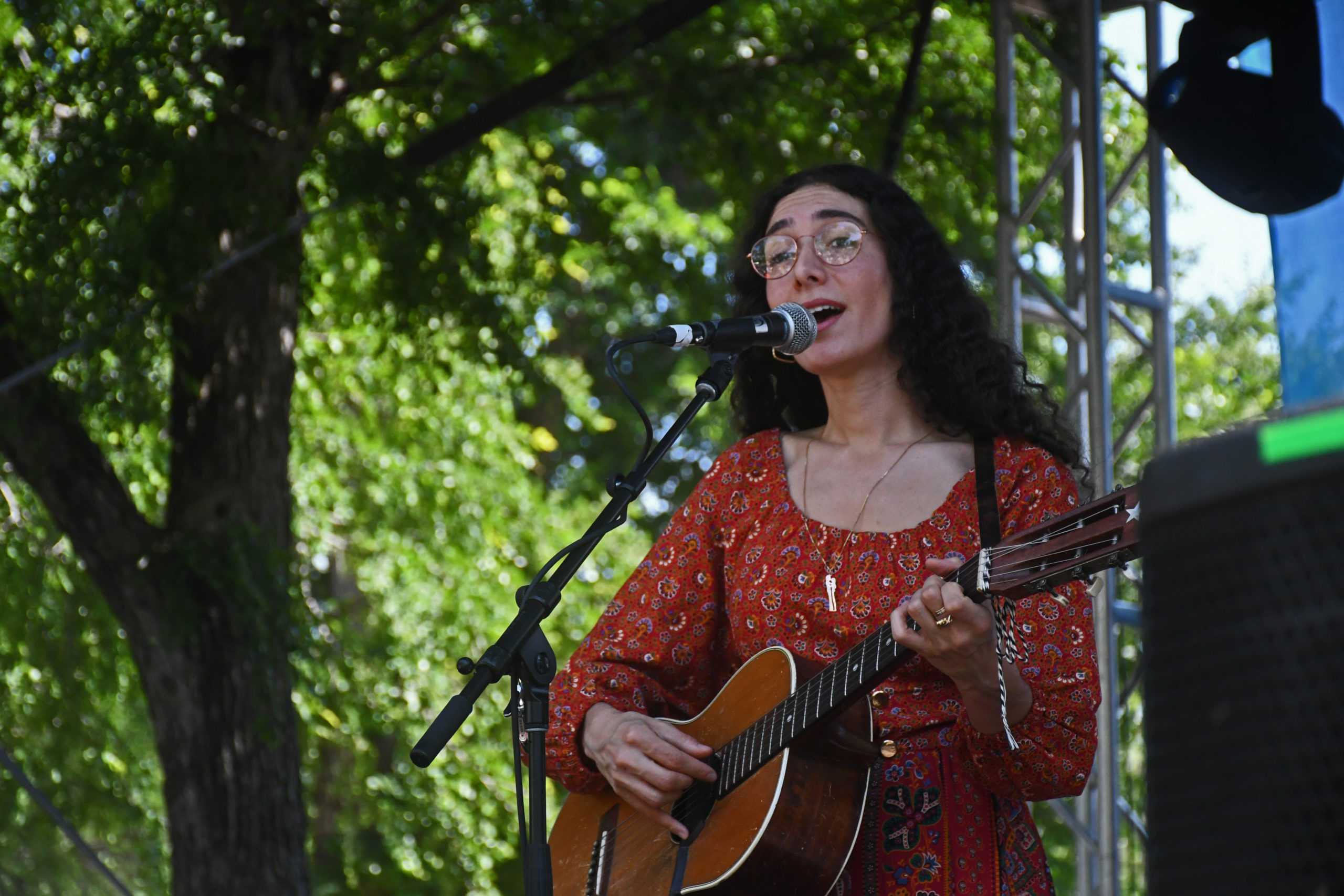 The music event started Saturday on the Wildcatters network stage. The first performer was the singer Azniv Korkejian, whose stage name is Bedouine. She opened with the song "You Kill Me" from her self-titled 2017 album. Korkejian was conversational and interactive with the crowd. Toward the end of her set, she played a new untitled song that will go on her next record. Korkejia asked the crowd for song titles for the soft melody she played. At the end of the song, the crowd shouted out names. The most popular was "Lazy Baby." She said she'd put them in the running.
Another performance I enjoyed was Dallas based Cure for Paranoia. Their set started promptly at 3 p.m. Currently signed to Launch records, the electro-soul hip-hop group is comprised of five guys: Rapper Cameron McCloud, singer Stanley Francisko, and producers JayAnalogo and Tamahawk Jonez. These guys look like they're straight out of Deep Ellum.
McCloud, who said he was diagnosed as bipolar/paranoid schizophrenic, dropped out of college and started the band. He is a phenomenal rapper with the speed of Busta Rhymes, a persona similar to Lupe Fiasco or Kid Cudi and a style that could rival Lil Uzi Vert. McCloud was hilarious and gave the audience into the inner workings of the group.  By the middle of the set, the crowd was feeling their sound; There were lots of bopping heads and dancing despite the heat. The group paused in between sets to comment on Kanye West's peculiar behavior.
McCloud said "we, Cure for Paranoia, so we're all for supporting anybody with mental illnesses in this b*tch," which was a great segue into playing a song featuring Kanye West's first cousin Tony Williams, whose most popularly known for his work on West's 2004 album College Dropout.  
The group played the song from a new album that mentioned Wakanda and had a sick afro futuristic beat. The hook, "far from revolution," was extremely catchy.
Later in the day, two time Grammy Award nominated female rapper Rapsody took the stage by storm.
Her set was a homage to fortress festivals' girl power line up. Rapsody, a North Carolina native, performed with D.C.'s DJ Face. The emcee rapped over the iconic intro from "Pray You Catch Me" from Beyoncé's 2016 album Lemonade, how's that for girl power. Honestly, during this set I was vibing so hard I wasn't paying attention to what song came first or last.  Rapsody's set was extremely fun. She was constantly giving praise and shout-outs to her female fans. She felt that she should do something for the male fans, so she an invited one lucky fan up on stage to dance with her. She was able to hype the crowd up with a twist on A Tribe Called Quest's "Can I Kick It?"
Honorable mention for Saturday is Jay Some a band with beach house type vibes, and an amazing female lead singer.
Day Two:
Courtney Barnet, like a true rock star, didn't come out right at 7 p.m. Instead, she made an entrance at 7:02 p.m.  She opened with "City Looks Pretty."
Barnett's stage design was minimalistic. There were twinkle lights on the ground to disguise the wires and up top three rows of bar lights were situated to change colors with the beat.
Courtney was very polite and thanked the crowd after every song. Twenty minutes in, she played some new songs. "Nameless, Faceless" and"I'm Not Your Mother, I Am Not Your Bitch" these new songs got the crowd really pumped. She also played the popular song "pedestrian at best." Hearing the song live gave me a new appreciation for it. She called the first part of her set the "heavy rock section" and the next part "the mid-tempo rock." She ended with what she called lower tempo rock, calling it a real estate ballad "When I See a handrail in a shower." The same song "if you've got a spare half a million you could knock it down and start rebuilding" new song "Sunday roast"
Headliner Father John Misty aka Josh Tillman opened with honey bear red lighting and played his new song "Mr.Tillman" from his leaked album (insert album name). The entire band was wearing suits including the three-person brass band on stage. His main band was compromised of mustachioed hipsters similar to the audience. He also played "Total Entertainment Forever" from his most recent album Pure Comedy. The lighting was trippy during "Only Son of a Ladiesman" and matched the tempo of the tune. He made a joke and about the full moon and glow sticks.
Throughout the set, Tillman paused for numerous dance breaks.  After playing a nine-minute ballad full of dance breaks and hand motions, he paused and said, "that's tragic." Somehow Tillman still had extra time, so he played "Ballad of the Dying Man" on an acoustic guitar.
Tillman was handed a different acoustic guitar and said, "I can play the sh-t out of this," then began to play "Real Love Baby" and ended the set with "Ideal Husband" but managed to forget the words in the middle of the song.
Sunday Honorable mention: Dallas based Vandoliers, a band with alternative country flair a lead singer who looks like Danny Matherson from That 70's Show, an amazing fiddler and huge Texas flag.