Two brothers strengthen relationship through music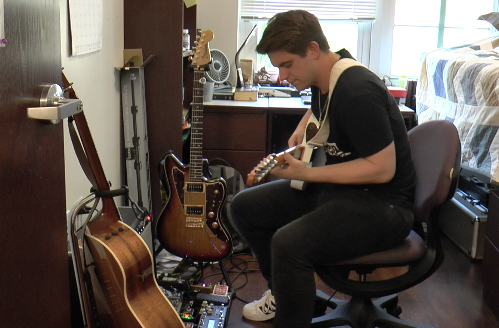 Although they were separated by miles, two brothers found themselves walking a path that led them to create a worship album.
Cole Kellam, a sophomore electrical engineering major, and his younger brother, Cade, a senior at the Oakridge School in Arlington, Texas, recently released "Fall to Worship," which reflects their desire to advance the Gospel and bring people together.
The brothers said it wasn't a coincidence they both started being passionate about creating worship music at the same time, but rather it was God working things out for them.
"It's like God kind of gave me the guitar talent and like I put in the work for it, and he set Cade on this other path," Cole said. "We wouldn't be able to make music without the different paths we took."
Cole started playing guitar in sixth grade with dreams of becoming a rockstar, ignoring all advice from his mother to pursue worship music.
"So all growing up, my mom would be like one day you can do some Christian music or something like that," Cole said. "That was the last thing I wanted to hear and the last thing I wanted to do. I don't really know why."
But during his first year at TCU, he had a change of heart.
"I really started taking my personal walk with Jesus seriously, and that just kind of changed my perspective on a lot of things, and one of those things was my music," Cole said.
Cade started playing the drums when he was 8-years-old but started to take music seriously his junior year of high school when he started taking singing and vocal lessons.
While Cole and Cade had their differences growing up, their relationship grew deeper through their mutual love for music.
"Little did I know my brother had the same heart change at the exact same time, so it just kind of worked out," Cole said.
The nine-month journey of creating and releasing "Fall to Worship" was one Cole defined as a long, challenging and God-inspired.
The process began with a busy first week of tracking and recording each individual instrument and pairing them with the recorded vocals. Cole said he didn't realize how much went into the making of an album.
"It seemed very long because we were spending 11 hours at the studio each day, but then it was also really short because it was over in less than a week," Cole said.
Once the songs were polished in the studio, the music was sent out to be mastered and distributed which took months. Through the ups and the downs of their project, Cole and Cade turned to the student worship pastor for Fielder Church, Kyle Jennings, as both a friend and a mentor.
"I've always seen him as like a Godly inspiration," Cole said. "He really helped us a lot, but he's also been a good friend of ours so that's been really cool."
Jennings said he only served as additional help and was proud to see them take this project into their own hands.
"I've really just been their adviser," Jennings said. "Their extra help kind of thing. This project they have really taken a hold of it themselves, which has been really cool to see."
For Cole, he said he is thankful for the journey as it strengthened his relationship with his brother.
"Music has been the one thing in our relationship that has really brought us together more than anything else," Cole said.            
And for Cade, it was a way for him to live out the path God has chosen for him.  
"God has given me a gift of music and the ability to be able to sing and play and write, and so the only valid response in my opinion is to give that back to him," Cade said. "It's a call to both of our lives to bring people to gospel through music."
"Fall to Worship" can be found on Itunes, Spotify, Amazon music and other streaming sites or through their website Kellamworship.com.