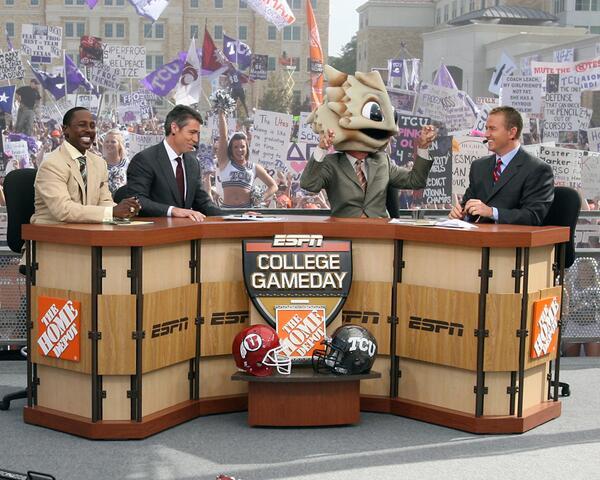 TCU students are making their signs and renting tents to prepare for ESPN's College GameDay visit Saturday morning.
While the game will be played at AT&T Stadium in Arlington, Texas, the show will air from the Campus Commons for the second straight year, bringing an energy that excites the ESPN analysts.
"Nothing beats being on a college campus," said college football analyst Desmond Howard. "The sheer raw energy that the kids bring, you can't duplicate it, you can't fake it."
Fellow analyst David Pollack had high praise for the excitement that Horned Frog fans bring to GameDay.
"Maybe not the biggest school in the country but just a good feel and people that genuinely get excited," he said. "That's what makes our show fun."
Gates to the Commons will open at midnight Saturday. The GameDay Overnight for students, alumni and community members will feature free food, t-shirt giveaways and a silent disco as they await the airing of the show.
Students looking to get the closest access to the GameDay airing will need to arrive early.
Five hundred wristbands will be distributed on a first come, first served basis at entry No. 2 between King and Wright Halls. These wristbands will provide access to The Pit, the area directly adjacent to the Gameday set.
"The fact that we get the opportunity to celebrate all night brings the energy on campus up and creates a one-of-a-kind atmosphere," said sophomore strategic communication major Vivian Noyd. "I'm so excited for what this year is going to bring."
Student activities coordinator Kelly Lee said that they are increasing the number of activities available to students throughout the night, like the screenings of "Incredibles 2" and "Remember the Titans," and providing T-shirts printed on-site for all that campout.
"It is an opportunity for our students to create memories with their friends and experience an event that not all schools are able to," said Lee.
Chancellor Victor Boschini said GameDay is another opportunity for people to learn about TCU.
"It's an incredible opportunity to show TCU off all over the country and the world with a lot of kids watching this who could say 'whoa I have to put TCU on my radar,'" Boschini said.  "It has to get your name out there in a positive light."
Boschini said he won't be sleeping in a tent on the Commons but he'll be around.
"We'll go out there and do donuts at two o'clock in the morning," he said.
First-year student Luke Newman said he plans to line up for his wristband at 10 p.m., two hours before the gates open.
"My goal is to get my sign on TV," he said.
The weather is forecasted to be in the 70s and cloudy through the early hours of Saturday morning, with a 51 percent chance of rain at 10 a.m., according to AccuWeather.
Kickoff against No. 4 Ohio State is scheduled for 7 p.m.