Comedy team to perform at Crossroads Lecture
A comedy team is performing at this year's Crossroads Lecture on Faith and Public Life Tuesday, which is hosted by Religious & Spiritual Life.
SketchCo performs scripted comedy and graduates of the training center of Four Day Weekend, a local comedy group, auditioned to become members of the group.
Other universities in the United States hold lectures similar to the Crossroads Lecture, said Angela Kaufman, TCU's minister and church relations officer. She said themes of those talks have been faith and media and faith and politics.
"TCU's lecture was designed to bring people of diverse backgrounds together to talk across differences," Kaufman said.
Previous lecture topics have been immigration and grief.
"This year's subject is faith in comedy," said Britt Luby, an associate chaplain. "This year I think we just needed to laugh."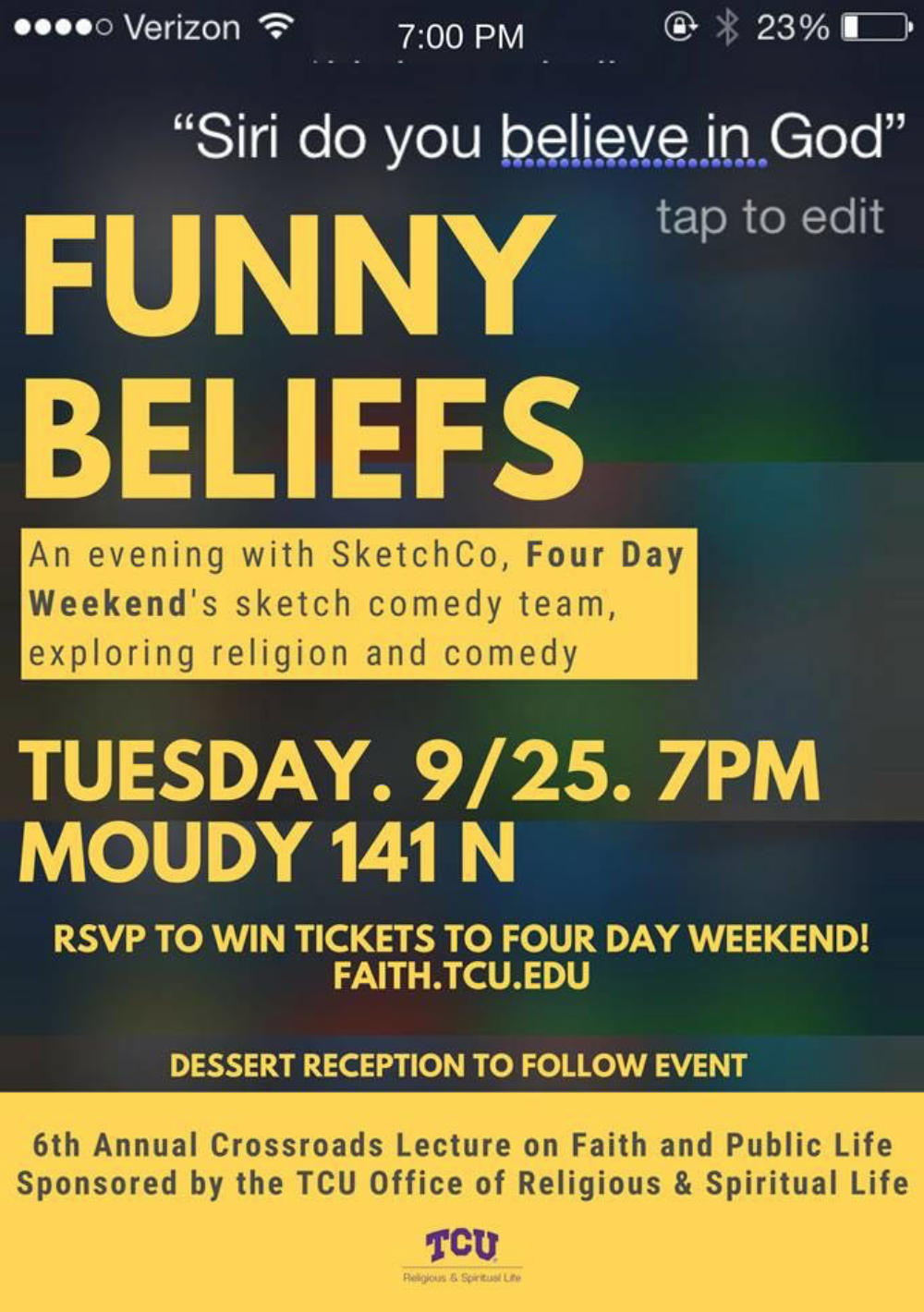 Ben Fort, the head of SketchCo, said he approached Luby with the idea of combining religion and comedy and he already had a relationship with Luby because he taught her husband at the training center.
Fort said he wanted to create this show because his faith is a significant aspect of his life. He and his comedy friends had not talked about faith before, nor had they explored matters of religion through comedy.
"I think the more we explore every part of ourselves, the more our comedy is going to reflect the human experience," Fort said."Some of the material for the show comes from conversations between the members of SketchCo about their beliefs."
Among the faith traditions represented by the performers are Christianity and Islam, but there are also non-religious performers in the group.
The performance features six scenes and one of them examines how phones affect spiritual lives.
Writing the script for the show was difficult, Fort said, because faith is personal that the jokes needed to be funny and not offensive.
"It's a bit of a tightrope trying to write material either about your own beliefs or other folks' beliefs," Fort said. "I want to help people think about how they can laugh well in 2018."
The Crossroads Lecture is scheduled for Tuesday, Sept. 25, at 7 p.m. in Moudy North 141.