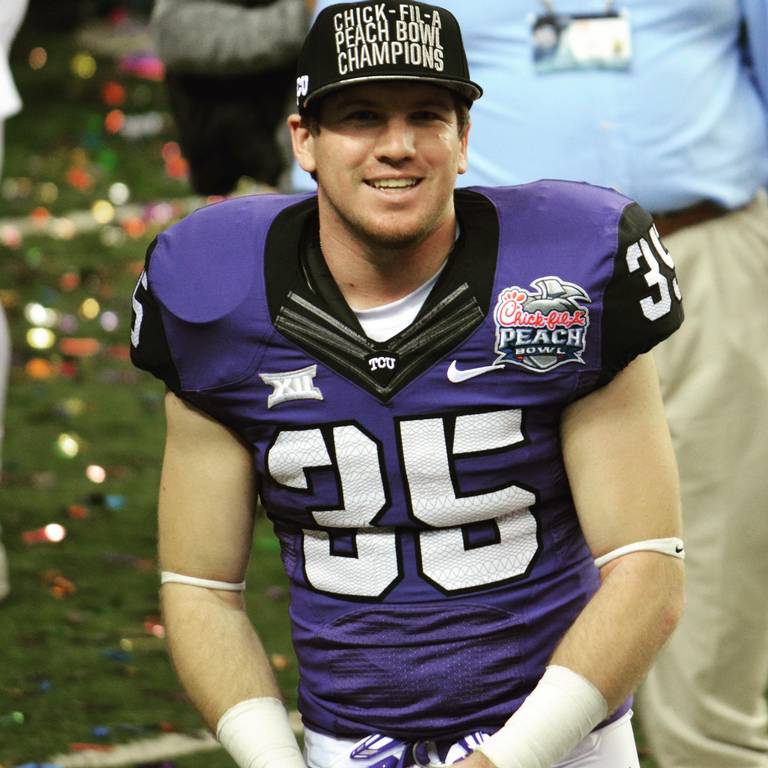 A TCU sports broadcasting alumnus and walk-on football player who friends and family remember as devoted to his faith and service died Tuesday.
Phil Taylor, 25, was diagnosed with stage four colon cancer in December 2016. Friends said he continued to bring a positive presence into their lives and his family's.
"Every time I talked to him he was always positive," said friend and co-manager of KTCU Geoff Craig. "Even if he was having a bad day, he was smiling, he was always worried about someone else."
Craig and Taylor were classmates and began working in the sports broadcasting department after graduating.
Taylor worked in the department up until his death.
Craig said Taylor never missed a day of work, even  coming in Tuesdays after receiving chemotherapy Mondays.
Taylor's work ethic and commitment to others highlighted his four years as a walk-on reciever for the Horned Frog football team, friends said.
Although he recorded just one career catch, his mark was left on the program.
We celebrate the life of Phil Taylor, TCU wide receiver from 2012 to 2014. He was only 25. Phil's courage and strength during his battle with cancer exemplified what it means to be a Horned Frog pic.twitter.com/Xd3SChKgOO

— TCU Football (@TCUFootball) September 26, 2018
"He was always the consummate teammate," said Craig. "Everybody needs a Phil in their life."
Taylor was an assistant coach at the Prince of Peace Christian School in Carrollton, Texas, until his death. He led the middle school team to a record of 6-3 last fall.
Taylor's strength in the face of a diagnosis that was likely terminal epitomized who he was, said Ashlea Bullington, a fellow TCU sports broadcasting graduate.
"Phil was so full of life," she said.
Both Bullington and Craig spoke about the strength of Taylor's faith, one that was unwavering in the 22 months since his diagnosis.
"This is the hand I've been dealt and I'll be the best me I can be," Craig said on Taylor's attitude towards his cancer. "And he did that."
The Mission Viejo, Calif. native, died in his sleep with friends and family at his side.
An early version incorrectly stated the school where Phil Taylor was an assistant football coach.