Here's everything surrounding TCU's Thursday night football game
Uber drivers looking forward to an increase in rides
Fort Worth Uber drivers said they look forward to TCU football games because it brings in the big bucks and the Thursday night game was the jackpot for Uber drivers.
Despite the heavy traffic, closed roads, and construction around campus, Uber drivers said they look forward to working after the games each week.
Some drivers said they usually sit in parking lots near campus and wait until the rate goes up after the game.
"The surge comes on when you all come out of the game," said Uber driver Carledria Washington. "This is the time that Uber drivers make the most money."
Washington, a full-time Uber driver, has been driving for more than two years and has given more than 3,000 rides. She said most passengers refer to her as "Mamma C."
Students and other TCU fans rely on Uber for game days to get to and from places.
Tarrant County Community College student, Kalland Higginbottom, is a full-time Uber driver and treats it like a job.
Higginbottom said it is hard to get around on game days, but picking up passengers around the stadium brings in the most money because of the high rate.
Game days can also have many cons such as intoxicated fans.
"I have only had someone throw up in my car once," said Higginbottom.
Uber has a cleaning fee usually between $20 and $150 depending on the mess left in the vehicle.
Restaurants staying busy on game day 
Several restaurants located across South University Drive and Bluebonnet Circle have prepared for tonight's game day, some accommodating for their parking, others offering specials or adding extra employees.
Restaurants like Starbucks and Dutch's struggled to find parking for their employees. The parking lots located on Cockrell Avenue, behind the restaurants and next to the bookstore, were closed off. 
"All of the parking behind us is blocked off so we were forced to park in the neighborhoods, that made it harder just to get here," said an employee from Starbucks.
A Dutch's Hamburgers employee said his car was towed this morning when he parked in the designated lot for employees behind the restaurant.
Although Thursday's game day increased foot traffic more than usual for the cafe, Starbucks had extra employees come in to accommodate.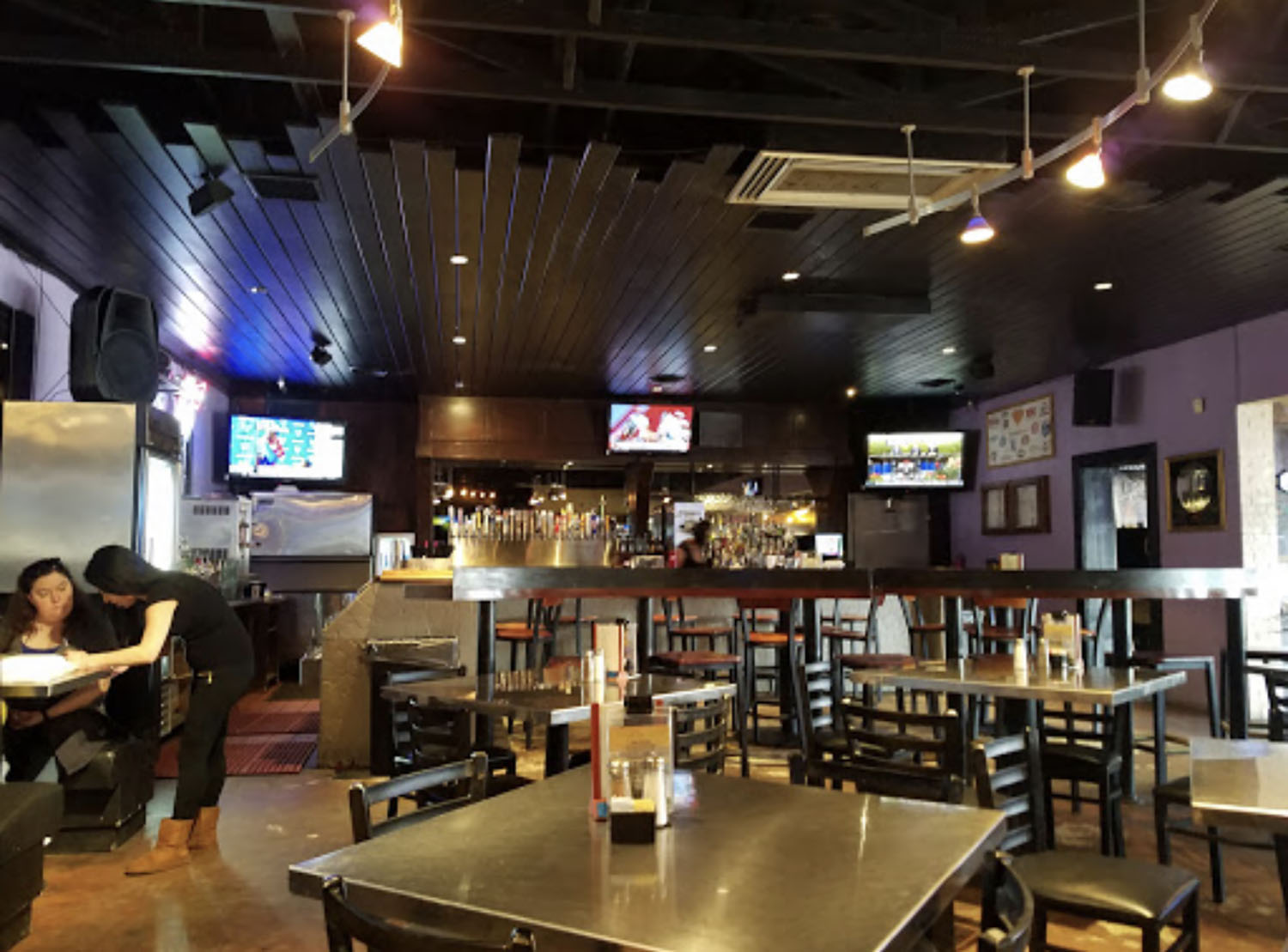 "We've been busy all day because of the game and it doesn't seem like it's going to stop," said the Starbucks employee.
Fuzzy's Taco Shop prepared for game day by setting up their own tailgate just outside of the restaurant. In hopes to attract more business while also accommodating for long lines inside, the tailgate offered assorted tacos of your choice and $5 beer.
Frog Alley offers a family tailgate
Tailgating is a popular trend for Horned Frog fans, and the addition of Frog Alley provides families with a place to tailgate on campus.
Frog Alley opens two and a half hours before game time. While walking around, fans have the chance to win some prizes from the vendors, listen to live music, play corn hole or eat some food.
"The idea was based on that there are 45,000 people that come to TCU football games and not everyone has a place to tailgate so Frog Alley is where we encourage them to come out and tailgate," said Rory Rutledge, Assistant Director of Athletic Marketing at TCU.
The construction in front of the stadium has definitely been a problem for Frog Alley, but they have been able to work around it this season by using satellite stages to host events and life music.
Since it is a Thursday night game, there will be different things incorporated into this Frog Alley compared to a Saturday game.
"I think the night games are more fun for Frog Alley because we are able to do more stuff out there," Rutledge said. "You are more in the mood for live music, tacos and maybe an adult beverage, compared to an 11 a.m. game."
Frog Alley has grown with the addition of Frog Walk, which is a place for the football team to walk down and high five fans to get them pumped up for the game.
"Six years ago, someone wouldn't be asking me questions about Frog Alley, but now people know about Frog Alley and know what happens there," Rutledge said.
Fans will also be able to take pictures with Super Frog, watch the Showgirls, Cheerleaders and Band walk into the stadium 45 minutes before kickoff and enjoy all the things that Frog Alley has to offer for families.
The Purple Frog draws in a crowd
Horned Frog college football brings in a crowd, regardless of when game day is.
The Purple Frog Restaurant and Cantina, known locally as "The Bottom", is a fan favorite to get a drink and eat food Saturday game days.
As TCU hosts their Thursday night game, this longtime establishment looks to experience a boom in business.
The ongoing construction on Bluebonnet Circle has decreased sales at the restaurant by 30 percent since last year.
"This creates business on Thursday we wouldn't normally have," said Chris Nail, a bartender at The Purple Frog. "I personally will probably make twice as much as a normal Thursday."
Nail noted that Saturdays usually remain unaffected with or without gameday, while Thursday nights games can "make or break" their work for the day.
While weekends have always been favorable for The Purple Frog, Nail said that Saturday gamedays, especially noon ones, tend to have slower business once the game has ended, while on Thursday night, sales are consistently higher throughout the day and night.
Overall sales have shown a significant boost, with the restaurant increasing sales by 60 percent from the week before and week after TCU's last Thursday night game on Halloween weekend of 2015.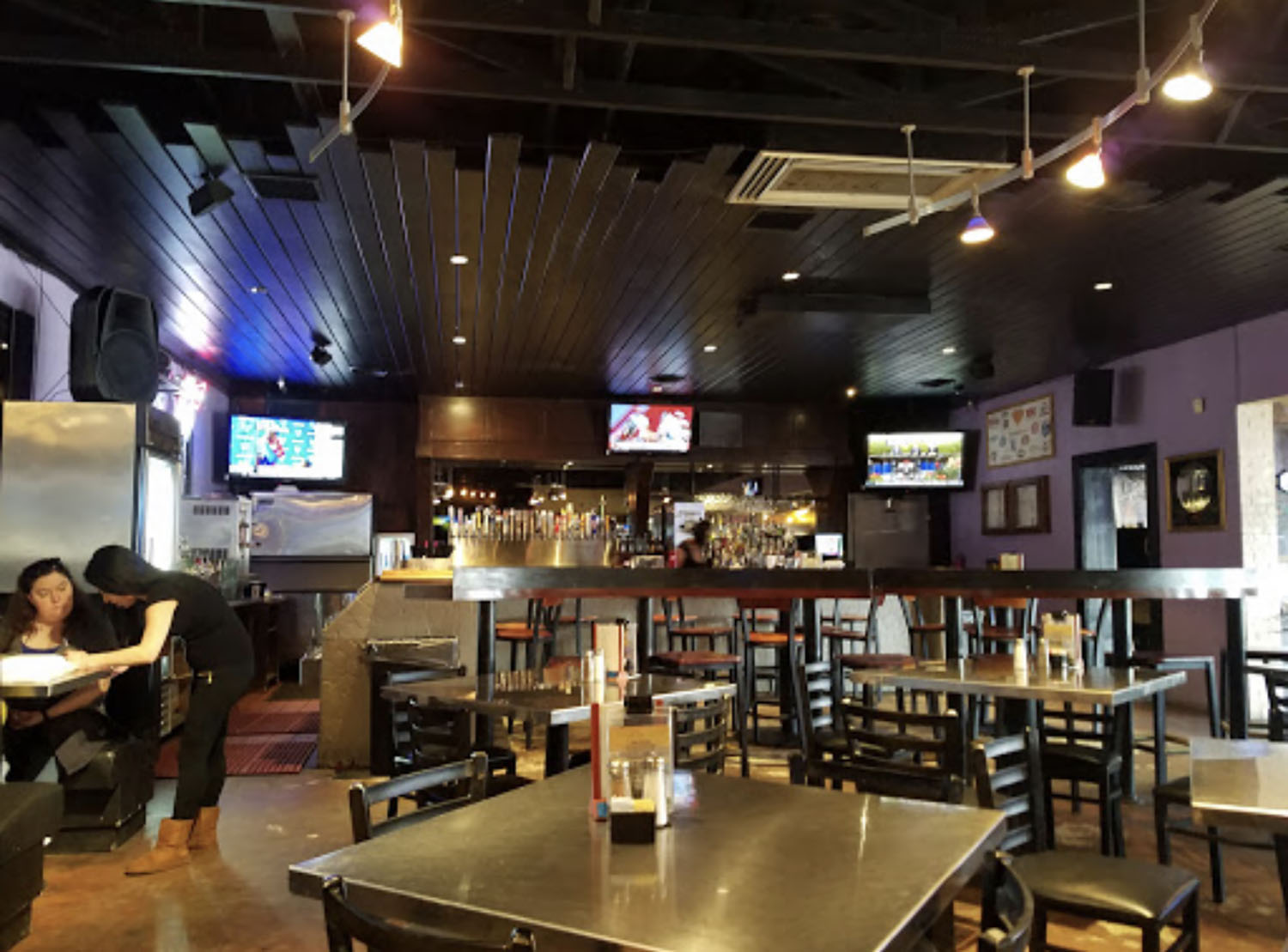 Even the distributors are projected to have a similar increase in sales, with deliverers gaining  additional hours and pay.
"I averaged over 46 hours with work just last week" said Josh McClintock, an employee for Goody Goody Liquor Distribution. "Liquor and beer sales have almost tripled since college gamedays started."
Win or lose, the Horned Frogs faithful will certainly be flocking to this fan favorite bar for another electric night of TCU football.
The grind didn't stop for the recreation center
Unlike on other home game days, the recreation center was open all day and for its normal hours.
Horned Frogs kickoff time of 6:30 p.m. occurs during what are the busiest hours for the recreation center.
From 4:00 p.m. to 8:00 p.m. is the time when students are most often going to the rec.
During the first half of the game, there was no more than 20 people in the gym at one time and the total dipped to a low of 12. Operational Supervisor Brandon Warren said the gym usually has more than 70 people during this time.
For the few members who skipped out on the game, there was little to no wait time for equipment that is normally all taken on a weeknight.
Student employees of the recreation center are normally allowed to study at work as long as it does not interfere with their job, but during the game these workers were able to do homework almost uninterrupted. Those who didn't have homework watched a stream of the game they had set up on the big screen in the lobby.
With no game Saturday, those looking to work out won't have to worry about the rec center being closed.
Thursday night game affecting classwork 
The Thursday night game against Texas Tech had some students adjusting their everyday schedules to attend.
Sarah Merrifield, a sophomore biology major, said that she had to write her paper that is due in her English class three days in advance to make sure she can watch the Frogs.
"Typically, Thursday is a study day for me and I get a lot of my homework for the week done; however, this week I had to get all of it done on Monday and Tuesday," she said.
Homework isn't the only thing having to be adjusted.
Sam Grier, a sophomore geology major, said that one of his tests was moved up two days.
"The professor told us last week that our test would be moved from Thursday to Tuesday this week to allow students more free time on gameday." Grier said.
TCU students seemed excited for this Thursday night primetime game – even if they had to adjust their weekly schedule in order to attend.
Fall Break isn't so far away
Thursday night's game against Texas Tech will have little effect on Fall Break travel plans for TCU students.
Some students who planned on booking flights for the break decided to arrange their trips for Friday in anticipation of the game.
Nicole Lively, TCU student, said that her decision to change her flight was a matter of convenience.
"I had a pretty busy week and I wanted to see the game," Lively said. "I wanted to leave at a time that would be less stressful."
Some students plan on using their fall break to go home to see friends and family, while others plan on taking trips to other destinations around the country. Regardless of their destination, students are looking forward to enjoying their time off.
"I'm going back home to Oklahoma City with my family," Bowels said. "I can't wait to be back home and get some much needed rest."
TCU Student Government Association will provide airport shuttles to Dallas/Fort Worth International Airport and Dallas Love Field Airport on Friday, Oct. 12 starting at noon. While reservations for the shuttles have now closed, any unclaimed seats will be made available on a first come-first serve basis.
Fall break officially begins Friday Oct. 12 at 10 p.m. and classes will resume Wednesday Oct. 17 at 8:00 a.m.
Commuters struggle to find parking on game day
The Texas Tech vs. TCU homecoming game caused confusion over parking restrictions for students commuting to class Thursday.
The weekday game caused scheduling conflicts with classes, but they were not canceled and students were required to make it to campus throughout the day.
By 8am, lots 12 and 15 were full along with some additional parking spaces by the library.
"I came early to study for a midterm around 7:30 A.M. and had to park all the way back in a neighborhood," said Laren Dooley, a senior commuter.
She explained that one of her professors, who was holding class on Thursday, had sent out a map and a nice email the night before to help students find proper parking.
"If you don't grab a spot in one of (the green) lots, I'm not sure what you do. Start walking now? See you tomorrow– hopefully!" said Professor of Economics John Harvey in a lighthearted email to his students.
Mary Frances Cannata, a senior business major, made it to campus at around 9:15 A.M. and ended up parking across from Kubes Jewelry.
"I was surprised to see most of the lots still open for students," she said. "I assumed all commuter lots would be sectioned off for the game as mentioned in an email from Provost Nowell Donovan.
Game day perspective from the marching band
While most students are finishing classes and getting ready for an evening at the stadium, the Horned Frog Marching Band is already there, practicing their show and preparing for the football game.
It's a lot of work, especially given the unique set of challenges a Thursday game presents, but band members say they wouldn't trade it for anything.
"My favorite thing about it is that we can all have fun together," said sophomore marketing major and drumline member Paolo Bigiarini. "We work really hard, but that gives us the opportunity to hang out together, travel together and perform together."
Thursday's schedule for the marching band begins at 1 p.m., when members are released from their classes for rehearsal. The drumline begins rehearsal at 1:30, and the rest of the band join them at 2:30.
Once the rehearsal is over, band members will have time to eat before meeting in the Campus Commons at 5:30 p.m. and marching into the stadium. After march-in, the band will perform before the game and at halftime, as well as playing a number of different songs while in the stands.
Senior music education major and drum major Molly Neal enjoys her time in the stands more than anything.
"I enjoy football games because I'm in control of most of the music that the band plays," Neal said. "I get to choose songs that will help involve the student section and get everyone pumped up in the stadium."
Thursday isn't without its difficulties for band members, however. Bigiarini is missing a midterm exam for their afternoon rehearsal, and Neal will have to walk over a mile due to the lack of on-campus parking.
"Because I'm in the band, I have to carry my entire uniform, my hat, my plume and my backpack," Neal said. "I don't have to carry an instrument because I'm a drum major, but many students will."
Despite these challenges, Bigiarini and Neal both look forward to Thursday's game, though they recognize that it makes classes on Friday much less appealing.
"Luckily I don't have any Friday morning classes– if I did, I would not be going," Neal said.
Does not feel like your typical gameday
As the Horned Frogs gear up for its first Thursday night game since 2015, there are students who still have to deal with the everyday tasks that a Thursday entails despite the Texas Tech matchup.
The tailgating tents along Stadium Drive were set up Wednesday morning, and the grounds crew attended to the campus' landscape to prepare for the crowds of fans coming for the 6:30 p.m. kickoff.
Students, on the other hand, are still faced with assignments and exams among all the primetime chaos.
"I won't be able to take a breather until after my 9:30 a.m. exam," said speech pathology major Katelyn Thornburg. "I also have a class at 11 a.m., so it definitely doesn't feel like a typical game day to me."
First-year student Sophie Hoffman said some of her professors have taken a different approach towards the Thursday game. She said she had some decide to hold class and others decide to not meet in lieu of the game.
"I had some teachers give us assignments ahead of time so we wouldn't have to meet in class on a game day, especially since no one can park on campus," said Hoffman. "But I had others who didn't really care and just stuck to the syllabus."
The Friday following the Thursday night showdown against the Red Raiders is the unofficial start of fall break, running until Tuesday, Oct. 16. Sophomore Payton Shelton not only has class Thursday and an exam Friday, but family and friends coming for the game.
"Knowing I have class Thursday, people coming to Fort Worth Thursday night and an exam the next morning is a lot," said Shelton. "I really wish we didn't have Tech this week, and especially on a Thursday."
Gameday increases restaurant business around campus
A couple of restaurants near campus were prepared to serve large crowds before Thursday's football game against Texas Tech.
The crowd at Dutch's Burgers and Beer during lunchtime was about 25 percent larger than a typical Thursday lunch crowd, said Kay Greenlee, the owner and manager of the restaurant.
She said many customers were alumni, business people and TCU fans. Greenlee said she expected Texas Tech fans to begin coming in the restaurant later in the afternoon.  
The business at Buffalo Bros. was steady but not unusually high at lunch, said Kristen Flory, a manager.
"We get all sorts of people," Flory said. "We get from construction workers to students to motorcycle people."
Like Greenlee, Flory said she thought the restaurant would be crowded in the hours leading up to the start of the game.
The manager of Buffalo Bros. said sometimes people go into the restaurant to escape the heat during tailgates, but she did not know how the cooler weather would affect patrons who usually do that.
Both managers said they ordered additional food and alcohol to prepare for more customers, just like they do every time there is a home game.
They said in addition to ordering extra items, more employees would be working to accommodate larger crowds. Greenlee said greater numbers of bartenders, floor staff such as bussers, cooks and people who take orders were on the job. At Buffalo Bros., two more bartenders would be working later in the afternoon, Flory said.
Dutch's changed its hours for the game. The restaurant normally closes its kitchen at 10 p.m., but Greenlee said they would be selling food until midnight, when the bar closes.
Neither Dutch's nor Buffalo Bros were planning on offering any special deals for the game, the managers said.
The bookstore is staying busy
The TCU bookstore is experiencing a small increase in traffic in the store since opening this morning, compared to normal Thursday business day.
The front desk said the upcoming football game is the reason they are busier today.
Parking in the bookstore lot is usually tough, but it's especially difficult with the amount of people trying to pick up their game day gear before tailgates.
The business increase began yesterday, said Jason Smith, TCU bookstore manager. While business is steadily increasing, Smith predicts the early afternoon to be chaos in the store, mimicking a typical weekend game day.
The TCU bookstore has been open since July 2016, so Smith said they don't have another weekday game to compare business to, since TCU hasn't had a weekday game since 2015.
"Black items are being sold more than anything else in the store because it is a blackout game," Smith said. "We are seeing black polos, hats, and shirts flying off the shelves."
Some fans in the store this morning said they are looking for black TCU clothing to wear to the game.
While two other fans said they came in town for the game and are planning on buying as many TCU items as they can, including TCU Yeti's and clothing for their children.
Blackout the Carter
The football team has encouraged students to "Blackout the Carter" for tonight's game versus Texas Tech.
Many students are used to wearing purple to the football games but are looking forward to changing it up.
Liza Bilich, a sophomore strategic communications major, said for her black is pretty prominent in her closet and is excited about the change since students usually dress in purple from head to toe.
"I have a plethora of black clothes, dressing for the game tonight will be simple for me," said Catherine Hafner, junior business major.
TCU students dress up for the football games with females typically wearing dresses or skirts and males often wearing jeans and a button-down shirt. The fall weather is going to make this a little more difficult for students to figure out how to stay warm.
"I am probably going to add a cute jean jacket to keep me warm with the changing temperatures," Bilich said.  
Male students may have an easier adjustment with the weather since they normally wear pants to the games.
"I usually am wearing a jersey with jeans to every game, with cowboy boots of course, so for me, this game is no different from any other one," said Christian Hernandez, a sophomore psychology major.
Parking is even more of a problem for game day
With parking spots set aside for Thursday's football game, TCU urged drivers to avoid campus but by 9 a.m. only about 100 people had opted to use the Dickie's Arena parking garage and shuttle service.
All of the lots around Amon G. Carter Stadium were set aside for gameday parking. But the east campus lots – 12 and 15, along with a few other smaller parking areas behind the library – were filled as usual.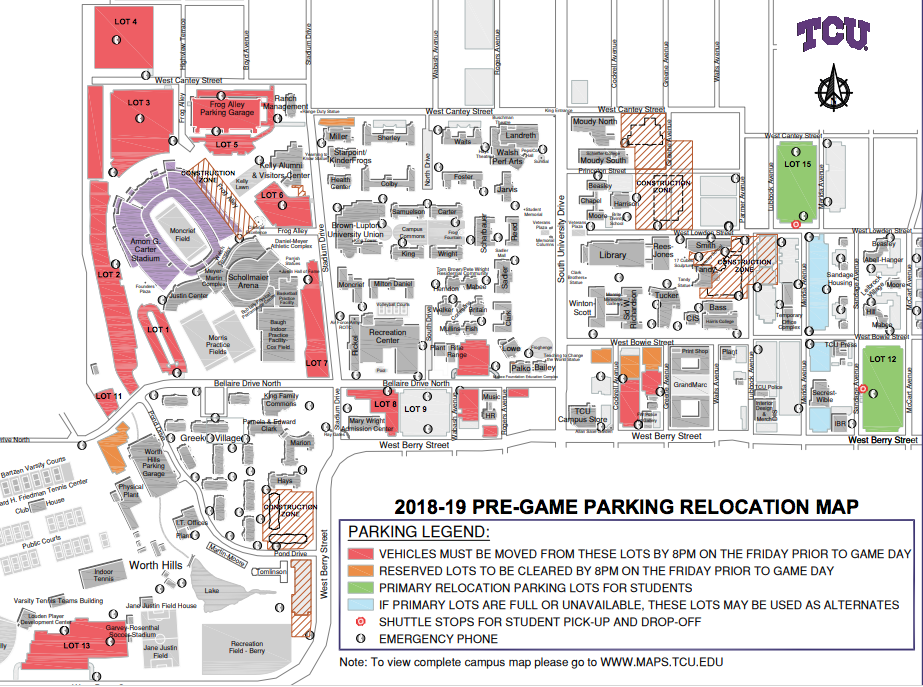 The Dickie's parking garage is located off University Drive near the Fort Worth Botanic Gardens, about 10 minutes from campus.
Dressed for the "Blackout the Carter," theme of tonight's game, TCU Athletic Director Jeremiah Donati and senior athletics staff greeted commuters at the arena lot with free coffee and breakfast.
Thursday. TCU. Tech. It's going down.#BlackoutTheCarter #BeatTech pic.twitter.com/qorw2jsIbJ

— TCU Football (@TCUFootball) October 9, 2018
While the shuttles were usually half-filled and the pace of arrival was slow, the faculty and staff who arrived seemed excited for game day and the free coffee that came with it. There was plenty of food. One Physical Plant worker took a tray of breakfast tacos to share with his co-workers, a sign of the slow foot traffic at the garage.
Along with the available parking still on campus, Uber and TCU partnered together to offer $10 off of rides for the day with the promo code "BEATTECH".
Roadrunner will be running continuous shuttles from 4 a.m. to midnight and the garage provided the parking for free.
Thursday classes will remain on their normal schedule and the Horned Frogs will kick off against Texas Tech at 6:30.