An altar covered with vibrantly colored flowers, various types of foods and ornately painted skeletons was displayed in the hallway of the third floor of Scharbauer Hall throughout October and into November to commemorate a holiday known as Day of the Dead.
Día de los Muertos, or Day of the Dead, is a holiday that people of Mexican descent celebrate during the first couple days of November.
During this holiday, celebrants remember friends and family members who have died through rituals such as creating altars, preparing and eating certain foods, praying, and visiting graveyards. The holiday reminds them that their existence on Earth is temporary.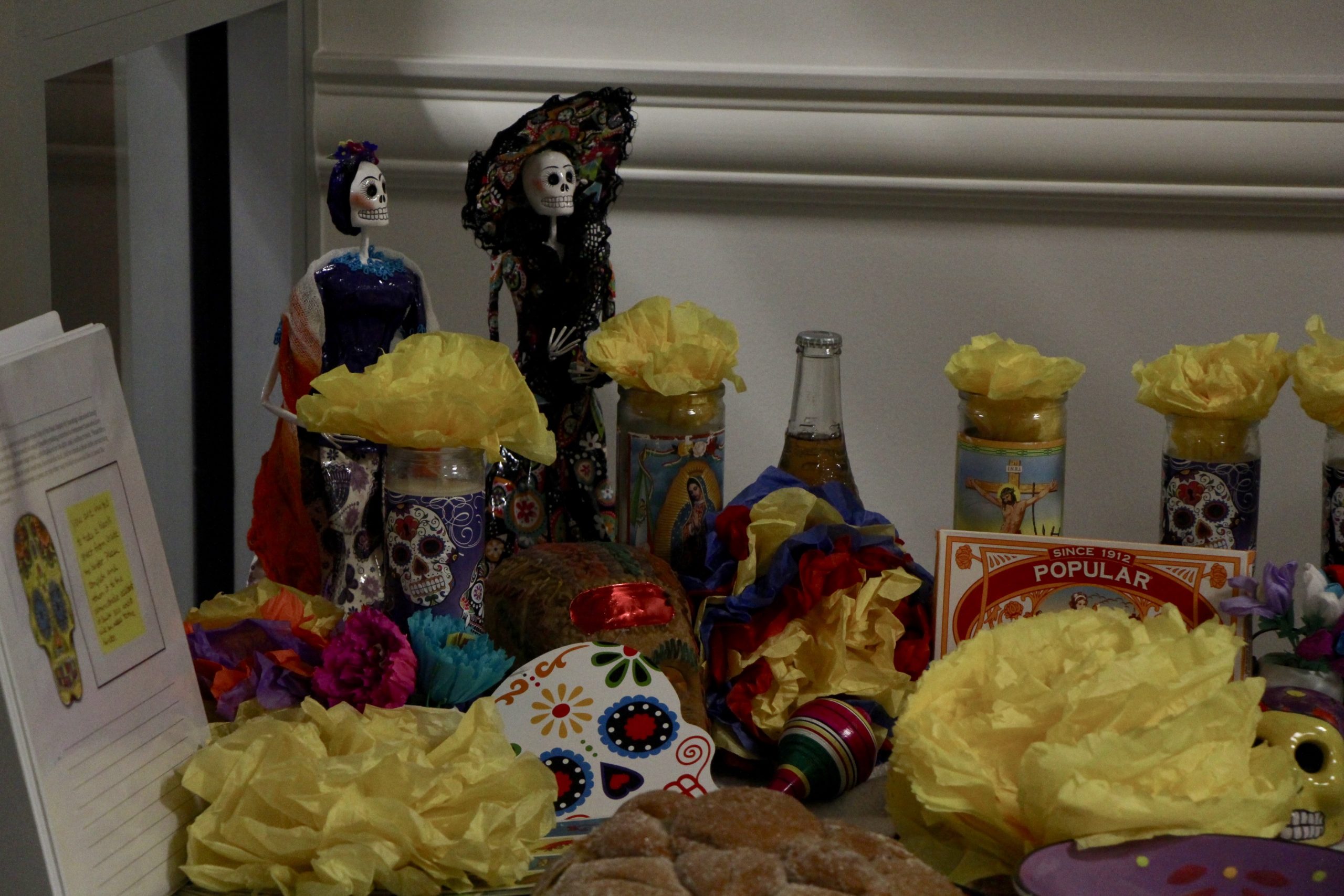 Traditions such as Day of the Dead are not rare in the United States. According to the 2018 TCU Fact Book, 35 students at TCU are from Mexico. In 2016, 26 percent of immigrants to the United States, 11.6 million people living in the U.S., were from Mexico, according to the Pew Research Center.
Some celebrants of Day of the Dead said they hope informing people about the holiday will help connect cultures and create respect for the different traditions.
The altar in Scharbauer Hall was set up to promote the idea that language and culture are intertwined and to start conversations to connect cultures and celebrations, said Karla O'Donald, an instructor in the department of Spanish and Hispanic studies.
O'Donald said she hopes the altar her department made will inspire people to become curious about the culture and the Spanish language.  
"I think that, again, [it] gives another opportunity for conversations that should happen, that hopefully connect people instead of dividing them," O'Donald said.
The Chi Upsilon Sigma National Latin Sorority, Inc. created an altar on campus to give people who were interested in learning about the holiday an opportunity to do so, said Jenny Villagomez, the vice president of the organization's local chapter and a sophomore criminal justice major.
Villagomez said she thinks it is important for people unfamiliar with Day of the Dead to know about it because of the many misconceptions surrounding it.
"A lot of people think it's like our version of Halloween, but it's definitely not that," Villagomez said.
She said that while Day of the Dead has been partly influenced by American culture, it remains a distinct holiday with its own history and purpose.