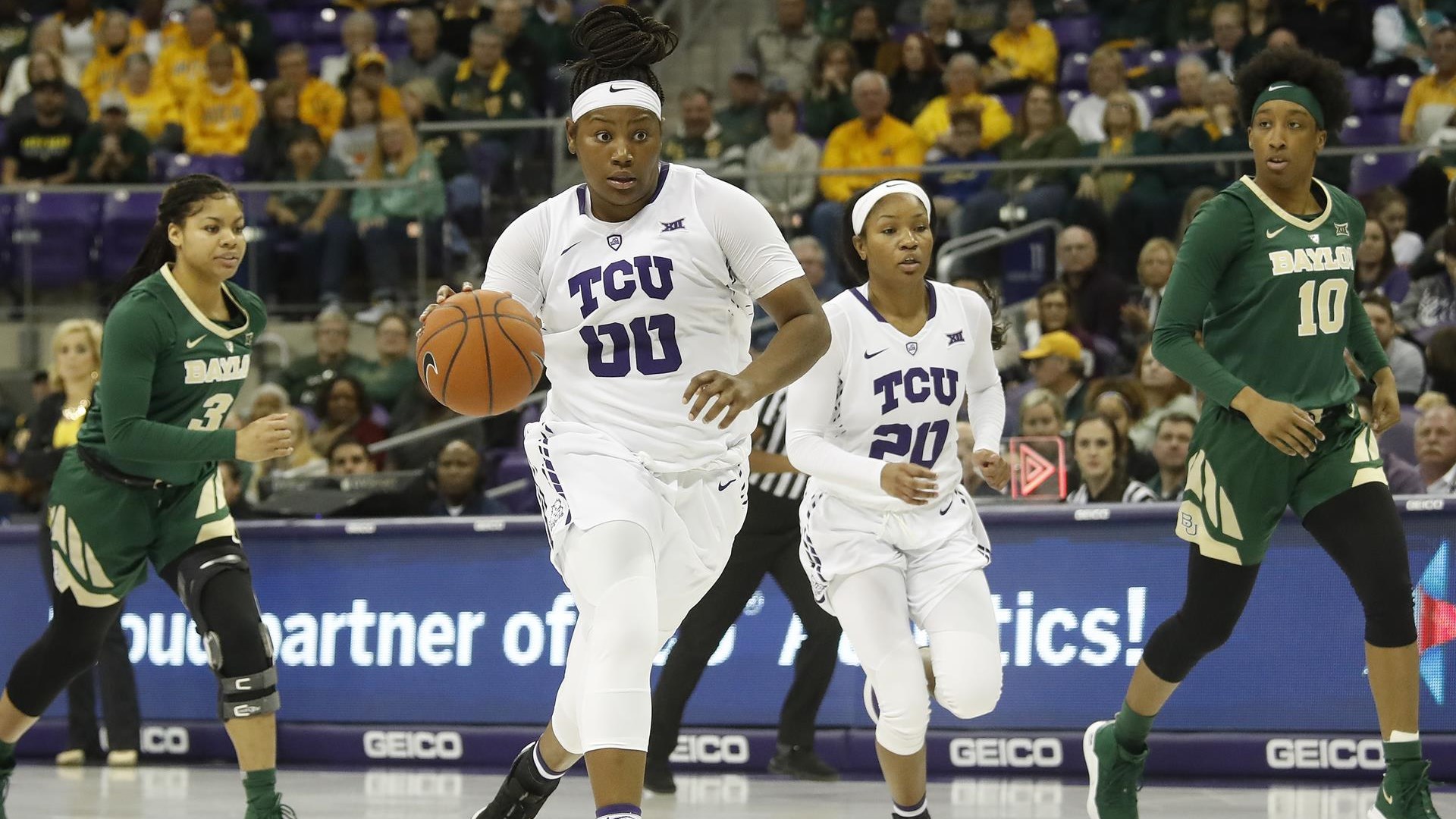 After starting the season with a program-best 11-1 record, TCU women's basketball has now lost three straight games after falling to No. 4 Baylor Saturday 79-55. The loss leaves the Horned Frogs with a 1-3 record in Big 12 play.
The first half was a disaster for TCU. The Horned Frogs were careless with the ball, committing 14 turnovers. On top of that, they shot just over 14 percent from the field as a team. This stemmed primarily from TCU shooting zero percent from the field in the second quarter.
"Slow starts against any Big 12 team is gonna, you know, be really hard to recover from," said head coach Raegan Pebley. "Our offense definitely in the first half was uninspiring."
The team's leading scorer this season with 16 points per game, center Jordan Moore, finished the first half just 1-for-8 with three points.
"I think Jordan was taking some shots a little too quick and unbalanced," Pebley said. "She was trying to help her team score, and so she was probably forcing some shots."
Moore finished with 11 points and 10 rebounds. Her physicality would prove helpful for the Horned Frogs late in the second half.
On the other hand, Baylor was unstoppable on offense. The Bears shot 47.1 percent from the field in the half thanks to the 10 points on 5-for-6 shooting from center Kalani Brown.
Brown would finish with 16 points and six rebounds, as TCU struggled to find an answer to her presence in the paint.
TCU had only forced four turnovers in the first half and went into the locker room with a 35-11 deficit. The 11 points were the lowest halftime total for TCU this season.
Baylor continued to dominate TCU into the second half, leading by as much as 35 late in the third quarter. Guard Juicy Landrum came alive for the Bears, scoring 16 of her game-high 23 points in the second half alone.
Unphased by their deficit, the Horned Frogs fought back in the fourth quarter. Forward Amy Okonkwo and guard Kianna Ray combined for 22 of TCU's 28 fourth-quarter points to cut a hole in the Horned Frogs' deficit late in the game.
"We've got to open games with that kind of pep and that willingness to play your role," said Pebley. "Amy [Okonkwo] and Kianna [Ray] and Jordan [Moore] are scorers for us, and they need to be able to do that from the get-go."
Okonkwo finished a team-high 20 points and seven rebounds. Ray poured in 13 points of her own, scoring them all in the fourth quarter.
"I think we've got to set the tone stronger in practice, and our leadership's got to be a lot stronger," Pebley said about her team going forward.
Looking to end their three-game skid, TCU will face Texas Tech at 6:30 p.m. Jan. 16 at Schollmaier Arena.