TCU Women's Tennis gears up for rest of the season
Coach Lee Walker is not surprised by the TCU women's tennis team's perfect start to the season, but he hopes that a Sunday victory against Lamar University will help the Horned Frogs gain confidence as their level of competition increases throughout the season.
Walker is tasked with coaching one of his youngest teams ever, a squad which includes four freshmen, two sophomores and a junior transfer from Colorado, Chloe Hule. The Horned Frogs will be without senior Marie Norris, who will be out for six to nine months. Norris underwent surgery last week and is expected to return next season.
In preparation for Sunday's match against Lamar, Walker has focused on meeting with the players individually to help work out kinks, communicate both individual and team goals and figure out the appropriate lineup.  
"We would like for all three doubles matches and all six doubles matches Sunday to be really dominant," Walker said. 
Walker is not discouraged by his team's youth. Freshman Kate Paulus of Leawood, Kansas, has had strong performances in her first three singles matches. Walker said her confidence in January is night and day compared to her performance in the fall.
Paulus said that she has learned how to gain and keep momentum throughout opening week, and that Walker and the coaching staff have helped her become a smarter tennis player.
Fellow newcomer Ellie Douglas has proven herself to the team after arriving just weeks ago. Douglas picked up a 6-3, 6-1 win last Sunday against New Mexico in her season debut. She is a blue chip recruit according to TennisRecruiting.net, and last year she focused solely on competing on the pro circuit.
After hosting the Cardinals, the Horned Frogs (3-0) will face familiar Big 12 foes as well as several out-of-conference opponents which will not only test the team's resiliency but help form their identity.
Walker said he hopes his team puts trust in their training and does not get discouraged when faced with adversity.
"It's going to be a sharp turn," Walker said. "January was nice, and hopefully we can get another win on Sunday, but our level of competition is going to rise dramatically."
TCU will kick off February by hosting the University of North Texas Feb. 1 before packing their bags to visit Texas A&M Feb. 4 and Rice University Feb. 6.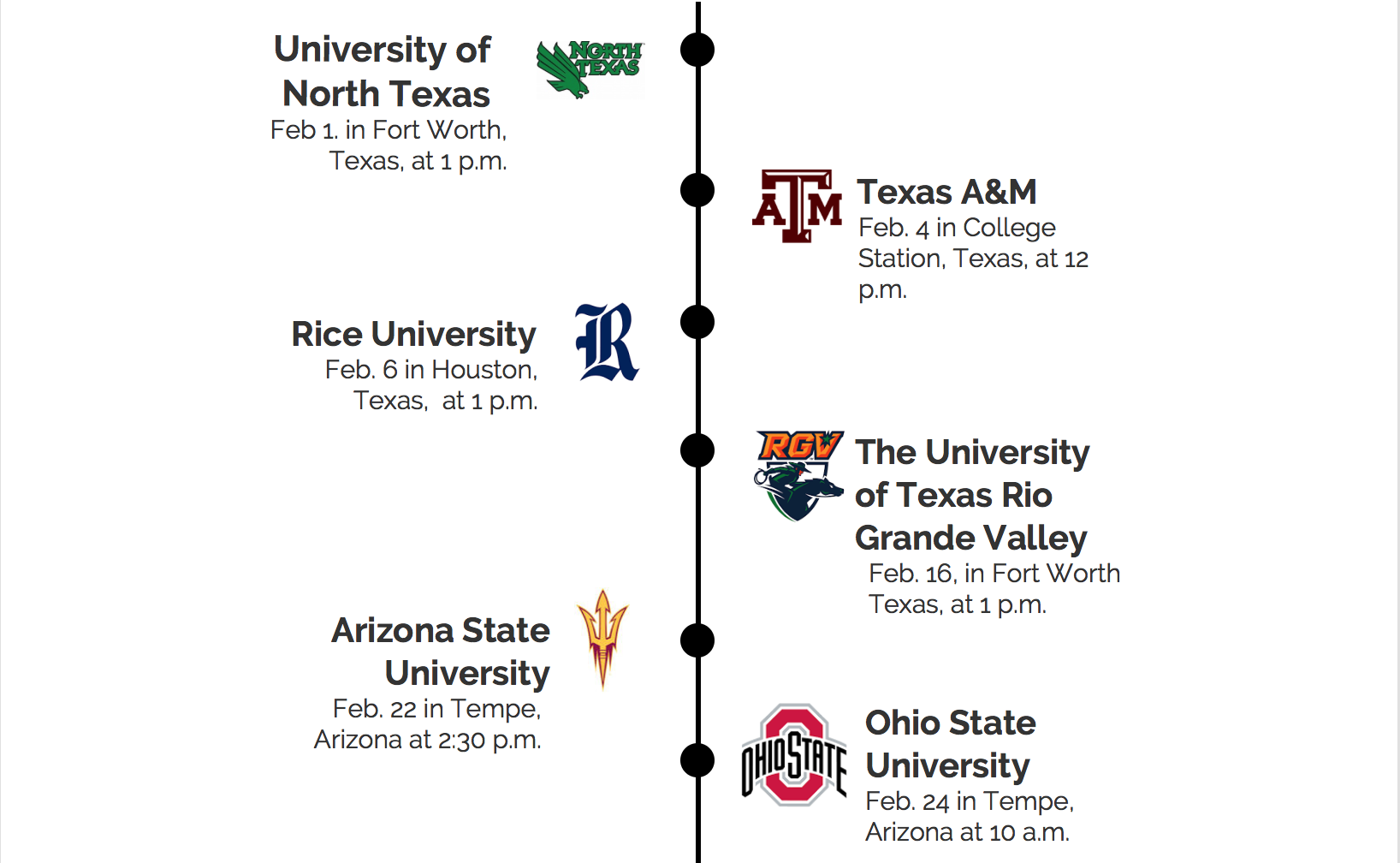 "North Texas is a really good team," said Walker, "They're much improved and they're healthy. Texas A&M is always good and so is Rice."
Following the Texas road trip, the Horned Frogs will face both Arizona State Feb. 22 as well as Ohio State Feb. 24 in Tempe, Arizona. Walker said that he does not feel that they are underdogs in any of these five matches, but that these even matchups will give the women's tennis squad an opportunity to prove themselves.
"It will be good preparation going into the Big 12 when we shift in March," he said.
The University of Texas women's tennis team was picked by the league's coaches in the preseason to win the Big 12, according to texassports.com. Walker noted that both Texas and the University of Kansas, who received three first-place votes compared to Texas' nine first-place votes, have a lot of experienced upperclassmen compared to TCU's young squad.
"They stick out, out of everyone in the conference," said Walker. "Those are the two matches we probably go in as underdogs." The Horned Frogs will face the Jayhawks March 31 in Lawrence, Kansas before traveling to Austin to play the Longhorns on April 5.