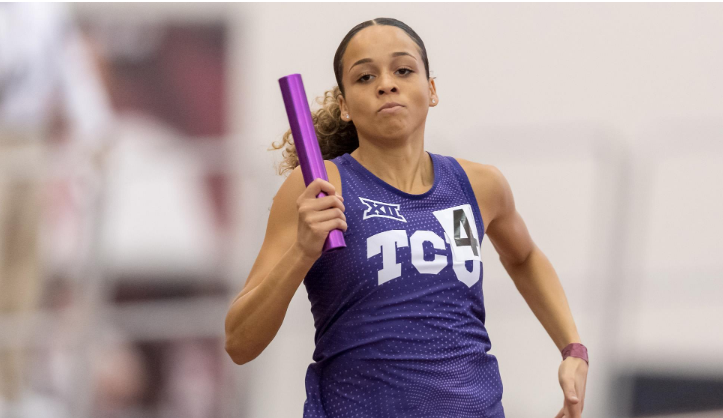 A combination of old and new talent has the Horned Frogs track and field team in a position for success this spring.
The team is returning many athletes that broke school records last season, while also adding new recruits that offer skills in different events to their already talented roster.
Kendahl Shue, Brittney Trought, Yasmin Brooks, Lexi Aitken, Evelyn Mandel, Erin Barth and Chyna Ries are all returning for the 2019 season after breaking school records last season.
New Talent
Lily Beckford is one of many athletes that signed to join the team in the fall. Beckford is a transfer student from Brunel University in London. She competes as a sprinter and will be crucial in 200m, 400m and 800m events. Beckford broke a career record while competing at the United Kingdom Women's League Division 1 meet.
"Based on the international kids we've had before, she'll give us leadership and be an example for the younger athletes on the team," head coach Darryl Anderson said in press release.
Asiah Fields is coming in as a sprinter from a high school in Arizona where she won two AIA state titles and won the 400m during her senior year.
Anderson said that the program wanted to add girls that would make it at a national level relay team, and Fields will create a more competitive group in the 4×400.
After spending one year at the University of Central Michigan, Brooklin Klopf will bring an all-conference pedigree to indoor shot put. Klopf is a two-time Michigan state champion for shot put and was runner-up in the discus at the 2017 MHSAA State Finals.
"She's a really good young thrower," Anderson said. "We want to be more diverse on the women's side and we needed to add someone in that area. We think with her size and her movement skills that she can be a 50-plus thrower pretty quick."
Tysen Townsend comes to TCU from Spring, Texas as a top-five regional pole vaulter and sixth in the state.
Anderson said he thinks she can be a developmental athlete in the pole vault.
Jordan Williams, from Fresno, Calif. was a state finalist position for shot put. Williams advanced to finals after her personal-best record and ended up finishing ninth in the state.
Anderson said they believe she will develop into a special athlete at the Big 12 level.  
Teleda Williams is a sprinter from Las Vegas and was named to the Nevada All-State First-Team after winning four state titles and setting records in all four events. She specializes in 100m, 200m and the 4×100 relay.
"When you look at our class, we added a lot more speed. We wanted girls that have good foot speed and having run under 24 seconds in high school gives us that," Anderson said. "We think Teleda will help immediately, not just in the 100 and 200, but both relays as well."
Kiana Banks is a sprinter from Atlanta that won a state title her junior year in the 400m. 
Mariah Castillo, a distance runner from Santa Clarita, Calif., set personal bests her senior year and made it to the California State Championships in the 1600m. Castillo also competed in the Mt. SAC Relays and Southern Section Division finals, and she finished first in both.
Finally, the team added another crucial member to their talented roster. San Jose State transfer Destiny Longmire brings NCAA experience and the title of two-time Mountain West Champion in long jump. 
"Destiny brings NCAA championship level experience and an understanding of what it takes to excel at this level," Anderson said. 
The women's track and field team will begin its season on Saturday, March 16 at the TCU Invitational.