Equestrian looks to make strong spring push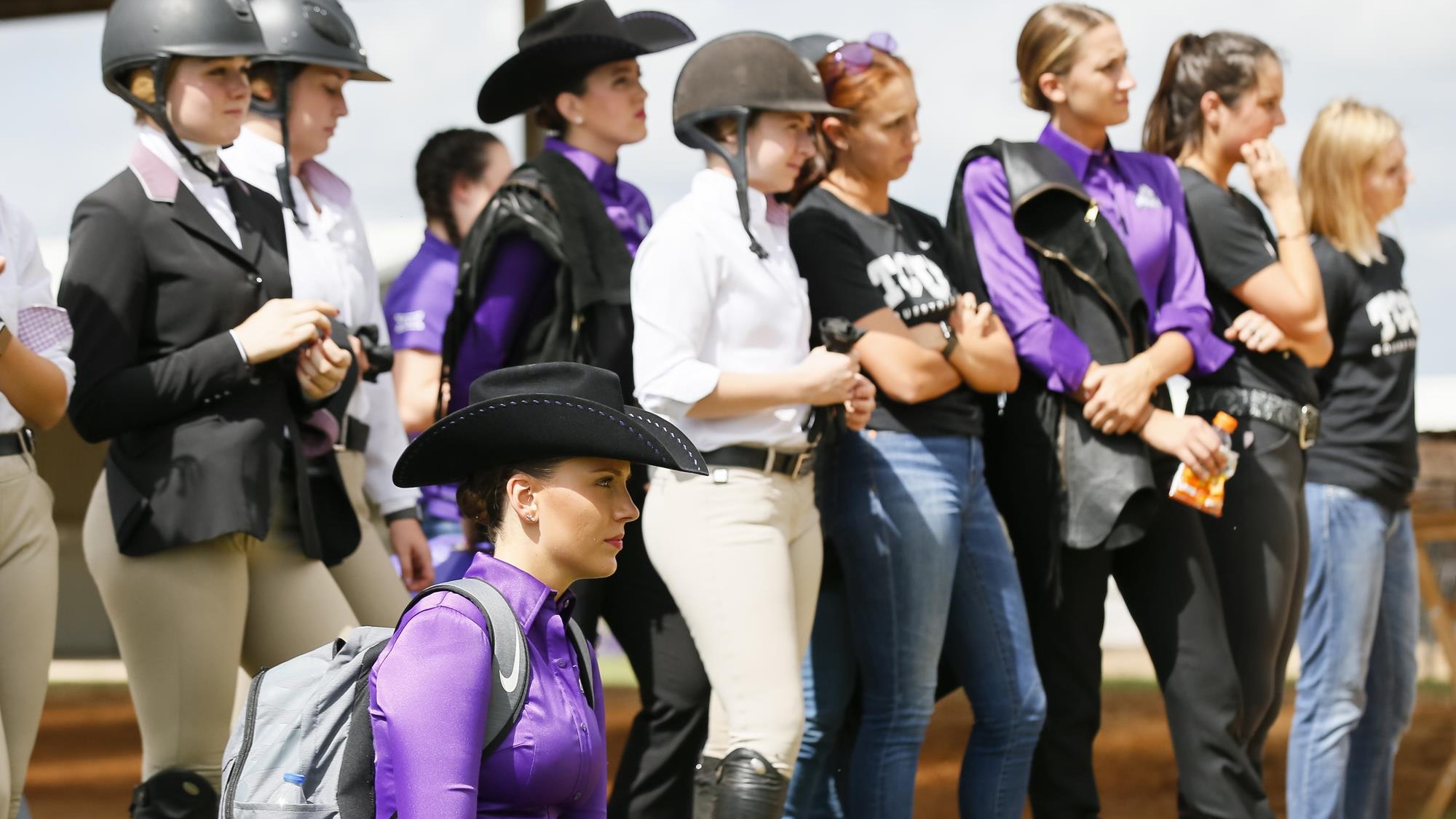 Fresh off a 2017-2018 campaign that saw TCU equestrian (9-9) improve by three wins over the season before, the Horned Frogs are looking to continue the upward trajectory of the program.
The team has a mix of young and veteran talent and will rely on their chemistry to succeed in the later half of the spring season.
Competing as one of 14 teams in the National Collegiate Equestrian Association, TCU is looking for its first winning season since the 2010-2011 season.
The Horned Frog's six-game fall schedule saw the team finish 3-3, including a 1-1 record in the Big 12 Conference.
TCU picked up dominating wins over Delaware State and non-NCEA team Texas Tech, as well as earning a tight Big 12 win against No. 8 ranked Oklahoma State. Losses against Big 12 foe Baylor, SMU and No. 3 Texas A&M rounded out the fall slate.
TCU has won three exhibition meets since the spring portion of the season began, with victories over West Texas A&M, Sweet Briar College and Lynchburg College. The Frogs lost their most recent meet to South Carolina 13-5, dropping their official record to 3-4 on the year.
"We look to get better each and every week," equestrian program director Haley Schoolfield said. "There are so many things you cannot control in our sport, but we can control how we ride and perform. If we work to improve with each practice, the results should improve week to week and compound for the team to peak during the postseason."
Western
For Western events, the Horned Frogs have a solid group of returning athletes.
A bright spot in Horsemanship, junior Jamie Cook returns coming off All-Big 12 Horsemanship and Ariat NCEA All-America Honorable Mention honors. In 37 career meets, Cook is 19-16-2 with three Most Outstanding Player (MOP) wins.
Sophomore Anna Adams earned All-Big 12 reigning honors in her first season at TCU. In 19 meets as a first-year, Adams went 10-7-2 with 3 MOP wins. In five fall meets, Adams went 2-3 with one MOP.
Hunter Seat
While Western returns several veteran leaders with decorated seasons already behind them, the Hunter Seat roster is stocked full of first-years and less experienced returning riders. The group will need sophomores like Alex Beneson and Janelle Henningsen to build off solid starts to their TCU careers.
Beneson saw significant action in her first season, competing in 15 meets in Equitation of Fences and 12 meets in Equitation on the Flat. Her 8-6-1 record in Equitation of Fences was significantly better than a 4-8 mark in Equitation on the Flat, but the experience in both events is sure to help this young group.
Henningsen only competed in two Equitation on the Flat events as a first-year, recording one win, but in five events last fall she had a 3-0-2 record and set a career-best on Tag of 89.
First-years
The Horned Frogs roster features 12 first-year riders including a few who have been immediate contributors.
"All of our freshmen are outstanding, and the entire class is driven and determined," Schoolfield said. "Izzy Baxter is a standout as she competes in both hunter seat events (Flat and Fences). Natalia DeVencenty is another standout who competes in Horsemanship. Each of these athletes have bright futures at TCU."
Schoolfield also said that the team's leaders have done a good job of setting the tone for the Frogs' culture and chemistry.
Senior Marah Huston, one of those veteran leaders, echoed the importance of her job helping the newcomers.
"We have always had powerful and confident captains on this team that I have looked up to," Huston said. "My goal was to be nothing less than that. We have so many freshmen this year, so as leaders you want to be able to leave a mark on them so that they are able to lead with the same values that we have been taught."