Neighbor to Neighbor program encourages cooperation between students and Fort Worth residents
For years, a lack of communication between Fort Worth residents and TCU students living in neighborhoods surrounding campus has created conflict.
The city of Fort Worth founded the Neighbor to Neighbor program in 2015 to encourage cooperation and bridge the communication gap between residents and students.
"Through this program, residents, city officials and TCU administration meet once or twice a semester to discuss problems occurring in the neighborhoods surrounding campus," said Fort Worth Community Engagement Liaison Tabitha Butler.
Councilwoman and former city planner Ann Zadeh said conflicts between residents and students began when TCU's rapid growth caused more students to live off campus. She said students violated noise ordinances, disregarded parking laws and disposed of trash illegally.
Tensions between residents and students got out of control when five-bedroom houses, which many residents refer to as "stealth dorms," were built in neighborhoods near campus, said the parking chair of the Bluebonnet Hills Neighborhood Association Martha Jones. Some of these houses were built near Jones's home on Wabash Avenue.
The stealth dorm problem led to the creation of the TCU overlay, which mandated that only three unrelated adults could live together in residential homes surrounding campus.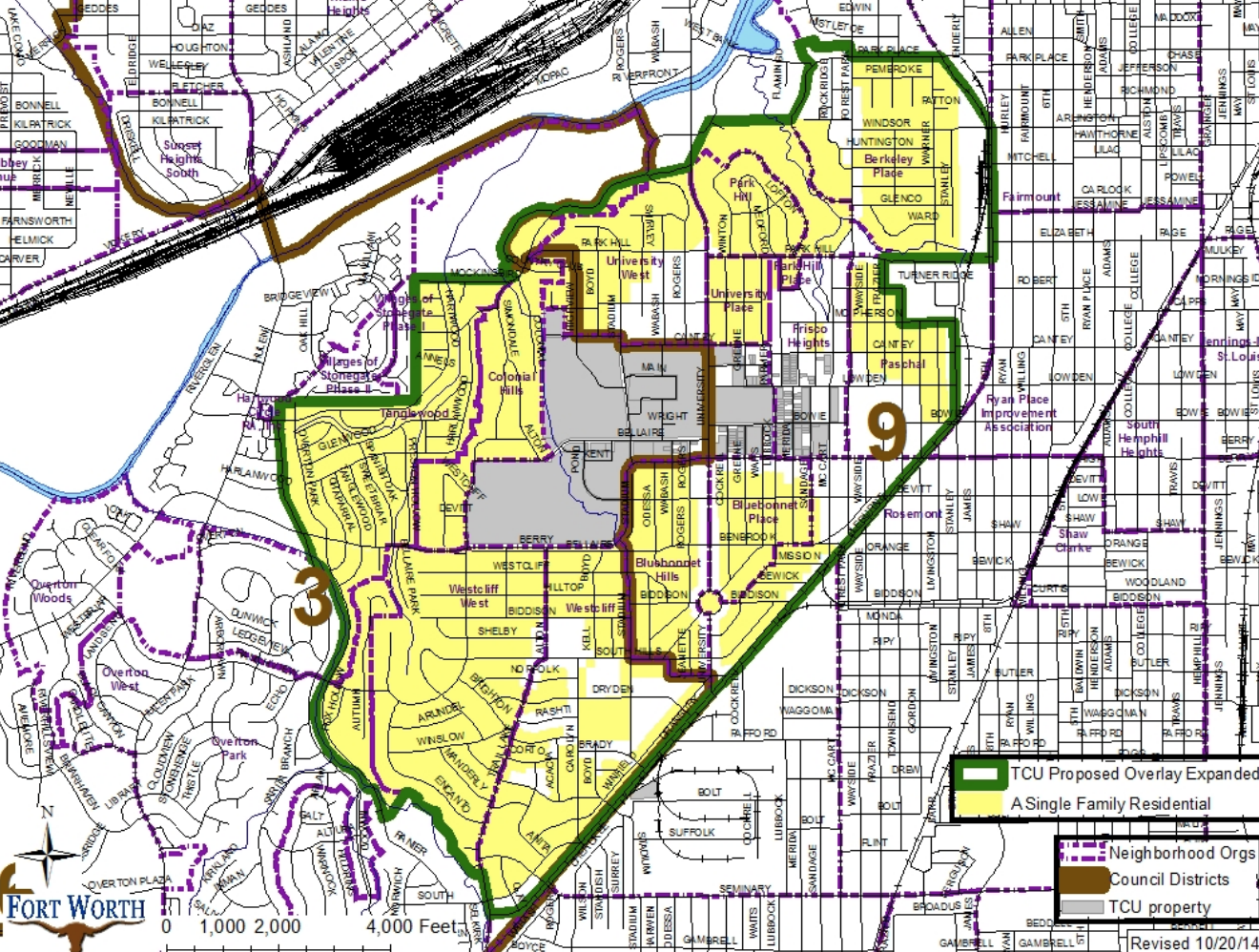 Jones said the TCU overlay led to the Neighbor to Neighbor program.
"We had a big meeting about how to work out the overlay, and it was grueling, and what came out of that was a realization that the system isn't working," Jones said.
The associate vice chancellor for student affairs and dean of Campus Life Mike Russel, along with residents working on the overlay, came to the conclusion that Fort Worth residents and TCU administration could work together to solve the problems occurring in surrounding neighborhoods, Jones said.
The relationship between TCU students and Fort Worth residents has improved during recent years due to the city's program, as it encourages students and residents to be good neighbors, Zadeh said.
TCU's director of Housing & Residence Life Craig Allen said he thinks that people who live in the community have very good relationships with TCU students, for the most part, although there are some cases in which this is not true. Those cases warrant attention and get attention from TCU administration, Allen said.
Campus Life speaks with students when residents complain to TCU about students in their neighborhoods, Allen said.
"There may be no student code of conduct issue that we can take action on, but that doesn't mean we won't talk to them and say, 'Hey, we're really encouraging you to be good neighbors,'" Allen said.
Zadeh recommends that students introduce themselves to their neighbors when moving into off-campus housing.
"If you know each other, it's easier to reach out when there's a problem," Zadeh said.
When Jones had problems with students in the past, she said, she tried the "mean route" with a group of fraternity members who lived beside her, but she realized that approach wasn't working.
"I started friending them and exchanging cell phones and said, 'OK, if you're going to have a party, here's what you need to do' — and it worked," Jones said.
Housing & Residence Life prepares students for the responsibilities of living off campus through their off-campus living brochure, Allen said.
Neighbor to Neighbor also provides important resources for students through its own brochure for students, Allen said.
Illegal disposal of trash by students, especially during move out, has been a persistent problem, Zadeh said.
While discussing this issue during a Neighbor to Neighbor meeting last year, former SGA vice president Hudson Trent decided to take matters into his own hands. He coordinated with the university to provide extra bins for students to place their trash on campus instead of disposing of it illegally in their neighborhoods.
"It was really great to see that initiative of this one student who was sitting in our meeting and heard a problem and thought, 'Maybe we can fix it,'" Butler said.
Neighbor to Neighbor grew in effectiveness and prominence during the 2017-2018 school year, Butler said.
"People are actually asking about it," Butler said. "People actually know who we are now."
Neighbor to Neighbor includes representatives from Housing & Residence Life, TCU police, Campus Life, Fraternity & Sorority Life, Fort Worth police, City Council, Zoning Commission and Fort Worth residents.
"We all sit down and we problem-solve," Jones said. "It has made a world of difference."
The next Neighbor to Neighbor meeting will take place from 6:30 to 8 p.m. Feb. 25 in the Beck-Geren meeting room in the Brown-Lupton University Union. For more information, visit the Neighbor to Neighbor webpage or email Fort Worth's Community Engagement office.