What we're reading: Trump v. Cohen
We're back and we're reading – everything from the "Daily Beast" to "The Huffington Post." We're trying to help you keep up with the rapid pace of politics and everyday news. Today, we've got news on President Donald Trump's meeting with North Korean leader Kim Jong Un in Hanoi, Michael Cohen's testimony against Trump that is set to take place on Wednesday morning, possible witness tampering and more.

President Trump and Kim Jong Un summit in Hanoi

Trump and Kim are set to meet in Hanoi, Vietnam on Wednesday morning. The first day of the summit will be focused on nuclear weapons. Trump plans to denuclearize North Korea.

"I think it'll be very successful," Trump said while Kim said he is sure of an outcome that will be welcomed by all people.

This is the first face-to-face contact the two have had since they met last summer in Singapore.

Trump told Kim that ceasing nuclear weapon production could bring economic assistance for North Korea,a country that has "unbelievable, unlimited potential."

Back at home, Trump is under fire. Trump's former personal attorney Michael Cohen is expected to testify allege "criminal conduct" against Trump on Wednesday morning.

The president said he plans to hold a news conference after Thursday's meetings with the North Korean leader.

President Trump's former attorney to testify against him

Michael Cohen, President Trump's former attorney, plans to testify against Trump in front of the House Oversight Committee Wednesday morning.

Cohen is expected to talk about Trump's alleged "criminal conduct" as stated in the leaked copy of his opening statement where he called Trump a racist.

In the leaked copy of his opening statement, Cohen said that Trump threatened him to intimidate his former schools into not releasing his grades or SAT scores, is a blatant racist and that he has "the worst judgement of anyone in the world."
Cohen will speak in front of the committee Wednesday. You can tune in to your preferred media outlet to watch the hearing live.
Floridian representative accused of possible witness tampering

Former White House ethics lawyer Richard Painter is calling for the arrest of Rep. Matt Gaetz (R-Fla.), accusing him of witness tampering amidst the news of Michael Cohen's plan to testify against President Trump.

Gaetz tweeted at Cohen hours before his hearing allegedly threatening to reveal personal information to Cohen's family.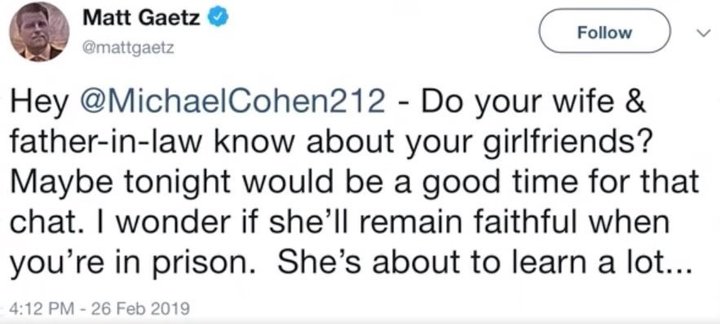 Painter, former President George W. Bush's ethics lawyer, accused Gaetz of witness tampering, a federal crime, and called for his arrest.

"I should have chosen words that better showed my intent," Gaetz said after he deleted his original tweet. "I'm sorry."

Walter Shaub, the former director of the U.S. Office of Government Ethics under President Barack Obama, also accused Gaetz of witness intimidation citing statutes.

A tweet in which a sitting member of Congress tries his hand at witness intimidation: https://t.co/tSdtKvgDjb

— Walter Shaub (@waltshaub) February 26, 2019
See 18 U.S.C. §§ 1512(b), 1515(a)(1)(B).

— Walter Shaub (@waltshaub) February 26, 2019
That's all we have for today. Check back soon for more.