Most print reporters barred from Trump-Kim dinner in Vietnam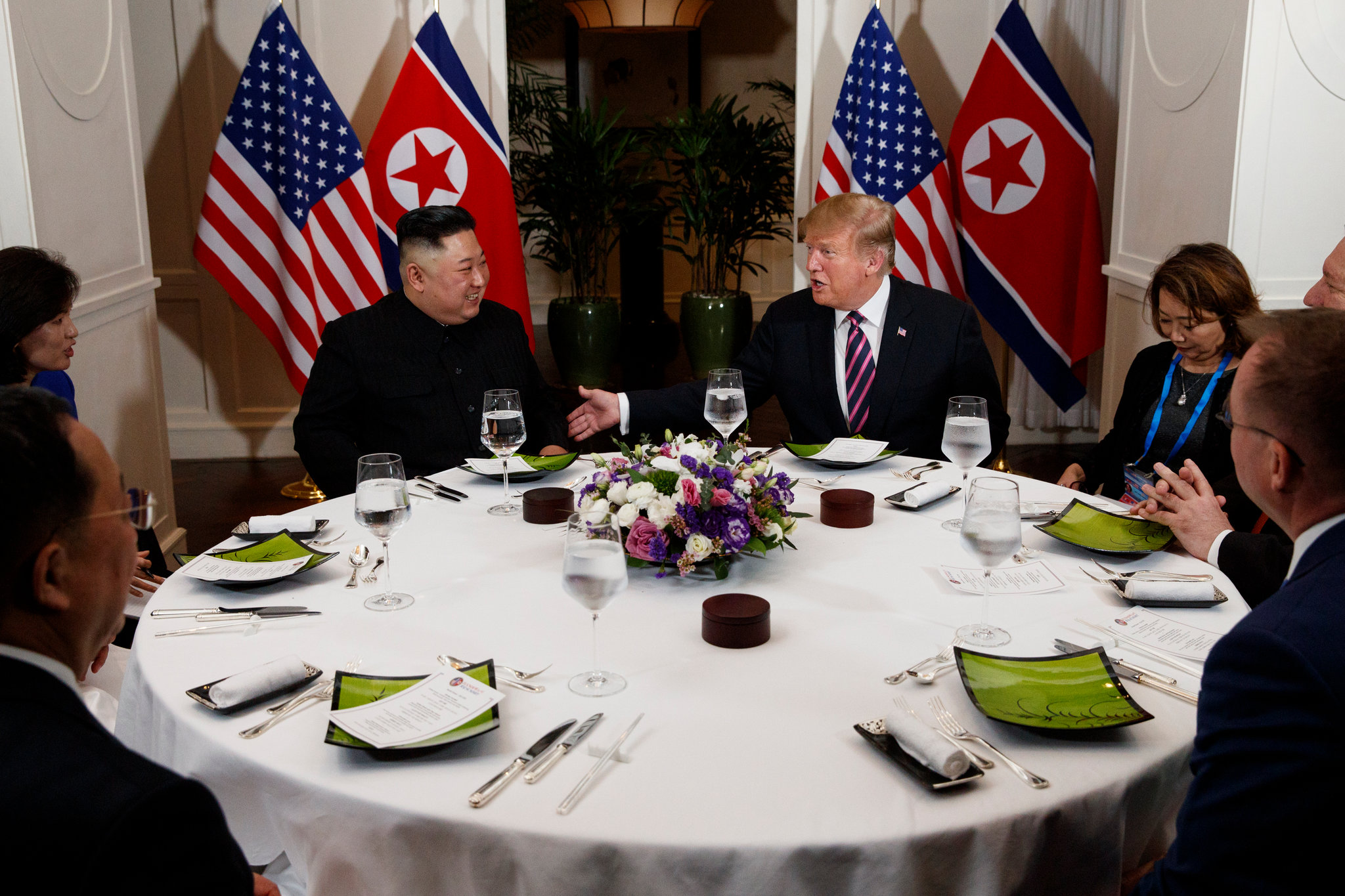 A dinner between President Trump and North Korea's Kim Jong Un raised questions about media access when several American reporters were barred from attending.
Press Secretary Sarah Sanders said the "sensitive nature of the meetings" at the summit in Vietnam and questions being shouted at the president at an earlier event resulted in reporters being shut out of the meeting.
Tweets from journalists associated with a multitude of networks say that's not the case.
Reporters Jeff Mason, from Reuters, and Jonathan Lemire, from the Associated Press, shouted questions about denuclearization and Michael Cohen's hearing on Capitol Hill at the beginning of a sit-down meeting between the president and the North Korean dictator Tuesday. Many reporters said the questions are to blame for the barring, not the tone of the meetings.
Initially, no reporters were authorized to attend the dinner, but after U.S. photographers banned together and said they would not cover the dinner without reporters present, Vivian Salama from the Wall Street Journal was permitted to attend.
Print reporters from The Associated Press, Bloomberg, Reuters and the Los Angeles Times were still barred from the dinner.
According to the Washington Post, at least one cameraman and one photojournalist from North Korea were present at the dinner.
Eric Cox, a political science professor specializing in foreign affairs at TCU, said it's "highly unusual" for foreign media to be allowed into an event while U.S. media are not.
"I think press access is extremely important in a democracy," Cox said. "Particularly when they're meeting with foreign leaders who are, themselves, quite restrictive of the press."
"Symbolically, it's a bad look to not have reporters when we're meeting with one of the harshest dictators in the world," Cox said.
The First Amendment does not grant a right of access to the president unless the event is considered a public forum, TCU media law professor, Chip Stewart, said in an e-mail. A diplomatic dinner between two world leaders is not deemed a public forum, making the barring of journalists "legal, even if not very wise."
Stewart said a president has never responded to tough questions from reporters to the extent Trump does.
"We've got more than two centuries of tense and sometimes difficult relations between the news media and the presidency, but some grudging respect that each party is trying to do their respective jobs," Stewart said.
Cox said President Trump's relationship with the press differs greatly from those of his predecessors, especially on foreign trips, citing when President Obama fielded "fairly difficult" questions from reporters in front of the Chinese premier in 2014.
Additionally, access to other members of government, not just the president, has decreased under the Trump administration, Cox said.
The Defense and State Departments have offered fewer briefings under President Trump than in the past, and former Secretary of State Rex Tillerson, who infamously said he wasn't a "big media press access person," broke precedent when he blocked reporters from accompanying him on a trip to Asia in 2017.
Stewart said past presidents believed in the Constitution and the First Amendment as being vital to democracy, but not Trump.
"I think [Trump] sees the free press as a nuisance that gets in the way of him doing whatever he wants," Stewart said. "And I think he's sometimes jealous that other world leaders like Putin and Kim can keep their journalists on a short leash. Or in a shallow grave."