Petitioning Fort Worth, TCU to see 'Lime' light
A student petition to TCU Administration and the Fort Worth Municipal Government to allow sustainable forms of transportation on campus already has a heap of signatures.
According to the petition posted by Jack Sommer, TCU lacks cost-effective and sustainably efficient transportation options.
Lime scooters are available in five cities in Texas: Austin, Dallas, Lubbock, Plano and San Antonio. To rent the scooters, users have to download an app and pay on the app for however long they ride it for.
"If a dockless scooter program were of interest to the city council, it should be implemented as a pilot program," said Jeremy Williams, a senior planner for the comprehensive planning section for the Pedestrian and Bicycling Advisory Committee (PABC).
At this time, there is no present direction to implement a dockless scooter program.
Williams said the ITC is concerned about safety and plans to wait and see how other cities across the country handle these new systems.

Lime scooters hit Austin first in 2018 and kicked off Austin's expansion with other dockless companies like Bird that continue to infiltrate other Texas cities.
However, these scooters may have a downside as several injuries and accidents have been racking up since they were first introduced.
"I am deeply worried that loose regulations and a desire to pander to tech companies will set a precedent that Austin is a fine place to test out potentially dangerous and landscaping altering projects," an Austin resident said at an Austin meeting about transportation.
According to Patch, Austin-Travis County EMS officials reported that paramedics treated nearly three scooter-related injuries per day for about two months in 2018. An additional 166 injuries were reported between September 25 and November 29 last year.
The debate on the safety of this mode of transportation gained national attention when a University of Texas student died from a Lime scooter accident in February of 2019. Mark Sands, a 21 year old foreign exchange student from Ireland, was hit by an Uber driver when he was traveling in the wrong direction on a service road.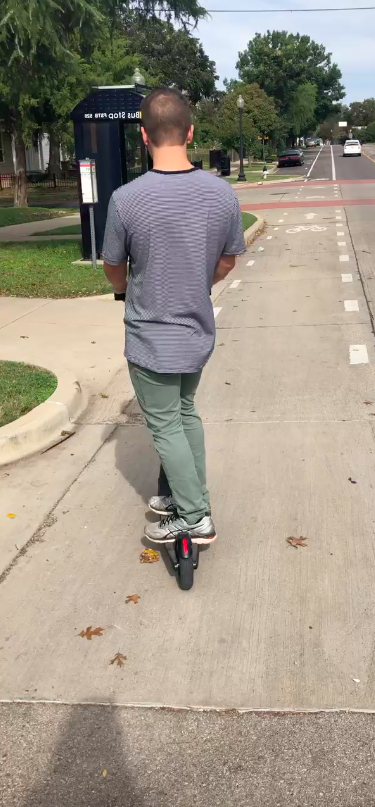 Dallas was the first city in the DFW Metroplex to welcome the scooters, which are permitted in all Dallas areas. The scooters rolled into Dallas just after one controversy pedaled out of the city.
The Dallas City Hall said the bikes and scooters will go where riders take them, and they can be parked anywhere in Dallas at bike racks or on sidewalks. However, they aren't allowed to block pedestrian access.
D Magazine acclaimed Dallas the "bike-share capital of North America" in 2018. A year after getting a bike-share system, in 2017, they accumulated the largest fleet of 18,000 bikes. They beat out New York and Seattle by at least 6,000 bikes.
In no time, the city was overflowing with complaints about the disruption of the bikes: being left in neighborhoods, obstructing pedestrian paths and piling up in heaps around the city. In response, the city charged bike companies with an $808 permit to operate, an additional $21 charge for each bike and stricter regulations. Dockless scooters must abide by the same guidelines.

"We have not seen a real push from the public yet interested in a scooter program," said Williams. "This would be the first."
As of now, there is not a procedure to approve dockless transportation within city right-of-way or on city property.
"The city has requested that these companies not begin operations until such time, as the city has an opportunity to provide proper approval," Williams said.
The future remains uncertain as people try to scoot Fort Worth towards dockless transportation. Williams said he would like to be kept in the loop regarding the petition, so the scooters aren't being rolled out of the agenda just yet.