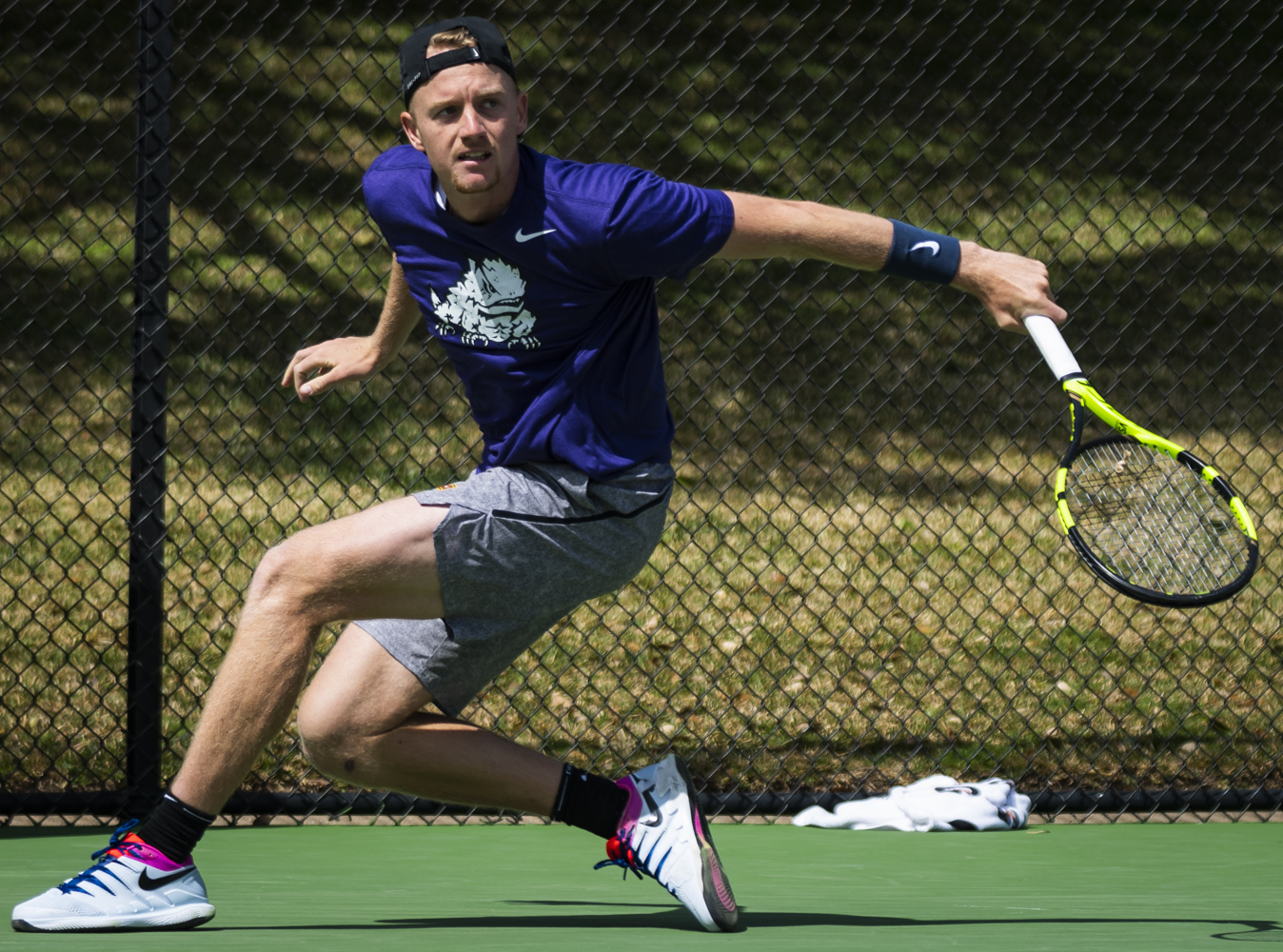 The Horned Frogs are no stranger to the Big 12 tournament, having a 29-17 all-time Big 12 conference record and claiming two Big 12 tournament crowns, both within the last four years.
Despite this dominance, TCU has had losses against Baylor and Texas, preventing a regular-season three-peat of the Big 12 regular season title.
Frogs Find Off-Season in Otherwise Historic Tenure

Wins over Oklahoma and Oklahoma State in the past couple of weeks resulted in another winning Big 12 regular season, bolstering TCU's conference record to 22-3 over the last four years. The Frogs' loss at Baylor was the first conference loss since falling at Texas Tech on April 24, 2016, and the Texas loss was the first Big 12 home loss since April 8, 2014.

TCU also won back-to-back Big 12 Tournament Championships in 2016 and 2017, going 48-5 and reaching the NCAA Round of 16 and Quarterfinals in those respective years.

Last season, TCU did not win the Big 12 tournament, but it did clinch the regular season title. It also reached the NCAA Round of 16 before falling to Illinois.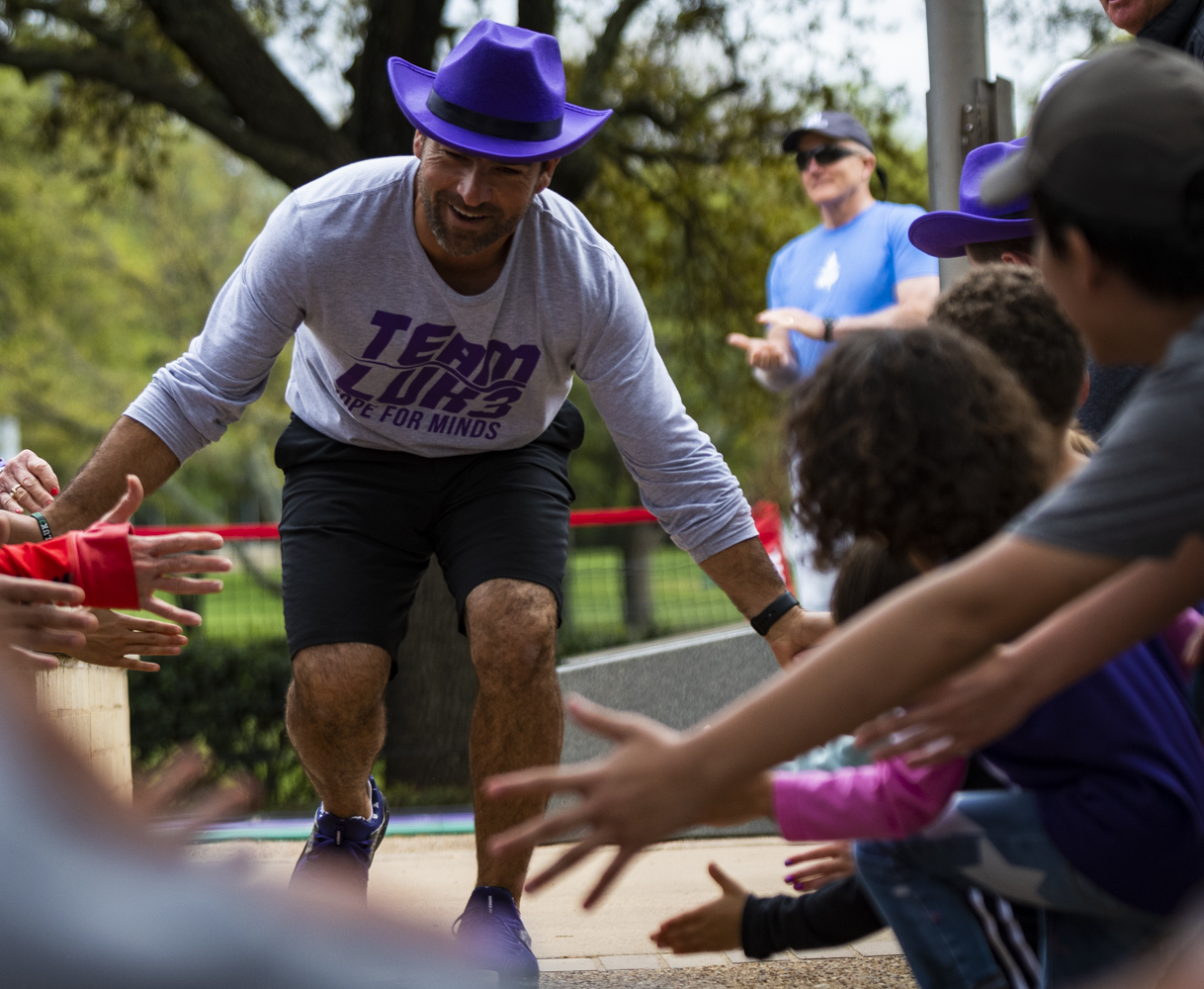 No. 3 Alex Rybakov and No. 24 Alastair Gray are the only returning starters from last season's run, which was a 2-4 semifinal loss to Baylor. TCU was the No. 1 seed in the tournament and neither Rybakov nor Gray finished their matches.

Despite the loss, the Horned Frogs captured the regular season title. They then reached the NCAA Round of 16 before falling to Illinois.

TCU's doubles teams of Rybakov/Gray moved to No. 15 nationally, the highest for either player's career. Reese Stalder/Bertus Kruger also have moved up to No. 17 at the No. 2 doubles spot. This is the first time all season TCU has had two top-20 doubles teams.

History on Frogs' Side

For the last four years, TCU has finished in the top 10, including a No. 3 finish which is the best in school history.

In TCU's 45 seasons of men's tennis, the Frogs have finished the year unranked only six times, three of which were the first three seasons from 1974-76. Since they have never finished unranked in consecutive seasons.

In the last five seasons, TCU boasts a 112-27 record, the fourth-highest winning percentage nationally in that span. This record includes 45 top-25 wins and 18 top-10 wins.

Big 12 Tournament History

Aside from TCU's history, its recent successes are dwarfed by all-time tennis team wins dating back to the Big 12's inception in 1997.

Baylor has both the most regular and postseason titles, with 13 and eight respectively. Texas follows with six regular season and five postseason titles.

TCU is impressively in third with its five total trophies, above the remaining three active schools and those who have left the Big 12, including Texas A&M (five titles), Missouri (zero titles), and Nebraska (zero titles).

Kansas only fielded a men's tennis squad from 1997-2001, and it never won any Big 12 titles. The Jayhawk Tennis Center, the home of the 2019 Big 12 Men's Tennis Tournament, is now only used by the women's tennis team.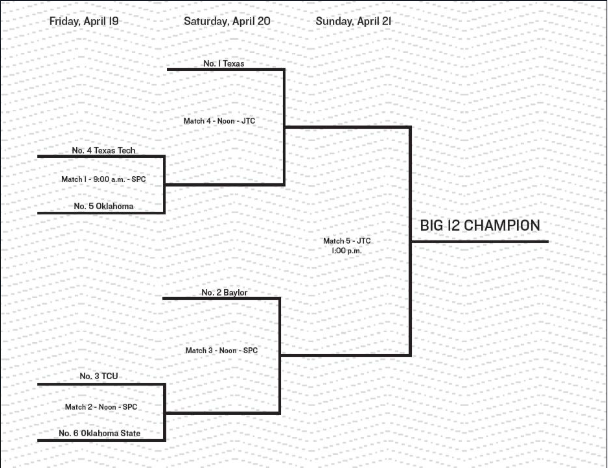 Tournament Seeding

The No. 1 Texas Longhorns surged into the No. 1 seed with a perfect 5-0 record. They along with No. 2 seed Baylor will have a bye match into the semifinals on Saturday.

Friday morning, No. 4 seed Texas Tech will face No. 5 seed Oklahoma, both with losing Big 12 records. The winner here will face Texas on Saturday.

Later at noon, No. 3 seed TCU will face No. 6 Oklahoma State for the second time this week and third time this season, TCU winning both a combined 8-1. The winner will face Baylor on Saturday simultaneous to the other semifinal.

On Sunday, the winners of each side face off in the title match.
The link to live-stream TCU's match is here.