Concerns about vaping health effects rise as hospitalizations increase
UPDATE: A previous version of this article said that the TCU Pharmacy would provide Chantix to students looking for help with their nicotine addiction. The Pharmacy will only provide the prescription if students present a valid prescription from their physician.
No matter where you are on campus, someone around you likely has an e-cigarette. While TCU's campus is smoke-free, many students get their nicotine fix every day without lighting it up. 
The use of devices like the JUUL, an e-cigarette the size of a flash drive that emits small clouds of odorless smoke, has skyrocketed over the last decade, with sales increasing by 641 percent from 2016 and 2017, according to the CDC.
But what began as a social activity in places like the high school bathroom has now become an addictive and harmful habit for many.
One TCU student, who wished to remain anonymous for this story, experienced sharp stomach pains each morning before he hit his JUUL and has since quit.
The student said he was smoking "a pod or more" of e-cigarette vapor each day.
The nicotine content in one JUUL pod is equivalent to that of a pack of cigarettes, according to JUUL.
Many students don't realize the addictive and harmful effects of e-cigarettes when they first start using them, according to Brad Stewart, the associate director of the TCU Wellness Center.
"They think, 'Well I just use it socially, like on the weekends partying, I'll have my JUUL,' but a lot of times what they don't realize is that they can become severely addicted to nicotine even from casual usage just once or twice a week," he said. "And then they start to realize that they're having more cravings and more cravings."
The rise of e-cigarette usage is not unique to TCU. More than 3 million high school students reported vaping in 2018, according to a study released by the CDC. Among that group, 27.7 percent reported vaping more than 20 days a month.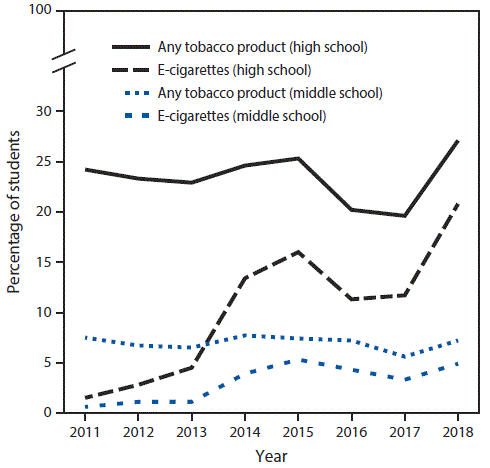 "Over the last 4 years we've seen epidemic levels of increases in JUUL specifically and e-cigarette use in youth," Stewart said.
While the student whom TCU 360 spoke to quit before his health issues worsened, the same is not true for a growing number of people nationwide.
A recent rise in vaping-related cases, which has jumped from 94 to 215 in recent weeks, according to CDC press releases, is leaving doctors and health experts without many answers.
"Nobody has any idea why all the sudden there's so much of it going on," said Dr. Karen Schultz, the medical director of pulmonology at Cook Children's Health Care System. "It's baffled everybody."
A Fort Worth-area teen was hospitalized for 18 days at Cook Children's this past summer, 10 of which were spent in a medically-induced coma with a breathing tube down his throat. While his doctors can't say with certainty, they believe the failure of his lungs was caused in part by his vaping habit.
While this case was the first they had seen at Cook Children's, Schultz said she has seen an increase in the number of emergency room patients who reported chest pain and shortness of breath due to vaping in the past few months.
"Those kids are getting hooked on that stuff, and it's going to be as hard to come off vaping e-cigarettes as it is coming off of regular cigarettes," she said. "It's the same dependency of your body."
The number of e-cigarette users has continued to rise despite a clear knowledge about what products like JUUL contain and how harmful they are to one's body.
"We don't know what the real dangers are," she said of e-cigarettes. "It has been around, I think, 10 or 12 years now. It took decades for us to realize the dangers of smoking."
To prevent students from experiencing these life-threatening symptoms, TCU is looking to provide resources for anyone who find themselves with the unwanted habit.
The TCU pharmacy will provide Chantix to students who receive a prescription from their doctor and Stewart said they are open to starting group cessation classes in the future.  
"We want students to start to realize the damage that they're causing to their lungs and esophagus," he said.
Another resource the university will lean on is the new smoking age that went into effect Sept. 1, when Texas joined 17 other states in raising the legal age to buy and use tobacco products to 21.
Both Stewart and Schultz supported the change but saw it as the first of many steps toward lowering the number of young smokers.
"If you're still choosing to do that, you made that choice for yourself, but we're not going to create an environment on campus or in the state or in the community that makes that easy for that damage and negative impact to happen to everyone around you," Stewart said.