Great places to eat around TCU's campus
Parent's weekend brings hungry family members from all over the nation to TCU's campus.
Read below to find some of the best dining experiences the Fort Worth area has to offer.
Fort Worth Flavors
Charley's Old Fashion Hamburgers
This hole in the wall has been a staple in Fort Worth citizens' diets since 1953.
The exterior looks like a vintage burger stand, and the burgers have a fresh, classic taste.
"Our burgers are cooked fresh to order," said Deborah Bell, owner of Charley's Old Fashion Hamburgers. "It might take a little extra time, but it's worth the wait."
Some of the most popular burgers are the project x burger, the avocado burger and the mushroom burger.
Charley's recently opened a sweet shack right next door that offers ice cream, popsicles, cake balls, fudge brownies and more.
This restaurant has been a staple in TCU students' diets since its opening in 2003.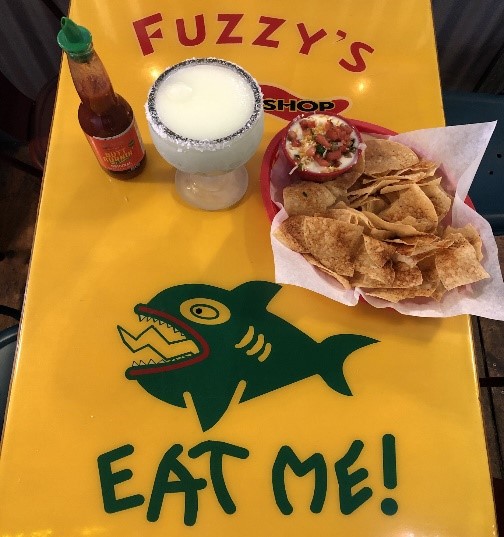 Fuzzy's now has over 100 locations nationwide, but the one located right next to TCU's campus is the original.
This taco shop is known for its chips and queso, shrimp tacos, brisket quesadillas and all-day breakfast tacos.
"The environment is relaxing, and the food is great," said Salvador Flores, the assistant manager of Fuzzy's. "We make sure everyone comes in hungry and leaves happy."
If the history of this location doesn't entice you, the mouth-watering food and margaritas surely will.
Fine Dining
Texas de Brazil features one of the biggest salad bars you'll ever see and a variety of meats from which to choose.
"We cook our beef in the Brazilian tradition," said Hannah Thompson, the director of marketing for Texas de Brazil. "We coat the meat with rock salt, leave a little fat and cook it over mesquite wood."
Patrons pay a flat rate for an all-you-can-eat experience.
Green means hungry at this Brazilian steakhouse.
Flipping the table card from red to green will send out "gauchos" to the table with a wide variety of meat on skewers from which to choose.
Aside from the meat and salad, Texas de Brazil also features sushi, garlic bread and cinnamon sugar bananas.
This hidden gem is located just a mile away from TCU's campus and has been a go-to spot for Italian food for almost 20 years.
The interior and patio of this café give off a friendly feeling and make you believe you've taken a trip to Italy.
"When you come in, you feel like you're at home," said Eli Golemi, the owner of Café Bella. "Everyone will greet you and respect you."
Some of the most delicious dishes are the chicken lemonita and the tortellini Michael Angelo, which features cheese-stuffed tortellini with sautéed onions, Canadian bacon and the restaurant's special pink sauce.
"Every dish that comes out is tasted by me," Golemi said. "The food has to be to my standard."
Quick Bites
"Come try the best burger in Texas," said Kay Greenlee, the owner of Dutch's.
Dutch's offers award-winning burgers surrounded by its sweet sourdough buns and delicious sides including tater tots and onion rings.
"Some of our most popular burgers are the bacon blue cheeseburger, the original dutch and the vaquero burger, which features fried onion and jalapeno strings, bacon, shredded cheddar cheese, barbecue sauce and chipotle mayo," Greenlee said.
In July, Dutch's opened the Locker Room, an expansion of the restaurant that features a full-service bar and more than 10 TVs.
The bar features draught beer including Guinness, Michelob Ultra, Wild Acres and many more.
For nearly the last five decades, Zeke's has been famous for its fast service and variety of delicious seafood options.
"Some of the most popular items on our menu are cod, catfish and chicken salad," said Mark Lidell, the owner of Zeke's. "We cook everything to order, and we give large portions."
The food comes out fast, but if you need your seafood to go, Zeke's also offers a drive thru window.
Zeke's has the feel and flavor of a mom-and-pop seafood place.
All of its seafood is cooked to order, and the food's flavor separates it from the traditional seafood you find elsewhere.
Best Breakfast
This family restaurant separates itself from other chain breakfast restaurants with its friendly service and delicious dishes, particularly its German pancakes.
The German pancakes are a combination of a pancake and a crepe, and they are topped with butter, powdered sugar and your choice of lemon, apple, blueberry or strawberry topping.
"You won't get the chain restaurant feeling here," said Amanda Vargas, a manager at Ol' South. "This is a family restaurant with a lot of history and unbeatable breakfast food."
This southern style restaurant is just two miles away from TCU's campus, and it's a great late-night spot to eat at since it's open 24/7.
Anything you can crave — this restaurant has got it. Yogi's is known for its wide variety of food and fast service.
This deli offers pancakes, French toast, migas, omelets, breakfast tacos and eight different kinds of eggs benedict.
"Our restaurant is family owned, and everything is home cooked and made from scratch," said Yogi Florsheim, the owner of Yogi's Deli and Grill.
Florsheim said that if you come into his restaurant and mention this article, you'll get 10% off your meal.
New to Town
"It's hard to describe this restaurant," said Ronnie Davis, the owner of Fat Shack. "It's crazy. Basically, we just take deep fried items and pile them into a sandwich and call it a meal.
This crazy new restaurant just opened underneath GrandMarc four months ago.
"Business has been better than we could ever imagine," Davis said.
This off-the-wall eatery offers all kinds of different options on its menu including burgers, sandwiches with fried cheese sticks and chicken tenders, deep fried mac and cheese bites and any kind of deep fried dessert you can think of.
Davis said the restaurant's most popular dessert items are the deep fried Oreo's, deep fried Twinkies and deep fried cheesecake bites.
Fat Shack is open until 4:00 a.m. on Fridays and Saturdays.