TCU housing helps upperclassmen find their home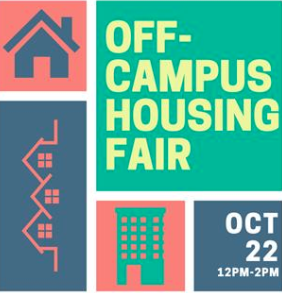 TCU Housing and Residence Life will be hosting an off-campus housing fair on Oct. 22 from noon to 2 p.m. to help rising juniors and seniors explore off-campus housing options.
Stephen McNamara, a graduate assistant for Housing and Residence Life, said a variety of different vendors will be present.
"We will have a mix of landlords and apartment complexes present at the fair to display their properties and provide information on their communities," McNamara said
The vendors are given the opportunity to feature their properties to the students in their own personalized ways.
"Vendors will usually bring fun giveaways for the students they speak with, and will typically decorate their respective table," McNamara said. "There is no formal presentation associated with the event, we provide the space and tables for the vendors and they are welcome to bring whatever items they like to showcase their communities/properties."
Andrew Lawson, a senior communications major, said any information on off-campus housing is helpful for students looking to live off campus for the first time.
"I feel like the majority of TCU students are looking for their own housing for the first time as rising juniors," Lawson said. "It's a completely new process and can be confusing, so I recommend participating in whatever help is available around you."
Lawson also said that students need to be aware that the search for off-campus housing starts early and quickly.
"The process started a lot earlier than I expected," Lawson said. "I moved into on-campus housing as a sophomore and had to start looking at off-campus housing by late September so I recommend starting as soon as possible now."
Lexi Karres, a junior history and political science major, said personally meeting landlords before signing a lease is also an important step.
"The housing fair is a great idea because meeting landlords is extremely important and just necessary," Karres said. "If you're living in a house a lot can go wrong sometimes, so it's important to build personal and close relationships."
McNamara said there wasn't a way to estimate the number of students who find off-campus housing through the fair, but the response has typically been positive.
"Based on the feedback I have received from the vendors, this event does help them fill their spaces," McNamara said.
Students can also find information about local apartment complexes and property listings in the Housing and Residence Life office.
"This table is frequently updated, and if students are seeking off-campus options, we recommend coming into the office to check out the table," McNamara said.
The event will be held in the Brown Lupton University Union and students do not have to register prior.
McNamara said 12 vendors have confirmed their spot, but spots are still available.