New policy implemented regarding mumps, measles vaccination
Unvaccinated students will not be allowed on campus if there is a measles outbreak, according to Kelle Tillman, the associate director of the TCU Health Center.
The potential ban is part of a policy that was implemented over the summer and requires students to provide proof they have received the two doses of the measles, mumps and rubella (MMR) vaccination before move-in day.
Students who aren't vaccinated will receive an unexcused absence if a measles outbreak were to occur, Tillman said.
In the past, multiple cases of the mumps and rubella have been reported on TCU's campus.
"The issue being is that Texas is one of 15 states that allows people to consciously exempt from vaccinations," Tillman said. "We are a high-risk area in Dallas/Fort Worth because we are one of the highest-rated non-vaccinated communities in Texas."
In 2015, a single case of rubella was confirmed at TCU, and there were three cases of mumps reported on campus last year.
If you are exposed to the mumps, TCU will send you an email with instructions on what to do next.
An anonymous student who was exposed said he had to report to the Health Center last year to receive a shot.
"I had received my MMR shot as a child and thought my biggest worry was strep or the flu on campus, not something so serious like the mumps," he said.
The student said the process was helpful and easy.
"I could tell they wanted to put an end to the outbreaks that had been happening on campus," he said.
The policy is the university's way of taking action to prevent measles from spreading to campus, as cases of measles are showing a threatening increase in the United States.
"As of May 2019, there have been 880 reported cases of the measles, which means the number has only increased," Tillman said.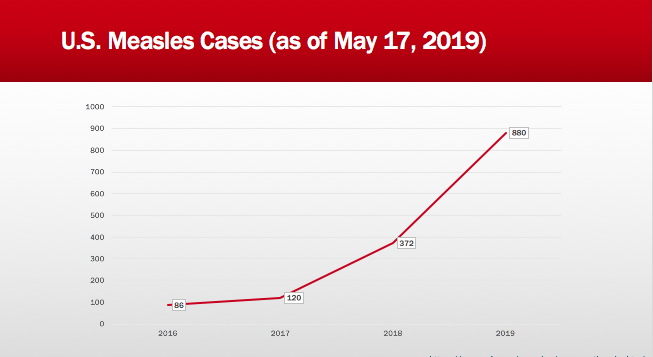 According to information from the Health Center, most of the measles cases result from international travel.
This poses a threat because one out of three students studies abroad, according to the TCU website.
"Our goal is to protect the TCU community," Tillman said.
Measles are extremely contagious. If one person contracts measles, they have the possibility to infect up to 90% of those they come in contact with who are not vaccinated.
Some of the symptoms include:
High fever
Cough
Runny nose
Red and watery eyes
A rash that includes flat red spots
The symptoms generally appear about 7-14 days after a person has been infected.
Two doses of the MMR vaccination are about 97% effective at preventing the measles; one dose of the MMR vaccination is about 93% effective.
MMR vaccinations are available at the Health Center for those who have not been fully vaccinated.