TCU volleyball will move on to the semifinals of the NIVC with a sweep over Colgate Thursday afternoon.
The offense helped secure the win for the Frogs, as the team had 53 kills in just three sets.
"I'm really proud of my team for playing so hard tonight," said head coach Jill Kramer. "This tournament has been awesome for us. We've been able to put together some really good performances by our whole team."
Colgate gained an early 6-5 lead in the first set, but the Horned Frogs went on a 7-0 run, fueled by two kills from outside hitter Ashley Waggle and two solo blocks from outside hitter Audrey Nalls.
Taking a 12-6 lead, TCU was able to close out the first set with a 25-17 victory over the Raiders. Katie Clark led the way on offense with five kills on .500 hitting, while Julia Adams was close behind with four kills.
TCU used an early 6-1 run to go up 8-4 in the second set. The Frogs never lost the lead from there and went up by as many as seven points.
Colgate came within a point, 24-23, before Nalls ended the set, 25-23, with her fifth kill of the match. The Raiders were held to .000 hitting in the set, the fifth time TCU has held an opponent to .000 or less hitting in a set. Adams led the team with four kills on .500 hitting, while Clark posted three blocks.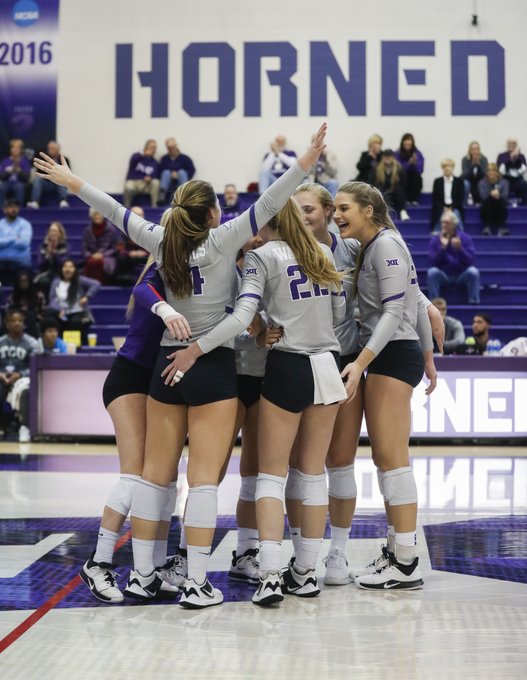 Colgate came out to take an 8-4 lead in the third set, but TCU would win seven of the next 10 points to tie the score at 11.
TCU went on a 4-0 run to put the team back in front 18-15, led by a kill from Adams and an ace by Nichols. Nevertheless, Colgate came back to earn their first match point of the set, 24-23.
The Horned Frogs would come right back to earn their first match point of the set with help from Adams and Clark.
The teams swapped points before TCU won the final set 30-28. TCU finished with 24 kills on .259 hitting in the set, led by nine from Adams on .500 hitting.
The Horned Frogs will travel to Georgia to face off against Georgia Tech in the NIVC semifinals. The match is set for Saturday, Dec. 14 at 6 p.m. at O'Keefe Gymnasium in Atlanta.