National Parks road trip to be held during spring break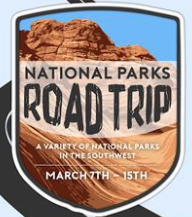 Campus Recreation is offering a spring break trip to six locations in the Southwest.
The trip, which will take place March 7-15, will take attendees to the Grand Canyon, Antelope Canyon, Horseshoe Bend, Zion National Park, Chaco Culture National Historical Park and Arches National Park.
Taylor Craig, a trip leader and instructor of the adventure trip program, said this trip has never been done before but it is highly anticipated.
"We have previously done a trip to the Grand Canyon that was very successful and a hit, so we wanted to provide an opportunity for students to see more national parks," Craig said.
There is enough room for 17 students and/or sponsored guests to attend, and they will travel in Campus Recreation vans.
Four student staff members will be present on the trip, alongside one full-time staff member.
Craig said these kinds of trips are unique and unforgettable experiences for students.
"By being immersed in the beauty of our country's national parks, participants will be given the opportunity to learn more about basic camping skills, experience what nature has to offer and make friendships and memories that will last a lifetime," he said.
Alanna Carollo, a trip leader and educator of the adventure trip program, said staff members also come out of these trips with new experiences and lessons learned.
"As trip leaders, there are incredible leadership skills that are learned on trips, and with longer trips like this it teaches our staff members incredibly valuable skills on how to be a leader in both an outdoor setting and everyday life," Carollo said. "After being with fellow students on the trips, we as leaders always manage to develop incredible relationships with people we may have not met otherwise, many of whom become lifelong friends."
The deadline for early-bird registration is Friday. It will cost $400 with a TCU ID and $700 for guests. The regular registration deadline is Feb. 21, when prices increase to $700 with a TCU ID and $800 for guests.
Registration can be done at the front office at the University Recreation Center or at mycampusrec.tcu.edu.