TCU's chapter of Young Americans for Freedom (YAF) took on cancel culture this week with a conversation led by a commentator from the Daily Wire. 
The phenomenon of boycotting a person or their work was condemned by Elisha Krauss, a host and commentator for the Daily Wire. a right-leaning media outlet. The event was titled, "End the Left's Cancel Culture."
Kraus said liberals who participate in cancel culture try to limit the information the public receives on an accused person because they want the individual to garner as little sympathy as possible.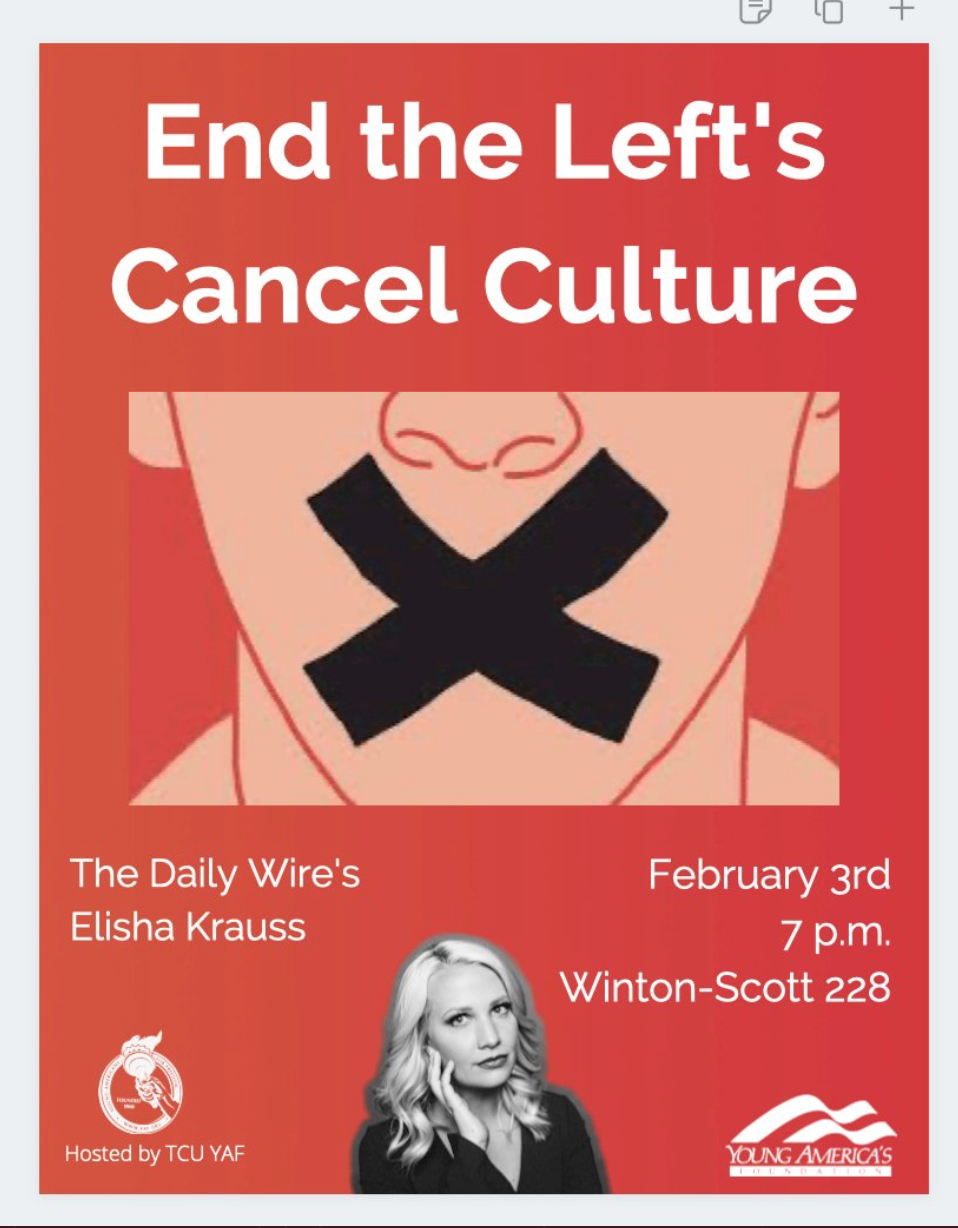 The chairman of TCU YAF, Alex Frank, said he wanted Krauss to speak on cancel culture to counter "the idea that an individual is summed up by a caricature" of his or her actions.
Frank said the organization decided to invite her because of her ability to engage with college students.
"She is an out-of-the-box thinker and a traditional conservative," he said. "With other speakers, we might have felt as if the message we were trying to convey would not be presented in a manner that was friendly enough for the standard college student listening in."
Frank said he was excited to have hosted Krauss and predicted she will soon become even more prominent in conservative and libertarian media.
"The fact that we were able to secure her at this time is extremely crucial, not only for the organization at TCU but also for developing a successful track record in our ability to secure even more prominent speakers on behalf of the YAF chapter at TCU," he said.
Frank said that TCU YAF is "a fusion of conservative and libertarianism seen during the Reagan era," and "a bevy of intellectual diversity in the sense that we do not promote or endorse specific party platforms, rather idea viewpoints."
Krauss said one problem with cancel culture is its reliance on what she believes are accusations made with limited information.
"We live in a new world where we have all these so-called 'experts' that only advance their own political agenda," she said. "It judges a person based solely on outward appearance or on tweets rather than actual actions."
Another problem she proposed is the immediacy with which accusers on social media pass judgment on an accused's culpability.
"I think there's an odd desire to act instantly that plays into cancel culture," she said. "There's a broader issue in our culture with millennials reacting so quickly and in such a visceral way."
She argued for more nuance in the way public figures should be tried in the metaphorical court of public opinion.
She said that some offenses deserve complete 'cancellation' from society, while other actions allow for an opportunity for the accused to redeem themselves.
For example, she said individuals such as Bill Cosby and Harvey Weinstein, who were each accused of sexual assault, are examples of public figures whose alleged actions deserve severe public consequences; however, she said individuals like Roseanne Barr, whose television show was canceled after she sent out a racist tweet, were judged too quickly.
A general yardstick for determining a proportionate social consequence can be seen in our founding documents, she said.
She said one should not be 'canceled' if "someone isn't inhibiting another's life, liberty and pursuit of happiness."
One attendee, Abbey Young, a sophomore finance and French double major, said she thought the event was educational.
"I think the event was a great way to talk about an aspect of the culture that not everyone may completely understand," she said. "The speaker (Krauss) was fantastic and I really enjoyed hearing her point of view."
By speaking to college students, Krauss hoped to point out what she believes to be a common issue in which millennials, herself included, participate.
"I think that rush to judgment of all people, no matter what side of the aisle they're on, needs to be put in check," she said. "And I would hope that they would work on that personally, professionally, and as a broader campus and society."